You've probably dealt with the issue of how to pack your shoes when you travel for every vacation you've taken.
I know this because, without a doubt, one of the most common questions I get asked concerns shoes. How to pack them, how many to bring and which type to pack for a given destination.
My number one rule is to never carry more than two pairs of shoes. You read that correctly. You should never have more than one pair of shoes in your luggage and one pair on your feet. And, yes, it can be done!
More about packing: Carry-on Packing Tips | WanderGear: Shoes, Boots and Sandals | WanderTips: Packing | 6 Tips for Practical Packing
These Shoes Were Made for Walking
You'll want one pair of comfy walking or hiking shoes. For city walking, I'm partial to Aravon and Privo but Ecco, Mephisto and Aertrex are all popular brands for walkers and travelers.
These come in styles that are not only optimal for walking but can also help dress up an outfit. Two features that are appreciated when you're on the road.
Second Choice
In addition to a style that's ideal for walking, you'll either want a pair of sandals if you're headed to a warm climate, or a warm and sturdy shoe or boot if you'll be hiking in the mountains.
Since I'm usually heading off to warm destinations, I'm well acquainted with sandals. I'm partial to both Keen and Teva brands. Both brands stay securely wrapped around my ankle, unlike a flip-flop, and come in so many variations that there's something for everyone. Many are waterproof, so if you get caught in a monsoon squall in Southeast Asia, no harm.
Keen has the added benefit of featuring a toe bumper so that you won't crack your toes as you jump from rock to rock over a stream.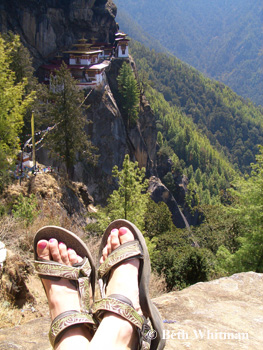 If you plan on hiking, you'll want to look for lightweight boots that give you some ankle support, have a good grip on the bottom and are comfortable. I normally wear LOWA hiking boots. Their casual hikers fit my needs perfectly. I admit to breaking these in on the road but have never had a problem with blisters or pain. And, the breathable mesh tops are ideal for warm weather.
Finally, if you'd like to class up your travels a bit, try something from Tory Burch. With a wide range of sandals, flats and boots, it's likely you'll find something that will suit your travel needs for a night out on the town!
No matter what shoe(s) you decide on, make sure they're broken-in long before you leave home. The last thing you want to worry about is tending to blisters while you're trying to enjoy the vacation you've been waiting for all year long!
Photo Credit:
Red Shoes: malias
Tevas in Bhutan: Beth Whitman