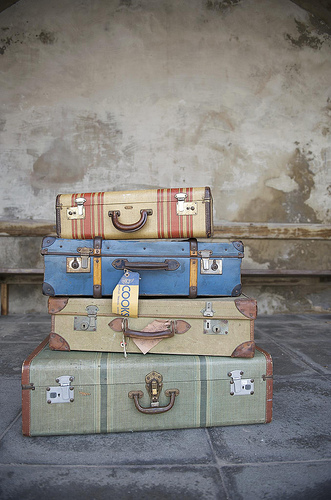 Before setting out, you'll need to determine which type of luggage to use based on the type of travel you're planning. Business, casual and adventure travelers will each have different needs. Business and adventure travelers will need something that's going to hold up while casual travelers may not need something expensive if all you're doing is traveling once a year to visit family.
Whatever your type of travel here's a breakdown on what to look for. And here's a page with ideas for the best travel luggage for women.
More packing tips and tricks: Carry-on Packing Tips | Packing: The Shoe Conundrum | Packing List | 6 Tips for Practical Packing
Business Travel–A garment bag is the best choice for packing dress clothes and evening wear. Bags are available as bi- or tri-folds, and some can fold up small enough to slip under the airplane seat in front of you. Unless you want to purchase several sizes of luggage, base your choice on how much room you'll need for the average length of trips you plan to take. As always, pack as little as possible.
Choose a bag with a variety of pockets located outside and inside, and utilize these for your underwear and other smaller items. Wear your heaviest shoes and pack additional ones away. You're probably carrying your most expensive outfits, so purchase a high-quality bag that won't easily rip or tear.
While you may not be able to eliminate all creases and wrinkles, using plastic dry-cleaning bags between each layer of clothing can help cut down on wrinkles when the bag is folded and stored on the plane.
Casual Travel–Soft-sided (or duffel) bags and semi-soft cases are great for the casual or weekend traveler. Soft-sided bags are lightweight and easy to stow in overhead bins or toss in the trunk of a car. A semi-soft case (covered in fabric, but with a frame inside) will provide your items with a little more protection from wrinkles and crushing, and it often has internal pockets for shoes, paperwork, and other items.
Adventure Travel–Within this category, there are a couple of options for backpacks:
Travel Packs–These generally come in one size, which can be adjusted using hip and shoulder straps. They wanderlust and lipstick: the essential guide for women traveling solo open like a suitcase for ease in packing. They may have wheels or come with a daypack that zips off. Women-specific travel packs are a growing market and are created with a woman's body in mind, narrower shoulders and waists, as well as shorter torsos.
Wilderness Packs–These internal-frame packs are made for long-term outdoor trips. They provide excellent support and are more comfortable than travel packs when carrying lots of gear. They are a little harder to pack and unpack, as they load vertically, but they balance better on your back.
The key for choosing any bag is that the bag be person-specific. What fits one woman may not fit another at all. Test out various types with weight in the bag to determine the comfort level. If you live in a remote region, REI's website has in-depth information on choosing the best pack for your type of travel and torso size.
If you do travel with a backpack, in some countries people will instantly treat you differently.For example, hotel clerks and taxi drivers may not be as eager to serve you thinking that you may not have any money.
Hot Tips!
If you're checking luggage, be sure that it is properly tagged for your destination. I have caught baggage attendants putting the wrong destination tag on my bags a half-dozen times. It only has to happen once before you learn to watch where your bag is going!
Attach a spare tag to your luggage and include the address of the hotel where you're staying. If your bag gets lost or misplaced, it can be delivered to the hotel at your destination city.
Also, attach a ribbon or bright luggage tag to your bag so it stands out, whether on a baggage carousel or on a bus filled with backpacks, gear and produce.
Photo credit:
Luggage: geishaboy500