These packing tips are meant to help you have a safer and more enjoyable journey. By implementing these simple packing techniques, you won't be carrying as much and won't have to worry about your luggage while flying or as you are traveling between cities at your destination.
It's difficult to know what to do today when it comes to packing for that long-awaited adventure. Pack a bag larger than 22 inches and you'll have to check it and potentially be charged for doing so. Pack a bag that's 22 inches or smaller and you'll soon be fighting for the already limited space in the overhead bin.
I'm not one to be deterred from traveling simply because it's getting harder and more expensive. But there are some things that I do that help make my travels a bit easier if not cheaper.
More about packing: Pack Like a Pro for Long Trips | Carry-on Packing Tips | Choosing Your Luggage |Packing List
1. Use carry-on baggage only. I never check a bag unless it's one filled with souvenirs when I'm returning from my destination. Instead, I pack a 22-inch bag (a convertible backpack/roll-aboard for more adventurous trips and a roll-aboard-only for domestic or business trips). This fits in the overhead bin and is light enough that I can easily lift it over my head to put it in that bin myself.
2. Pack light. When packing my clothes, I use a compression sack that squeezes the air out of the clothes to about 1/3 their size. Using only one of these ensures that I'm not packing too many clothes and leaves enough room for other items.
3. Packing cube. I use these handy little padded cubes for my power cords and electronics. They are the perfect size for an iPod, digital camera and USB cords.
4. Toiletries. I keep these to a minimum. I carry small bottles of shampoo and conditioner (no larger than 3 ounces but smaller if I'm traveling for a week or less), a travel size container of hair gel, hand lotion, facial soap and toothpaste. These all fit into a sandwich-size bag, as required by the Transportation Security Administration. I keep all other items, such as deodorant, hairbrush, makeup, dental floss, etc. in a toiletry bag that then goes into my larger carry-on bag. If I'm caught short on any items during my trip, these can easily be purchased.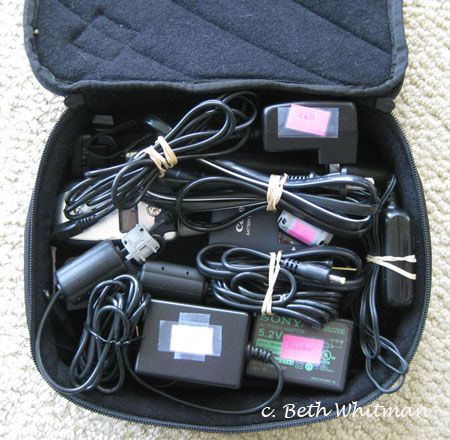 5. Books and guides. These have traditionally been the heaviest items in my luggage. As an alternative, I've come to really enjoy downloading an audio-book or two for a trip. iTunes and Amazon are two great resources for these. I'm already carrying my iPod for music, so why not just have a book to listen to as well?
I'm also a big fan of the  Sony Digital Reader. This thin little device can hold about 160 books. More books are being added to their offerings constantly so chances are good that you'll find something of interest to you.
6. Be nice. It's easy to get crabby in an airport and on a plane, what with so many people on their cell phones, unwieldy baggage being pulled that's too heavy for the person to lift into the overhead bin and airlines charging for everything from headphones to bottled water. The only thing I can do, however, is change my own attitude. Be nice to my fellow passengers and the flight crew, take a deep breath and remember that I can contribute to the problem or be a solution.
Don't let the airlines get the best of you or your attitude. Keep that extra $15 or $25 that they want to charge for your checked luggage in your pocket. Pack wisely and your travels will be as hassle-free as you want them to be!
Photo credits:
Suitcase: David Masters
All other: Beth Whitman