Winter is the time to dust off those skis and head to the slopes for some fun and exercise with family and friends.
Unfortunately, the cost keeps many people from heading to the mountains. But the truth is that your next ski vacation doesn't have to leave you in debt.
There are a few simple things you can do to help cut down on costs and make your ski trip more enjoyable for everyone.
Here are some tips on how to save money on ski vacations:
1. Choose a destination which you can drive to rather than flying and renting a car. The combination of expensive airfare and a car rental can really add up. Whether traveling with friends or family, the fun can begin with a road trip.
2. Consider taking a mid-week vacation when costs for accommodations and lift tickets may be lower. You'll find that the lifts will be less crowded, too. Shorter lines means more time skiing!
3. Look for discount coupons on lift tickets. You can avoid paying full price by planning ahead and keeping your eye open for deals. You can often find coupons in brochures at local hotels and restaurants or you might even check online for special discount codes.
4. Plan and book ahead as you can often get discounts for early bookings – whether it's for lift tickets or accommodations. For cheap holiday getaways, check out IceLolly for the latest offers.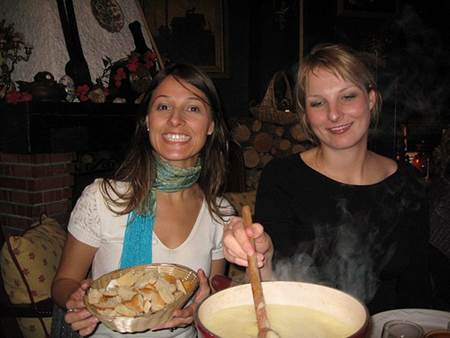 5. Book accommodations that have a kitchen so you can cut down on the number of meals you eat out. Before you even check in, include a stop at the grocery store to stock up on some basics including breakfast cereal, milk, bread and pasta. Pick up some beer and wine, too, as these will be far cheaper than if you purchase them at a bar.
6. If you have to eat out, check out special events and deals at restaurants and bars in the area. Befriend your ski instructor as he/she may be the best source of discounts and specials you might take advantage of.
7. Check out scheduled group trips you can join or organize your friends for a holiday together to take advantage of lower group rates on accommodations and other amenities.
*****
Photo credits:
Whistler Ski Trip: Scott Hughes
Cooking on Ski Trip: Vanessa Rocha Schriver