You've paid for your plane ticket. You've spent some money on new gear and clothes for your travels. And while your bank account may not be depleted, it's definitely not where you'd like it to be as you set out on your journey. Not to worry, here are some ways to actually save money once you're on the road.
1. Walk or take public transportation. Not only will you save money but these have the added benefit of being healthier than just jumping in a taxi and are better for the environment. Consider that one taxi ride across town could cost you the equivalent of a really nice dinner out or a to-die-for souvenir.
2. Keep records of your purchases. Tracking how much you are spending daily does the equivalent for travel that counting calories does for your waistline. When you see how much you are actually spending on that daily gelato, you'll be shocked into curbing your cravings! I carry a small journal around with me that I can quickly pencil in my purchases as I go.
3. Watch out for the credit/debit charges! Check with your bank before you leave home to find out how much they charge for using their card abroad. Generally, credit card companies will charge up to 3% for a foreign exchange fee (Capital One is an exception). Your bank may charge you (perhaps up to $5) a fee every time you withdraw money from your checking account. And don't even THINK about taking out a cash advance with your credit card. Interest rates can easily be 20% for these. Use your head – the extra fees can add up quickly and anything you saved on booking with that low cost air carrier will go down the tubes.
4. Tip when appropriate. In North America we are used to tipping for service, even when it's sub-par. In many parts of the world, however, tipping is not common or is left simply as a token of appreciation – 20% is NOT expected.  Sometimes it's actually built into the final bill. When you arrive in a country, know what's appropriate. While it's noble to want to overpay if you feel like the service is great, don't feel obligated if it's not a part of that culture. And always read the final bill to see if you've already been charged a tip.
5. Stay in hotels that provide complementary breakfast. Often times you can find hotels with continental (serve yourself) treats in the morning. Free coffee/tea and a muffin might be all you'll need to start the day. You can then get started with your sightseeing early and enjoy a hearty lunch later.
6. Share rides to/from the airport. If public transportation isn't available to your hotel when you arrive at the airport, bus or train terminal, seek out other travelers and suggest that you share a taxi. Cabs at the airport often have to pay extra fees to enter the area, so their charges are usually quite high. Even splitting this in half can save you a chunk of change.
7. Request a VAT (Value Added Tax) refund on your souvenir purchases. Many countries will refund the tax (sometimes as much as 25%) on your souvenirs. Keep your receipts and ask for the VAT paperwork when you make your purchase. Check Global Refund for details on this.
Order your very own signed copy of Wanderlust and Lipstick: The Essential Guide for Women Traveling Solo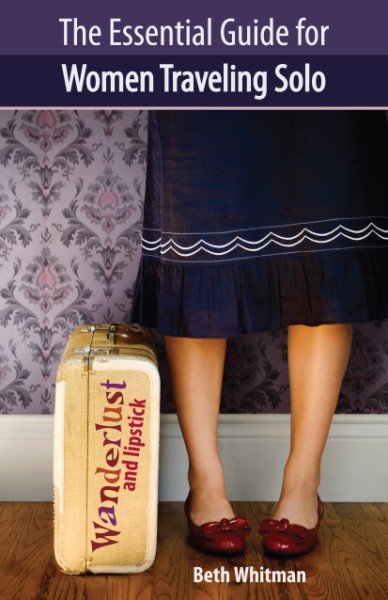 Order now and receive a signed copy for $15.95. All orders ship Priority Mail at a discounted rate.
Related links:
Dollars and Sense for Women Travelers
4 Tips for Handling Money While  Traveling
6 Tips for Staying Safe in Your Hotel
Photo credit:
Pesos: Alex E. Proimos
Taxi: Grenade