By Kate Convissor
If you travel in South America, you will probably end up taking a bus at some point. Buses are ubiquitous, efficient, cheap, and usually safe and comfortable. Often, they are the only way to get to remote places. The only exception to this take-the-bus rule would be for long-distance travel when a 2-hour flight might trump a 36-hour bus ride.
More about travel in Latin America: Adventure Vacations in South America | Navigating the Amazon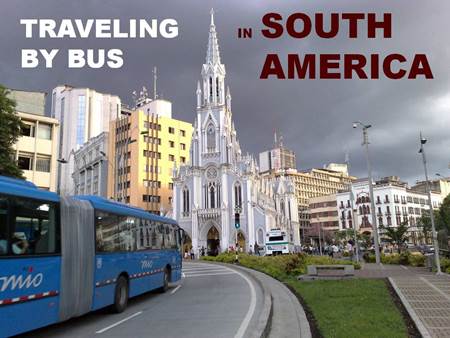 I traveled for four months through Colombia, Ecuador and Peru almost exclusively by bus, plus five months in Mexico the year before. The only time on two continents that I've had difficulty with a bus was back home in the USA when the bus just never showed up.
That said, here are a few tips on busing around Latin America.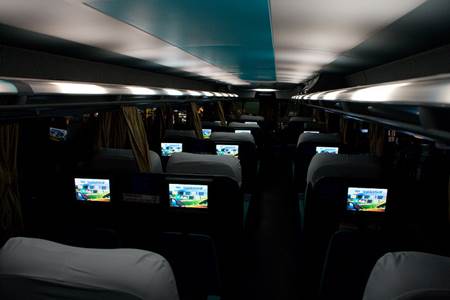 First-class–or not
There are different classes of bus, from grungy "chicken buses," which tend to do short hops, to first-class buses that serve meals and feature comfy, fully reclining seats. For long trips, try to take the best class possible. In Peru, companies like Civa, Oltursa, Ormeno, and Cruz del Sur occupy that upper rung. In Colombia, Brasilia and Copetran are good bets.
I took buses of all classes throughout these countries–and to get to some locations, there isn't much choice. While first-class coaches were definitely more comfortable, well-maintained and clean, I didn't feel particularly threatened on other classes of bus, although I kept an eye on my luggage, both carry-on and under the bus, as much as possible. Typically, bathrooms in second-class buses are vile or nonexistent, and food isn't served.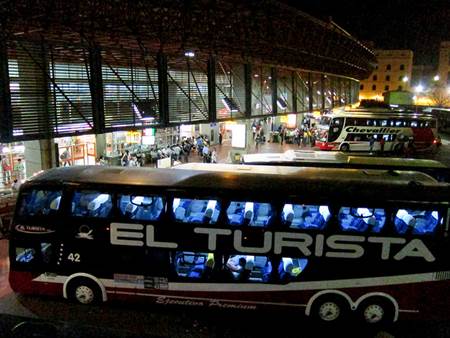 Find the terminal
In some countries, all the bus lines to every location are in one terminal. This is very handy. But in other countries (Peru and Mexico in my experience), each bus company has its own terminal. They may be clustered in one area of town or they may be miles apart. Either way, this requires that you know what bus line goes to your next destination. Talk to staff in your hostel or hotel, or to taxi drivers, to get a heads up about what to expect.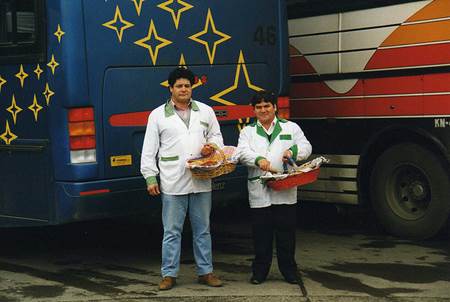 Creature comforts
On longer trips, the bus may stop for a meal and a bathroom break. You can also expect food vendors to board the bus from time to time, selling everything from bottled water to homemade tamales and everything in between. You can't count on a rest stop or on-board vendors, however, so the most important rule of thumb is to board the bus empty of bladder, slightly dehydrated, and with drinks and healthy snacks.
Gotcha!
Be prepared for little surprises. In Peru, for example, I was suddenly required to buy a "pass" to get through the gate to my bus. Or to enter through a turnstile for a small fee–annoying ways of extracting a bit more from the passengers, I figured. This was confusing the first time I encountered a new rule, but learn to roll with surprise charges.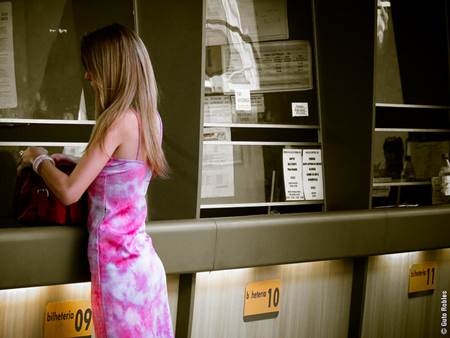 Tickets please
For shorter hops, you can just go to the bus terminal whenever you're ready for the next destination. A bus will usually be leaving within minutes. I rarely had to wait for over half an hour. I'd just buy my ticket and get on the bus.
For longer trips, I'd visit the bus station the day before. Then I was at leisure to look around and compare prices. (Although all bus travel is ridiculously cheap.) I preferred to travel by day rather than take an overnight bus so I could watch the scenery and also not arrive at my destination in the wee hours of the morning. This often limited my choices. First-class overnight buses are more common, at least in Peru.
With short-hop buses, no one will look at your ticket or take your fare when you board the bus. Typically, an assistant comes down the aisle during the trip to take fares and check tickets. So keep both handy for that mid-trip check.
You'll need your passport (or a copy) in order to buy a bus ticket.
Look closely at your ticket to see if you have a seat assignment. It will be a number under asiento or puesto. Then, good luck finding the corresponding microscopic number on the bus seats themselves. On some lines, these seat numbers are taken quite seriously and on others, not so much, but you'll want to at least start out in your assigned seat.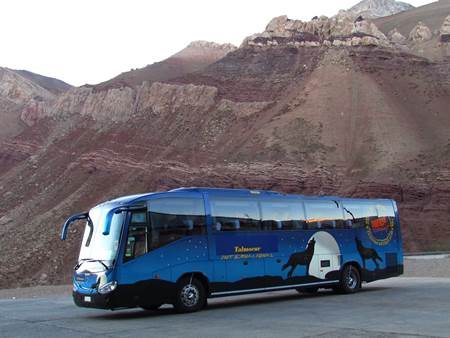 Smile! You're on camera!
In Colombia and occasionally elsewhere, all passengers are videotaped once on board. It's disconcerting, but that's just the way it is.
Driving cultures
While road conditions were generally good in all the countries I visited (although I wasn't traveling during the rainy season), the driving culture varied widely. Driving in Colombia was insane. Two-lane roads through the mountains routinely morphed into four lanes with smaller vehicles squeezed onto the shoulder. Passing on blind curves, tailgating and general lunatic behavior was the norm. I can't tell you the relief I felt upon surviving long enough to cross the border into Ecuador and to find that drivers were much calmer and more rational. Peru fell somewhere in between. Despite the driving culture in the various countries, bus drivers were generally competent and reasonably safe, in my experience.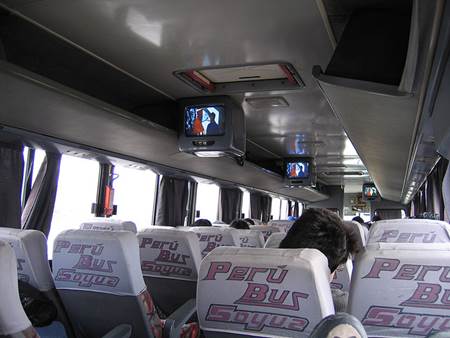 Comfort and safety
Be prepared for hours of dubbed U.S. movies blasting from screens, the kind with car chases and shoot-outs every 15 minutes. Or, you'll be treated to plenty of car chases and shootouts with your favorite Hollywood action stars–all speaking Spanish, of course. Bring earplugs.
Watch your stuff. The luggage that goes under the bus shouldn't contain anything of value. The daypack that you take on the bus and the money belt hidden under your clothes should be in your sight or attached to your person at all times. I know two people who had major camera equipment stolen from daypacks under the seat–and both were seasoned travelers.
Despite the hiccups and glitches, bus travel in Latin America is a great way to get places and often to see the countryside in between. The reality show that happens on board the bus isn't too shabby, either.
*****
Photo credits:
Bus in Colombia: Fernando Oliveros via Flickr
Rio de Janeiro Luxury Bus: Christian Haugen via Flickr
Cordoba Bus Terminal: Miguel Vieira via Flickr
Bus Terminal Vendors: Leonora Enking via Flick
Woman at Bus Ticket Booth: Guto Robles via Flickr
Bus in Argentina: order_242 via Flickr
Movie on Board: Ray_from_LA via Flickr