By Kate Convissor
Smack in the middle of Colombia, Bogota is hard to miss–all roads seem to lead to Bogota. The city nestles against the western flank of the Andes (which aren't very high at this point), mostly stretching north to south. It's Colombia's capital, and at almost 9 million people, it's just a hair smaller than New York City. But you only notice its size when your taxi is stuck in New-York-style traffic.
Mostly, you'll hang out in the historic center of the city, and that will provide at least a couple of days of exploring. Then, you'll want to branch out and see some of the sights farther afield.
Bogota, like the rest of Colombia, is newly emerged from years of difficulty and violence, and the city hasn't quite wrapped its arms around the vibrant tourist traffic that has begun to flow back, so some troubles (poverty and crime) still bedevil the place.
Read on for tips about safety, where to stay and things to do.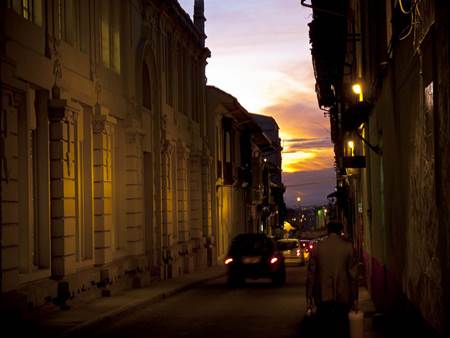 Safety
Just south of La Candelaria is a very rough neighborhood. I heard locals use words like cuidado (be careful) and peligroso (dangerous) to describe it. Believe me when I tell you that the margin of error is very small if you happen to wander into this area.
Walking around La Candelaria at night isn't a good idea, either.
When I read about counterfeit money in Colombia, I thought, what are the chances? In Bogota, not bad, actually. I still remember the big smile when I bought an umbrella from a guy on the street as he handed me a COP $20,000 (about $8.50). Yup. Counterfeit.
Counterfeit bills are smoother than the real deal, and they tear easily (because they're paper). Every Colombian bill has the face of a famous person. Hold the bill up to the light and you'll see a shadow of that face at the other end of the bill. If you suspect a fake, ask for another.
And you will need that umbrella in Bogota. It rained (and sometimes poured) for three of the five days I was there. And it wasn't even rainy season.
Where to stay
Two main areas attract tourists: the northern neighborhoods of Zona Rosa and Parque 93, and the historic La Candelaria district, where the city was born. The Zona Rosa and Parque 93 are upscale with major hotel chains (my cabbie proudly pointed out the high-rise Hilton and the club where all the political bigwigs hang). These neighborhoods offer lots of shopping and restaurants with a healthy dose of safety, for which you'll pay near-Western prices.
Some wealthy Bogotanos told me this was the only safe place to stay, and that I could get a hotel for $70/night. A few lower-priced hostels can be found there, which may be a good option, since the TransMilenio bus system can whisk you down to the historic district muy pronto.
La Candelaria has an interesting vibe. It's a student and backpacker hangout, by and large, with the energy and noise to go with it. Tons of hostels line the streets, but unless you're into the party scene, you may be hard-pressed to find a more mature and tranquil setting.
I spent the better part of a day checking out hostels for the right blend of atmosphere and price and came up empty-handed. There are lots of cheap places, but they weren't quiet. Try Anandamayi Hostel. It's a little out of the way, but has three lovely courtyards and a very peaceful ambiance. A few hotels are also scattered throughout La Candelaria.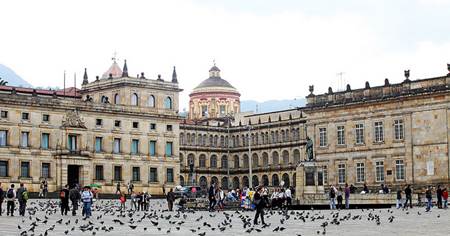 What to See
Plaza de Bolivar
Of course, you have to start here. The plaza has been the epicenter of struggle, growth and bloodshed for decades, and it's still where the cogs of politics and justice grind on. It's a richly historic place, and that history is not so long past. It's also where the city's mayor works and, just behind the capitol on the south side of the plaza, where the president lives. ("Like your White House," said my chatty cabbie.)
Your first stop in La Candelaria should be at the somewhat hard-to-find tourist information office on the southwest corner of the plaza, across from the National Capitol. You'll probably have to ask a couple people where it is. They offer free daily tours in English.
Museo del Oro
Every town in Colombia seems to have a gold museum, but Bogota's is the mother of them all. In addition to exquisite pieces made by indigenous people from long ago, the museum does a fantastic job of interpreting the art of ancient metalworking and of putting the historic timeline into perspective. You won't see post-Conquest metalwork–this is devoted to Colombia's indigenous past. Try to go on a weekday. I went on a rainy Sunday, and it was too crowded to really enjoy.
The Emerald District
Colombia mines some of the most exquisite emeralds in the world in the Muzo District, not far from Bogota. While emerald mining here has had all the corruption and unpleasantness associated with mining anywhere, apparently the most egregious elements have been cleaned up recently. So you can buy emeralds with a clear conscience.
Go to Plazoleta Rosario on the corner of Jimenez Avenue and Carrera 6 (calles run east/west and carreras run north/south. It's helpful once you get the hang of it). There you will see groups of men standing around trading emeralds. It's all very brisk and casual. They will place the gems on white paper and hold them in the sunlight to assess their quality. Apparently, the gems can only be seen clearly in the sunlight, thus the daytime corner emerald market.
Then go a block east to the corner of Jimenez and Carrera 5 to the Emerald Trade Center. There you'll find three floors of jewelry stores that specialize in all things emerald. The jewelry is all certified, and many of the shops are family-run. You won't find truly unusual pieces (at least I didn't), but you will find lovely emerald jewelry at good prices. Do a little homework and then dive in. It's fun!
There are also a ton of jewelry stores on the blocks south of the Emerald Trade Center. An Emerald Museum is next to the Museo del Oro, but it was closed on that rainy Sunday I visited.
Cerro de Monserrate
It's hard to miss the white church atop the mountain hugging the eastern flank of the city. The mountain is Monserrate and the church is a shrine to El Senor Caido (the Fallen Lord). Pilgrims have been making the trek up the mountain for 400 years, but now it's as much a tourist activity and weekend outing for Bogotanos as anything else. In fact, the scene at the top on a sunny Saturday is as much mosh pit as anything devout.
There are three ways to the 3,152-meter-above-sea-level summit: funicular, cable car (teleferico) or a pie (on foot). The path to the top is delightful, if exhausting. You'll find fairly regular food stalls (and you'll wonder how people get supplies up the mountainside. Answer: either a pie or by mule. You'll find mules and horses, too, plus other surprises, like a guy standing on a high rock playing a wooden flute when I went up. The summit is lovely with gardens and a couple upscale restaurants in addition to the church.
If you're walking, do it on a weekend. Apparently, occasional robberies can happen during the week. Or take the funicular or cable car.
Graffiti
Spend half a day just walking around in La Candelaria. The graffiti is incredible, plus you'll encounter small squares, tiny twisting streets and green people that peer down from walls and rooftops–a project of artist Jorge Olave.
Absolutely take the walking Bogota Graffiti Tour (in English). The tour starts at the Bolivar statue in the Parque de los Periodistas every day at 10:30 a.m. You have to sign up in advance on the website.
Museo Botero
A fun couple of hours of cute plumpness never hurt anyone. Fernando Botero is a native of Medellin whose iconic style of very rotund subjects, whether fruit, flowers or people, is called Boterismo. The museum is free. It's fairly small but high quality.
Museo Santa Clara
Once a church and convent, now a small museum next to the presidential palace and near the Plaza de Bolivar. Highly recommended. I didn't go and, again, wish I had.
Usaquen Market on Sunday
Actually the town square of what used to be a separate pueblo until Bogota gobbled it up, the Sunday Usaquen Market is a melange of traditional stalls selling Colombian food and crafts as well as manufactured items in the streets surrounding the church. But you can also visit upscale shopping in the nearby Santa Barbara mall and sample various cuisines at the many restaurants surrounding the square. Ask at the visitor's center how to get there by bus.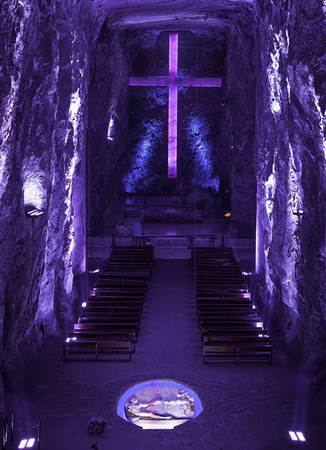 Salt Cathedral of Zipaquira
Several out-of-town tours are on offer in Bogota, but this is the one not to miss. Zipaquira is a town about 30 miles (50 km) north of Bogota. The town has a pretty square and an otherwise gritty vibe. But the attraction in Zipaquira is the Catedral de Sal deep underground.
Salt has been mined there since time immemorial by indigenous people and now by modern techniques. The active mine is four levels down. A simple shrine was built decades ago by the miners to ask for divine protection for their work, but the concept of an elaborate underground cathedral slowly gained traction and has a convoluted history. The current cathedral was designed by Roswell Garavita Pearl. It includes small chapels for the 14 Stations of the Cross and huge naves left behind by mining that represent the birth and death of Jesus.
The place isn't cheesy. It is, in fact, very affecting and beautiful. Totally vale la pena, as they say–worth the effort. It's easy to get to Zipaquira by bus, tourist train or on a tour. Ask at the visitor's center. Try to get there early in the day. It gets busy. There are regular tours in Spanish; you may have to wait for an English tour.
*****
Photo credits:
La Candelaria: Rosalba Tarazona via Flickr
La Candelaria at Night: Diego T. Garcia P. via Flickr
Hilton Bogota: Miguel Vaca via Flickr
Plaza de Bolivar: Ministerio TIC Colombia via Flickr
Museo del Oro: DuDu Sam via Flickr
Cerro de Monserrate: sergejf via Flickr
Bogota Graffiti: Guache via Flickr
Salt Cathedral: Jimmy Balkovicius via Flickr