By Kate Convissor
The Amazon brings to mind images of impenetrable jungle and broad, slow rivers filled with piranhas and caimans and poisonous snakes, and things that go bump in the night. Usually, the Amazon is associated with Brazil, because, well, that's where 60 percent of it is located.
But the Amazon is vast and has no respect for boundaries, so the eastern regions of Peru, Colombia and Ecuador are also swallowed up by the Amazon basin. To some extent, all three countries have some tourist infrastructure for those who want to visit this fascinating part of the world.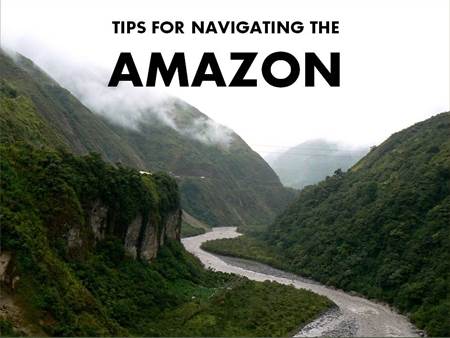 Where to Stay
Generally, a visit to the Amazon involves traveling to one of the major interior towns and staying in a lodge. Representatives from your lodge of choice will meet you and transport you to your lodge, which may involve cars and/or trucks, canoes and other non-traditional forms of transport. It can sound complicated, but my journey was remarkably smooth.
I opted to visit a remote and rustic lodge on the Napo River in the Ecuadorian Amazon where several lodges of various levels of luxury lie along the Napo and Cuyabeno rivers in Ecuador. Peru also has some well-developed tourist facilities centered in Maldonado in the south and Iquitos in the north. The Amazonian region in Colombia appears somewhat less accessible (which may be a good thing for the more adventurous). Ecuador worked well because I could take a half-hour flight from Quito to the Amazonian town of Coca, which is where most of the lodges in this part of the Amazon meet their guests.
There are more comfortable and well-regarded lodges in this part of the world, but I opted for a more rustic, less mediated environment (after all, if you're going to the Amazon, you want to be in the forest, not some comfy cabana, I figured).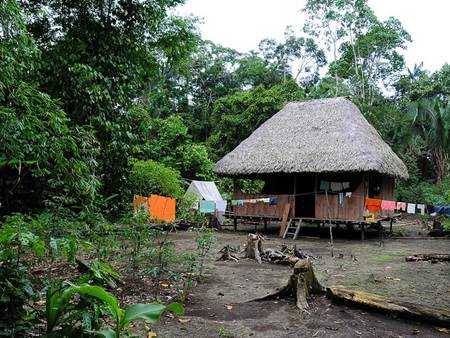 Do your homework
"Welcome to the rainforest," said our guide, Miguel, as the taxi deposited me at the banks of the Napo River. "There's rain and there's forest." Since it was already pouring, I was willing to take his word for it.
Visiting the rainforest is an intimate brush with a powerful force of nature. This probably isn't an ecosystem you're familiar with, so it's important to think through what you'll need to stay comfortable and safe.
Make sure you're comfortable with the lodge or guide you're going with. Some people would be miserable with my very rustic experience, while others would eschew a cushy resort-type lodge. If spiders and snakes and reptiles freak you out, ask yourself if an Amazon trip is really your cup of tea.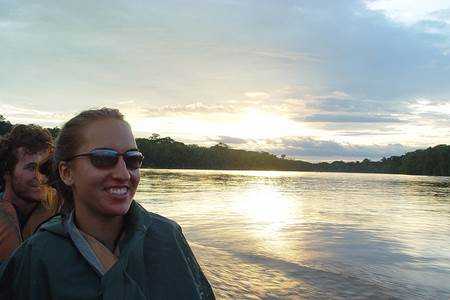 Immunizations and prophylactics
Make sure all your immunizations are up-to-date. The lodge I stayed at required that I get a yellow fever vaccination, plus I took a prescription for Malarone, an anti-malarial drug that is fairly cheap and has few side effects. I also made sure my hepatitis A and B series were complete. I had previously been immunized for typhoid (for another trip).
Pack light
Don't take your big roller bags. They won't travel well in the pouring rain in a canoe, trust me. Forsake glamor for common sense. Bring light, quick-drying performance wear. It could rain torrentially every day (as it did when I went), or it could be hot but delightfully dry (as it was for the people who went the week before me).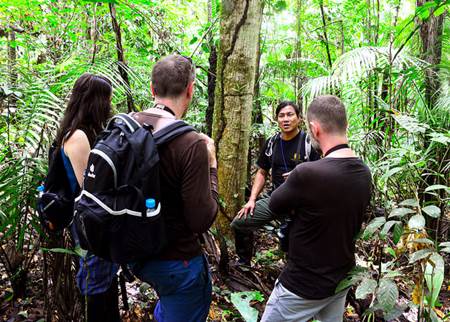 Don't count on drying out
If the weather is as wet as it was for me, nothing will dry—not the clothes you wash in the yellow water that comes from the tap in the bathroom sink nor the clothes you fall into the river with. You may get an hour of smiling sun, and you will gleefully hang your clothes to dry, but before you get back from your next hike, it will be raining. And after five days in the jungle, both you and your pack will smell like wet fur, which is probably also growing in there.
What to pack
I was able to bring everything I needed for five days in a day pack and a small mesh bag. I left my big backpack at my hotel in Quito. You'll want to bring a couple changes of clothes, including a long-sleeved shirt and pants. (You have to wear long pants and rubber boots in the jungle. Usually, the lodge provides the boots.) Also bring a swimsuit, maybe light binoculars for spotting monkeys and birds, sandals for wearing around the camp. Toiletries include sun protection with an SPF of 50, bug repellent, a mini-first-aid kit, headlamp, biodegradable soap for body, hair and clothes, a stout poncho for rain (I brought an umbrella, but it was pretty useless except as a shield for pelting rain on the canoe ride back). I also brought a high-quality water filter that I use for general travel, although the lodge had drinking water.
Make sure you know what your lodge provides, and what it recommends that you bring.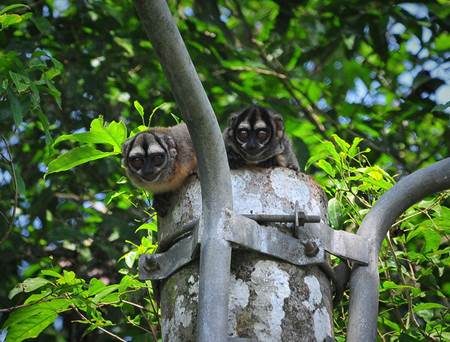 Bring a good attitude
This is the jungle, and it does whatever it wants. But despite everything, you will experience a completely unique natural world. On the night hikes, you may see walking sticks as big as your forearm, snakes, and fist-sized spiders. On the day hikes, you may see various species of monkey high in the canopy or macaws quarreling nearby. Wildlife sightings aren't guaranteed, but simply being in this vast and pristine place is magical in itself.
*****
Photo credits:
Amazon River: Marcio Ramalho via Flickr
Amazon Lodge: Vince Smith via Flickr
Amazon Jungle Walk: Roderick Eime via Flickr
Amazon Boat Ride: Pete via Flickr
Amazon Foot Bridge: Pete via Flickr
Amazon Wildlife: Winky via Flickr