by Beth Whitman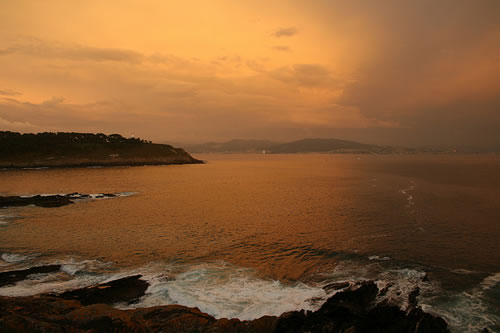 Even though the weather in Cabo is pretty consistently warm and sunny, there are times outside of the usual wet season (July/August/September) when you might have some rain.
This happened to us in January. We could see the dark clouds looming on two days and actually got poured on a couple of times while we were out and about.
Not a big deal. After all, even a heavy rain in warm weather beats constant drizzle in cooler Seattle.
If you're checking a weather report, one thing to keep in mind is that even if the report shows rain throughout the day, you'll likely get intermittent sun. And it'll still be warm. So there's no reason not to find a spot by the pool and enjoy the times when it is warm and sunny.
Alternately, here are some ideas for things to do when it's raining in Cabo San Lucas.
Hot tub – Oh my. What better way to spend vacation than soaking in a hot tub. In the evenings I was surprised how low the temps dropped in Cabo. Well, "low" is a relative term in Mexico. It was likely in the high 60s. Cool enough for a light jacket and definitely the perfect weather for hot tubbing. We had warmed up so much by the time we finished our soak that it never really felt in the 60s.
Go to the movies – At the Puerto Paraiso Mall, there's a Cinemax theater that shows first-run movies in both English and Spanish. I know you didn't go all the way to Cabo to sit in a dark theater but, hey, if the weather isn't cooperating, this isn't a bad alternative. I love going to movies in other countries because I like to see how the locals react to film. Bonus is that it'll be a bit cheaper than going to the movies in the U.S. and they sometimes have two-for-one tickets on Tuesdays so you'll save going with a friend or three.
Spa day – Though this is a spendier option, I don't think I need to twist your arm to take a spa day and enjoy a massage, facial or mani/pedi. Most of the resort hotels have a spa on-site. It's helpful to book your treatment in advance so keep an eye on the weather and see if you can make your appointment when the skies look least favorable.
Go shopping – There's no shortage of places to shop in Cabo San Lucas. In addition to the countless souvenir and jewelry shops that border the marina and the streets beyond, there are two high-end malls–Puerto Paraiso and Luxury Avenue. Even if your budget doesn't allow for luxury goods, it's still fun to browse in these malls (and enjoy the air conditioning!).
Read – I do love to read a good book but I admit that with the ease of turning on my iPhone and scrolling through my Feedly articles I don't read as much as I used to. I made an effort while in Cabo to spend as much time as possible reading and I loved it. So much so that it's made me want to continue that good habit now that I'm home.
Take a Drive – We rented a car from Alamo while we were in Cabo. Though we didn't use it every day, we found it came in really handy on a few occasions. Like when we wanted to go shopping for groceries. (Note that many hotel rooms in Cabo such as ours, the Casa Dorada, include a kitchen.) But beyond errands, we also took a drive out to some beach areas that were pretty secluded and where there were few tourists. Even in cloudy weather, there's no reason why you might not want to just get out of the wilds of Cabo and enjoy a beach walk somewhere more remote.
Take a coffee break – There are coffee shops in Cabo where you can just go and hang for a bit. While there is a Starbucks, you'll have a far more interesting experience if you visit a locally-owned coffee shop. Try the Bar Esquina Coffee Shop (this was conveniently located right across the street from our hotel). They have limited seating but lots of bakery options and excellent coffee. They'll also package up a lunch-to-go for you if you're going to be out for the day.
A couple of other options include the Cabo Coffee Company, where they roast their own single origin beans from Mexico and Cream Cafe, a European bistro with pastries, sandwiches and drinks other than coffee.
Whatever you decide to do when it's raining, the bottom line is to not let a little drizzle get you down while on vacation.
Photo credit:
Cabo weather – Contando Estrelas
Coffee cup – Suzanne Nilsson