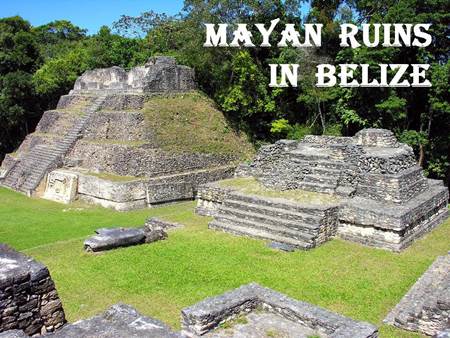 Belize is known for its beautiful beaches on the Caribbean Sea and tropical jungles, but also for its unique historical backdrop–namely, this country is filled with Mayan ruins just waiting to be explored.
From 2000 BC up until the 1600s AD, the Mayan people lived and flourished on the Yucatan Peninsula. While Europe was in the Dark Ages, Mayan civilization boomed. At its peak, it included parts of Mexico, parts of Honduras and El Salvadore, and all of Guatemala and Belize. With that peak came structures to rival the greatest monuments on earth–from famous Chichen Itza in Mexico to lesser known sites all around the former empire. Mayan ruins in Belize aren't nearly as touristed as those in Mexico, but are just as amazing.
Since many ruins are outside of major cities and hubs, a rental car is the best way to get to them. However, roads can be bumpy, muddy or gravel on the way to some sights so be sure to plan your car around where you want to go–four-wheel drives are great for places like Caracol that will likely involve some mud. Also, check ahead as bad weather can close roads and access to some ruins. It's good to have a back-up plan just in case.
Just like you'll want to choose a car that can handle roughing it, also bring sturdy walking shoes. You can climb many of Belize's ruins and a good pair of shoes will make or break the experience!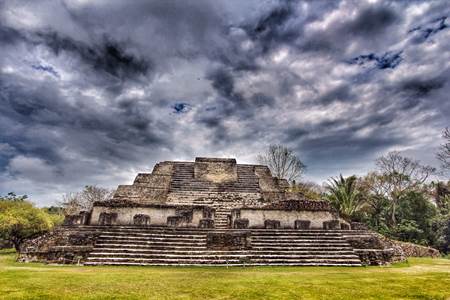 Altun Ha
Altun Ha is just 30 miles from Belize City, making it one of the easiest Mayan ruin complexes to reach. Altun Ha has a bit of a shorter history (it's only been around since about 900 BC), and many of its structures date to 400 to 900 AD. The most notable structure in Altun Ha is the Sun God's Tomb–a pyramid that visitors are allowed to climb. Altun Ha was also known for its jade, even though most of what's been found is no longer there and is now in museums. Jade jewelry was found in tombs here, but the biggest find was the Jade Head–a 10-pound piece of jade that remains the largest piece of jade found at any Mayan site. In fact, you'll see it on all bills in Belize. Altun Ha does not have as many carvings as other sites, but do look for a giant carved head near one of the pyramids.
Caracol
No mistake about it, Caracol is a little tough to get to, but if you're up for the 2.5-hour drive from San Ignacio Cayo on some rougher roads, Caracol won't let you down. The site includes the largest pyramid (and to this day one of the largest buildings) in Belize at 140 feet, but is more than a single pyramid. In fact, Caracol has hundreds of structures that span over 200 square kilometers. It's thought that more than 100,000 people lived in this ancient city, making it one of the largest Maya cities anywhere, but it was abandoned in about 900 AD. Also be sure to ask ahead as there may be limited hours for un-guided visitors.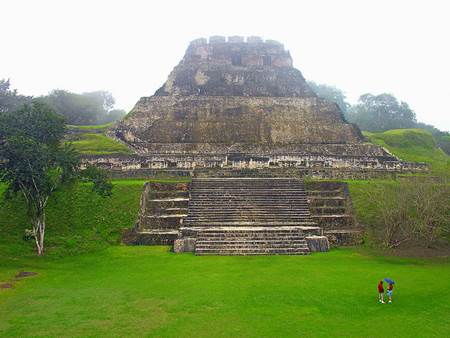 Xunantunich
Xunantunich is the site of the second tallest ruin in Belize–a pyramid called El Castillo that towers at 130 feet tall that was likely built around the year 800. El Castillo is known for its massive frieze covered with carvings of gods, knotwork and more. You can explore the ruins on your own and even climb to the top of El Castillo for a stunning view of the surrounding jungle.
Cerros
Cerros (or Cerro Maya) is located on the coast of northern Belize–so close to the coast that part of the site is now underwater, but five temples, ball courts, canals and plazas remain above water. One temple, now in ruins but still with steps you can climb, has four large, stucco masks carved into its front that are thought to represent the rising sun, setting sun, morning and evening stars. Wander the 52 acres of the site and explore the ball courts and other temples, too, but by far the highlight at Cerros is standing on top of an ancient structure with views of the surrounding water and jungle.
Lamanai
Where many Mayan sites have names given to them by archaeologists, Lamanai is one of the few that still carries its original Mayan name. Lamanai has a long history, with its first residents showing up about 2,000 years ago and it still had residents as late as the 1600s! There are more than 700 structures at the site, including several large temples–Mask Temple, Jaguar Temple and High Temple. Cool features include 13-foot tall "masks" of a Mayan king on the Mask Temple, which are well-preserved and make amazing photos! You can climb to the top of High Temple and admire the views, but like climbing any Mayan temple–not for the faint of heart!
*****
Photo credits:
Caracol: Dennis Jarvis via Flickr
Altun Ha: Steve Sutherland via Flickr
Xunantunich: Dennis Jarvis via Flickr
Lamanai: Bernt Rostad via Flickr