There's an undeniable lure to the Caribbean–beaches, perfect weather, things to do that range from dining out to high adventure to historical landmarks (but…seriously…you're probably here for the beaches and water sports and not the history)!
Of all the Caribbean islands you could visit, there's a strong argument that Aruba is one of the best. Why's that? Well, for starters, no hurricanes. Aruba is outside of the hurricane belt. Other reasons? How does a constant temperature of about 80 degrees sound? Or endless beaches? Or shopping centers galore?
Oh yeah. Aruba is a great place to visit for many reasons.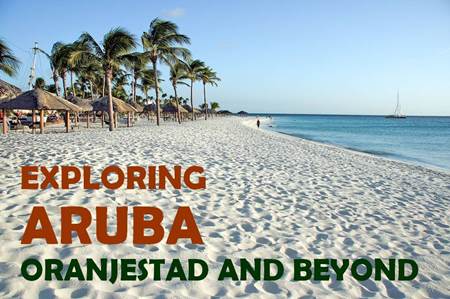 Beaches
First and foremost, if you go to Aruba and don't spend some time on the beach, you have really got to get your priorities straight. Aruba's beaches are known for their white sand, turquoise water and often gentle surf, ideal for a leisurely swim or snorkeling. They are without question some of the best beaches in all of the Caribbean–from the shallow water of Baby Beach (amazing for snorkeling!) to the pristine white sands, plentiful restaurants and bars of Palm Beach. To top it all off, Eagle Beach–also known for white sand and calm, blue water–is often considered one of the best beaches in the world.
Many of Aruba's beaches are ideal for water sports. You'll find ample deep-sea fishing tours and scuba opportunities, as well as places to stand-up paddleboard or surf.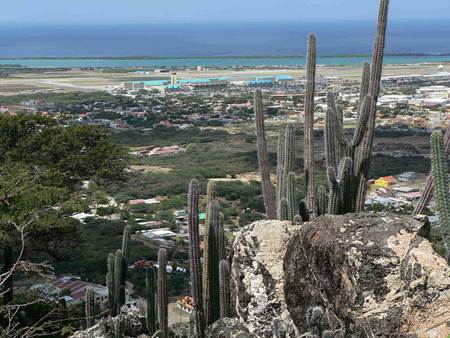 Natural Beauty and Hiking
Aruba, being the over-achiever that it is, doesn't restrict its beauty to the beaches. An impressive 20% of the island is preserved in the Arikok National Park, which you'll need a need a car to really explore. Once you're in, you can explore on foot or bike on various trails or sign up for a horseback ride. Highlights include the Quadirikiri and Fontein caves as well as the Natural Pool. The park is, perhaps surprisingly, fairly arid as Aruba is mostly a desert island…so bring your sunscreen. Lots of it!
There is a fee to visit Arikok National Park, but another natural sight is free–the Ayo Rock Formations, where not only can you see some of Aruba's natural side, but also you'll spot some petroglyphs by the Arawak people.
The Bushiribana Gold Mill Ruins is one of the most interesting sights on the island. Set on the windy side of Aruba (bring something to tie your hair back if you have long hair), these are the ruins of an old gold mill. You can climb among the ruins and get some very cool photos. But, no, you won't find any gold. That's long gone.
Finally, if you want to see the island birds-eye style, climb up the Hooiberg–a volcanic formation that's the second-highest point on the island. After a short-but-intense climb up 587 steps, you'll find yourself standing on top of Aruba with a great view of the island and the ocean.
Shopping
Aruba's capital of Oranjestad is a charming destination for many reasons–not the least of which is the fact that its architecture is marked by Dutch influence (Aruba is part of the Kingdom of the Netherlands), but painted in Caribbean colors. Oranjestad is also the place to be if you want to go dining, dancing or gambling, but above all–it's your place if you want to shop.
You'll find just about every kind of shopping center, too. Cute boutiques, tourist traps, street vendors and shopping malls all vie for the avid shopper's attention. If you prefer American and European brands, look to the Renaissance Mall. There are many jewelry, diamond and gold shops in town as well–shop wisely and you can find some deals here. Or if you prefer something that you can't as easily find at home, look for Dutch Gouda. It's delicious!
Bonus: Both dollars and euros are widely accepted in Aruba so you don't have to worry about exchanging currency!
Food
Exploring beaches and finding great hikes isn't the only way to get to know a place. Exploring the local culinary scene is a must. If you spot a burger or a Caesar salad, walk the other way. There are better options here. (Unless you really want that burger or salad, but come on! Live a little!)
First and foremost–what to drink? Balashi Beer is a popular locally brewed choice. If you really dig it, you can even tour the brewery in Oranjestad. If you're not a beer fan, coecoei is a local liquor that's been produced in Aruba for hundreds of years. You'll spot it in plenty of mixed drinks. If you like it, drink up. It's not exported outside of Aruba.
You'll find no shortage of restaurants. There is some skill in choosing the worthy from the touristy, but you'll find everything from upscale to casual. Try Yemanja if you want a place known for yummy, foodie cuisine. You'll find places that celebrate the country's connection to the Netherlands–specifically look for restaurants that serve up Dutch pancakes. Or if you want to go local, try Gostoso, which serves up Portuguese and Aruban food.
Aruba isn't large, but getting a rental car is a great way to get out of Oranjestad. Driving in Aruba isn't difficult, but as always, read up on local travel rules–for instance, there are no rights allowed on red lights!
*****
Photo credits:
Eagle Beach: Garan Ingman via Flickr
View from Hooiberg: David Stanley via Flickr
Oranjestad: Gail Frederick via Flickr
Surf and Turf Aruba Style: Garan Ingman via Flickr