Costa Rica is known for many things–ecotourism, wildlife, volcanos, jungle. Above all (at least if you have your priorities straight), Costa Rica is known for its beaches. With coasts along both the Pacific Ocean and the Caribbean Sea, this relatively small country has a whole lot of beachy goodness in that small space. Whether you like your beaches paired with surfing, fishing, adventuring, dining with a view of the water or just relaxing, Costa Rica has a beach for you.
In fact, there are so many beaches to explore that the only practical way to get between them is to get a rental car and hit the road (do make sure to do your research on Costa Rica car rentals, though–roads can be bumpy and insurance is mandatory). Of course, no one would blame you if you grab a book and bask in the sun all day at just one beach either.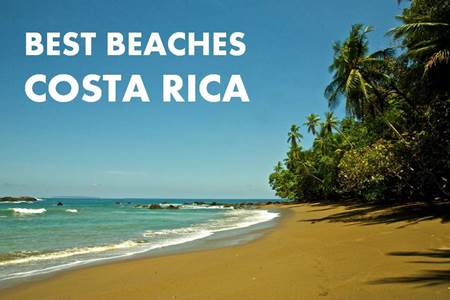 Osa and Nicoya Peninsulas
If your idea of a great beach day is hopping along a coastline and exploring, head to either the Osa or Nicoya peninsulas. While Costa Rica has hundreds of beaches to choose from, both of these peninsulas offer some of the best. Osa Peninsula is known for Corcovado National Park, which is one of the best places to hike, look for local flora and fauna, and explore what Costa Rica is really all about. Osa Peninsula is also home to many white sand beaches that are set off the beaten path. Nicoya Peninsula is equally as known for its beaches–the towns of Montezuma and Mal Pais are two particularly stand-out beach destinations. However, if you've got a rental car and you're traveling during rainy season (typically April to November), check first with someone local to see if roads are passable!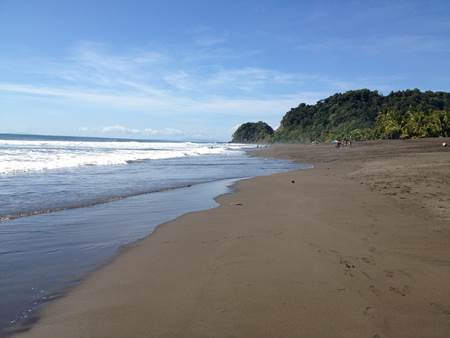 Playa Hermosa
Playa Hermosa literally means beautiful beach and its name isn't kidding around. Volcanic rock and lush forests serve as a backdrop. Gray sand goes for miles and leads down into clear, blue water that's just begging you to dip your toes in for a swim, or a snorkel or scuba session (and, in fact, this is a fine place to find guided scuba and snorkeling adventures). Alternately, you can rent a kayak, take a horseback ride or dine at one of the many nearby restaurants. The area in general is filled with plenty of things to do so you can't go wrong.
Playa Carrillo
Playa Carrillo is an all-around winner of a beach. First and foremost, it's stunningly pretty with its wide, curving shoreline and pristine white sand. It's a great place for water activities, too, with calm surf for swimming or snorkeling, as well as La Selva Wildlife Refuge less than a mile away. There's a cute town in Carrillo itself, but if you need more restaurants, shops or want to stay in the area, look to nearby Samara. For the most part, the beach is relatively quiet, but be warned that it's a popular local spot on holidays!
Esterillos Este
Walk for miles along the chocolatey colored sand and you may not ever spot another human being, and yet you're not far from civilization. There are places to stay dotting the coast, including some pretty fabulous luxury rentals. Also, not far from Esterillos Este is Jaco–a bustling beach resort area. While Jaco is a great place to stay and a lot of fun to boot, if it's something quieter you seek (don't we all wish to discover that hidden treasure of a beach), this is it.
Manuel Antonio National Park
What's a national park doing on a list of beaches, you ask? It just so happens that this national park has not one, but four beaches where you can relax on the sand, swim or snorkel. When you've had your fill (if you ever reach that point), you're situated in one of the most biodiverse parks on the planet. Explore the park and you'll spot monkeys, sloths and a staggering number of tropical bird species. And then when you're done, go back to relaxing on the beach.
Tamarindo Beach
Unless you're seeking peace and quiet, Tamarindo Beach is another all star that covers many bases. You want to go surfing? The waves here are approachable for beginners. You want to watch the sunset from a beachfront restaurant? No problem! There are several and the sunsets are amazing, as they are at all the Pacific Coast beaches in Costa Rica. Just want to sit and stare at the ocean? There are plenty of umbrellas and spots in the sand just waiting for you. Alternately, the shops and restaurants near the beach are some of the best for shoppers!
*****
Photo credits:
Osa Peninsula: Vytautas—rys via Flickr
Playa Hermosa: Jesus Rodri­guez Martínez via Flickr
Playa Carrillo: m.prinke via Flickr
Jaco Beach: Adam Jones via Flickr
Manuel Antonio: Jesús Rodríguez Martínez via Flickr
Witches Rock-Tamarindo: dog4aday via Flickr