Rio de Janeiro is famous worldwide and an argument could be made that it's become the epitome of what many people think of when they imagine Brazil–the country's most famous beaches like Copacabana and Ipanema are here, Christ the Redeemer is one of the most famous statues on the planet and the city's Carnaval is one of the most well-known festivals anywhere.
But that doesn't mean Rio is the only city worth exploring in Brazil! Not by any means. Rio is amazing and worth a visit, but so are many other places in Brazil. From its climate to its culture to its music to its geography, Brazil is incredibly diverse and filled with equally diverse cities and natural attractions.
Brazil is a big country! In fact, the fifth largest in the entire world and the largest in South America. For travelers, this means a whole lot of places to go, things to see and cities to explore. It also means that if you want to check out more than one city, a rental car is an excellent way to go!
Brasilia
While it's likely more foreigners have heard of Rio, Brasilia is actually the capital of Brazil. Master planned from the start, Brasilia is not an Old World kind of place. It's filled with modern architecture and listed as a UNESCO World Heritage Site as a result. Architecture buffs are sure to love this place, but anyone who appreciates a neato-looking city will as well. The town is laid out in the shape of a bird or a plane. (It's a bird! It's a plane! It's Brasilia!) Especially cool structures and buildings to check out include the bridge that spans over Paranoa Lake and the Cathedral of Brasilia, which is guaranteed to be the most unique cathedral you've ever seen.
Florianopolis
Brazil has no shortage of beaches, but one city that offers an above-average sampling of beachy goodness is Florianopolis with 42 beaches to its name! White sand and blue water stretch as far as the eye can see, and you can expect all the usual beachside activities at many of the area beaches, like scuba diving and surfing (Barra da Lagoa, Praia da Joaquina and Praia Brava are known for their waves). With so many beaches to choose from, ask a local or at your hotel for a beach that suits your plans for the day. However, if you're adverse to nude sunbathing, keep your distance from Praia da Galheta…but this beach is a great place to find some peace and quiet!
Pantanal
The Pantanal is a region rather than a city, but oh what a region! Within its bounds is one of the largest freshwater wetlands in the world, which is home to some impressive biodiversity. Visitors to the Pantanal who go out to explore will see caimans, capybara, giant river otters, piranha, birds galore and even jaguars.
Manaus
The Amazon rainforest spans a whopping 2.7 million square miles–and 60 percent of that is located in Brazil. Eco-tourists will have a field day. There are several towns and regions near the Amazon rainforest, but Manaus is the largest and makes a fabulous jumping off point. The city itself has plenty to explore, including the Natural Science Museum and Teatro Amazonas–an opera house–as well as a few river beaches. But the real action here is outside of town, exploring the Amazon. You'll need a guide to take you. You may be able to find explorations that take a day or two, but your best bet is to allow three or more days.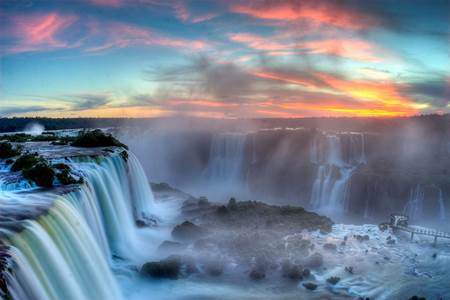 Iguazu Falls
Iguazu Falls is such a massive waterfall that it spans two countries–Brazil and Argentina, but fortunately for travelers to Brazil, there are generally better viewpoints on the Brazilian side. Iguazu Falls is taller than Niagara Falls and about twice as wide. The height of the falls ranges from 210 to 269 feet! One aspect that makes the Brazilian side of the falls superior is a superb view of Devil's Throat–a U-shaped grouping of falls that tower at 269 feet. The town you'll need to aim for to visit the falls is Foz do Iguaçu. If you do intend to cross over into Argentina, even just to see the falls from the other side, make sure you check visa requirements.
Sao Paulo
As the largest city in Brazil, Sao Paulo offers much for any visitor, especially if what you seek is a city to explore. Sao Paulo is a microcosm of Brazil's overall diversity, with a surprisingly high Japanese population (the highest outside of Japan!) and strong Italian influence. Due to this, the culinary scene in town might be unexpected–as in you can find a fairly amazing variety of pizza here. Avenida Paulista is the prime place for a city stroll, filled with restaurants, shops, theaters and galleries galore.
*****
Photo credits:
JK Bridge Paranoa Lake: JulaniPhotos via Flickr
Pantanal: miquitos via Flickr
Iguazu Falls: SF Brit via Flickr