By Rachel Diebel
Ever dream of relaxing on a towel in the sand…the southern hemisphere sun beating down on you, the sound of waves on the shore nearby? Of course you have. Beaches conjure up images of sand, sun and blue ocean waters, and they're always great for a vacation whether in Puerto Rico or Aruba. Grab your sunglasses and SPF 50 and plan a trip to one of these amazing Caribbean beaches!
Eagle Beach, Aruba
Eagle Beach in Aruba is the perfect destination for any time of the year. Known for its insanely white, soft sand, this beach has a great balance of natural beauty and practical amenities. For an extra thrill, rent an ATV and take it down to the beach for a spin. Though the beach isn't usually very crowded, be sure to arrive early to secure the best spot for your towel and umbrella! There are a few picnic areas in the shade and huts you can score if you don't want to be out in the sun all day.
Seven Mile Beach, Grand Cayman
Seven Mile Beach's biggest claim to fame is its perfectly crystal-clear waters. Snorkel gear isn't even necessary to spot the wildlife; you can see all the way to the bottom of the ocean in some places and admire the tropical fish. If you do want to get a little more up close and personal, snorkel gear is available for rent for just a few dollars from one of the many vendors that set up on the sand, who will also have beach chairs and umbrellas for visitors to rent and camp out for the whole day. Because that's what you'll want here–a whole day!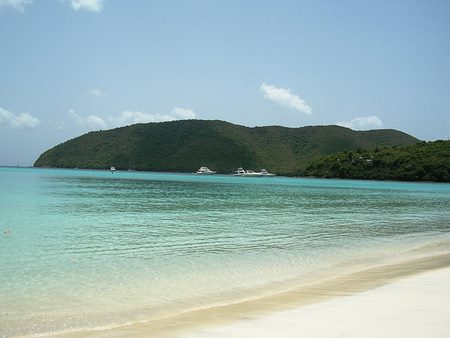 Maho Beach, St. John, U.S. Virgin Islands
Though there is no coral reef at Maho Beach, there's an abundance of turtle grass, so if you come during the right time of year a sea turtle sighting is almost a guarantee. The beach is also conveniently located, with plenty of parking (sometimes a rare amenity at popular beaches). With its soft sand and extremely calm surf, Maho Beach is great for families. Just make sure to bring your own food and drink to cut down on the cost, and prepare yourself for a wonderful day in the sun!
Bathsheba Beach, Barbados
Bathsheba Beach is a surfer's paradise, even earning the nickname Soup Bowl Beach for the foamy waves that come rolling in. For the non-surfer, the beach still offers plenty of opportunities for relaxation. The sand is ringed with cliffs that provide spectacular views and the picture perfect photo opportunity. In addition, there are many beachside bars offering pina coladas to help you wind down after a long day of having fun.
Sandy Point, U.S. Virgin Islands
The main draw of Sandy Point Beach is its status as a protected area, leaving the space around the beach itself completely undeveloped. Visitors can feel as though they're really in an untouched natural preserve, particularly because Sandy Point is somewhat secluded and tends to draw a smaller crowd. If you visit during the right time of year, you can expect to see large leatherback turtles gathering in the warm, shallow waters. Take a long walk down the two-mile beach and keep a lookout for turtle nests.
Horseshoe Bay Beach, Bermuda
Horseshoe Bay Beach is one of the finest examples of the pink-sand beaches that Bermuda is famous for. The sand is made from crushed seashells and coral and creates a beautiful picture when combined with the natural limestone cliffs that surround the water. One of the major attractions of Horseshoe Bay Beach is its family-friendly nature. It is one of the few beaches in the Caribbean that employs a lifeguard all year round, too.
Montego Bay, Jamaica
For those who crave adventure, look no farther than Montego Bay Beach in Jamaica. The beach offers everything from zip lining, kayaking, scuba diving and even water parks for anyone who can't get enough of the water. Complete with easy access from the local airport or cruise ship, Montego Bay is perfect for the beach lover who likes a little bit of urban city fun on the side.
*****
Photo credits:
Eagle Beach: Garan Ingman via Flickr
Seven Mile Beach: Michael McCarthy via Flickr
Maho Beach: TravelingOtter via Flickr
Bathsheba Beach: Joe Ross via Flickr
Turtle at Sandy Point: U.S. Fish and Wildlife Service Southeast Region via Flickr
Horseshoe Bay Beach: David via Flickr
Montego Bay: Sarah_Ackerman via Flickr