Puerto Vallarta is most known for its beautiful beaches and fabulous resorts, but don't make the mistake of thinking that this Mexican beach paradise is all about luxury and margaritas. You can just as easily dive into some adventures, from gentle excursions like snorkeling to things that will set your heart racing a bit, like kite surfing or zip lining. Puerta Vallarta is also in close proximity to the Sierra Madre mountain range, which opens up everything from visiting local villages to offroading.
Water sports
It goes without saying that a beach destination is so much more than a place to sit on the sand and soak up some rays (although, make no mistake—you can generally do plenty of that too). One of the most approachable water sports in Puerto Vallarta is snorkeling as the surrounding Banderas Bay is filled with opportunities, including the Los Arcos underwater caves. Puerto Vallarta is also among Mexico's top scuba diving areas. If you prefer to stay on the surface of the water, you can go sailing, parasailing or surfing (best done by renting a car and driving about 45 minutes to an hour north to Nayarit).
Whale watching
Humpback whales migrate through the waters off Puerto Vallarta's shores from December to March each year. Hop aboard a tour boat and you can get up close and personal with these giants, and enjoy a boat ride on the ocean too. Along with whales, you'll likely spot other sea life, including dolphins.
Go zip lining
With the Sierra Madres so close, it pays to break away from the ocean and explore a completely different side of Puerto Vallarta–the forest! The mountains are filled with lush forests that are home to parrots, interesting plants, iguanas and other exotic creatures. Sure, you could go on a hike on the forest floor, but an even better way to delve into this unique ecosystem is from above with a canopy tour. Zip along miles of cables high above the forest floor. It's the best kind of rush!
Kite boarding
Kite boarding, or kite surfing, is a sport on the rise in nearby Nuevo Vallarta, especially in Bucerias, but also in Puerto Vallarta. This borderline crazy sport involves riding a surfboard while holding onto a giant kite. Riders control the kite to harness the wind, which can lift the rider far above the water's surface or propel him or her to high speeds. And, yes, you can find lessons in and around Puerto Vallarta and you'll need some of those lessons if you want to attempt this for your first time. Controlling a kite and surfing at the same time is not intuitive to most humans.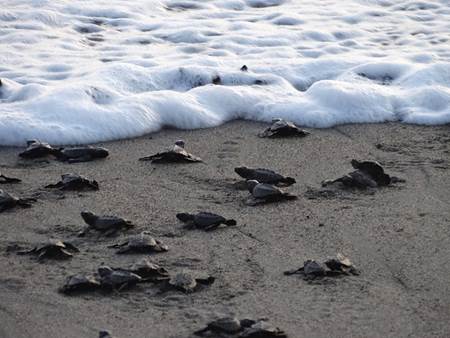 Watch baby turtles hatch
Each summer, turtle eggs buried in the sand hatch and thousands of baby Olive Ridley turtles make their run for the sea. Sea turtle conservation groups work to protect the babies by relocating eggs to areas safe from predators. Without that, just 1 in 1000 baby turtles will survive. You can join up with the conservation groups and watch the baby turtles hatch. It's not the same kind of rush as zip lining or kiteboarding, but it's still fairly exhilarating…and it's pretty cute.
Hikes
Puerto Vallarta is an excellent hiking destination with many hikes for different hiking abilities. For those who just want a stroll, walk the Malecon and enjoy views of the ocean. Many hikes out of the city are best with a guide as many trails are unmarked or all out difficult to find, but the payoff is beautiful waterfalls. You can head out on your own as well, but make sure to do your research and tell someone where you're going (due to the whole unmarked trails thing). Some areas popular with hikers include Yelapa and Quimixto.
*****
Photo credits:
Sailing in Puerto Vallarta: peanutian via Flickr
Whales off Puerto Vallarta: Jon DeJong via Flickr
Zip lining: Brian Holsclaw via Flickr
Kiteboarding: Stig Nygaard via Flickr
Baby Turtles: Adam Jones via Flickr
Puerto Vallarta Waterfall: Brian Holsclaw via Flickr