Peru is tucked along a curve on the western side of South America and mostly gets a lot of attention for its super famous Machu Picchu. But there's so much more to Peru than this one (admittedly pretty amazing) Incan city. With some of the most unique topography and greatest biodiversity in the world, Peru is a place filled with a little bit of everything. Literally. Across the board, it almost seems like this country is out to make sure it's as well-rounded as possible!
While many travelers go to Lima or Cuzco and don't branch out, Peru will reward you if you aim to explore. It's not a tiny country, though, so it can pay to get a car and drive between sights. However, be prepared and do your research if you intend to get too far out as the roads can be rough!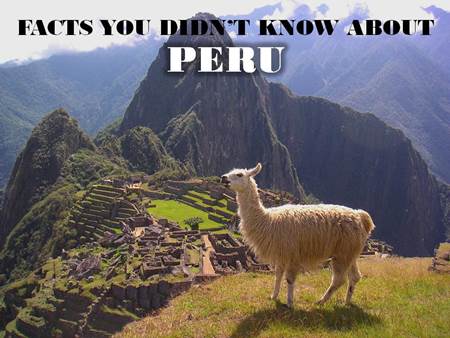 1. Peru is a country with a long history. The first signs of human activity date to 9,000 BC. Several different cultures and civilizations developed over the millennia, but the most well-known were the Inca–who built Machu Picchu. But Machu Picchu wasn't built until the 15th century–making it a contemporary of Joan of Arc in France, Henry VII in England, and Ferdinand and Isabella in Spain.
2. Peru is a unique country with an equally unique past filled with native cultures and Spanish conquerors crossed with incredibly varied topography. As such, the country is home to several UNESCO World Heritage sites–many of which are some of the most stunning New World ruins. Machu Picchu is one, but not the one and only. In fact, another set of ruins called Caral is one of the oldest urban centers in the Americas. While Machu Picchu dates back to the 15th century, Caral dates back to about 2500 BC!
3. The Inca Trail to Machu Picchu is the preeminent hike in all of Peru and what many people come to conquer, but don't let the buzz around this hike fool you. Yes, it's amazing, but there are other amazing and often adventurous hikes in Peru too. Some other popular trekking routes include an alternative (and much higher octane!) trek to Machu Picchu called the Inka Jungle trek. Another relatively unsung trekking destination is Huarez–a city perched right on the edge of the Cordillera Blanca mountains that might just make you feel like you're on the edge of the Himalayas.
4. If someone calls you a gringo, it's not usually meant to be a slight (you'll likely know from tone of voice if someone did mean it in a negative way). It's usually used as a term for any foreigner, but Peruvians especially aim the word at Americans or people who they think look American. This is doubly true if you're fair skinned or blond.
5. Peru's geography includes deserts, oceans, jungles and mountains. Perched in the mountains is the highest commercially navigable body of water on the planet–Lake Titicaca at 12,507 feet. It's also the largest body of water by volume in South America.
6. Peru's ancient cultures were busy. Building great civilizations and cities just wasn't enough–they had to create geoglyphs (images carved into or built of earth) as well. Located in a desert in the south of Peru, the Nazca Lines are massive. There are more than 70 animal and human figures carved into the ground as well as hundreds of straight lines that crisscross the desert. The lines can be viewed from atop nearby hills, but there are also flights to take observers up to get the full effect.
7. Most Peruvians speak Spanish, but outside of the cities you'll find linguistic traces of Peru's original cultures, including Quechua (the language of the Inca people) and Aymara (the language of another ancient culture called the Tihuanacu).
8. Peruvian cuisine includes a little bit of everything (of course)–seafood on the coasts, tons of fresh produce due to the eight climate zones found within the country, and all kinds of meat dishes from chicken to guinea pig. But above all Peru is a great place to make sure you save room for dessert! You'll need a powerful sweet tooth to handle some of the sweets, like mazamorra morada, which is a very sweet and very purple corn-based custard. Another notable traditional dessert is picarones, a kind of doughnut made from sweet potatoes and squash and drizzled with chancana, a super sweet syrup.
9. With geography ranging from seashore to mountaintop and jungles in between, it only makes sense that Peru would also have some pretty varied wildlife. And indeed it does! There are more than 1,800 bird species, 500-plus mammals and 300 creepy reptiles (okay, so maybe they aren't creepy, but that's a whole lot of reptiles). Jaguars and pink river dolphins are some you're unlikely to see in American zoos anywhere.
10. The Amazon rainforest covers more than 60 percent of Peru, and is the second largest area of the Amazon rainforest outside of Brazil.
*****
Photo credits:
Machu Pichu: NeilsPhotography via Flickr
Lake Titicaca: Voyages Lambert via Flickr
Mazamorra Morada: Brian Snelson via Flickr