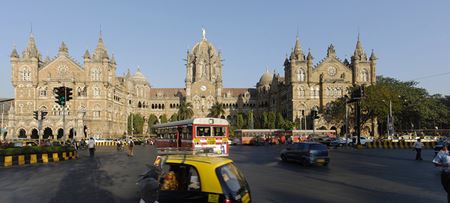 If traveling solo within India (or even if you're traveling with others), it's best to understand your options for transportation ahead of time. Be prepared so you understand how getting around in this unique country works.
More About India: Accommodations in India | Business Travel Tips | What to Wear
Your transportation options in India include:
1. Domestic Flights
If you don't have the time for long distance travel by bus or train, and if you have the money anyway, take advantage of the proliferation of low-cost air carriers in the country. These airlines are no worse than low-cost carriers in the U.S.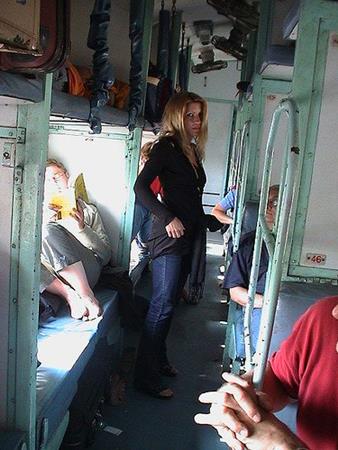 Expect frequent delays, though, particularly for routes in and out of Delhi during winter, when fog is an issue. To avoid delays, book early-morning direct flights whenever possible, and be sure to pad plenty of extra time into your flight schedule if you must be somewhere on a specific day.
You can check the sites of Make My Trip and Cleartrip for best prices, or inquire from a local travel agent.
2. Trains
India has one of the most extensive train systems in the world. Trains run throughout the country with the exception of the mountain regions in the north. If you have the time, take the trains for long distance travel. Aside from being cheaper than air travel, traveling by train gives you the chance to mingle, observe and get to know the locals better.
Overnight travel in a sleeper car will help you save on a hotel room, but don't expect the same comfort and privacy. Second-class cars for shorter distances are often crowded, so try the Ladies-Only Car.
Many train routes sell out quickly, even in the off-season, so book at least a week in advance. It is easiest, although costliest, to book your ticket through a tour company or at your hotel. Ask for a tourist class ticket if you are told there are no seats available. You can also purchase your train tickets at official tourist booking offices in the train stations or at satellite booking offices in some cities. Consider getting a rail pass, available to foreigners and non-resident Indians, which provides you with unlimited travel by rail for up to 90 days. Check out the Express and Deluxe trains for better accommodation.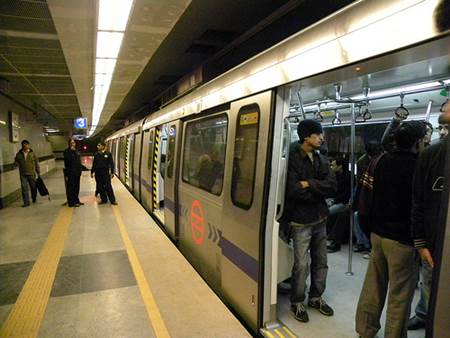 3. Rapid Transit
Delhi and Kolkata both have elevated and underground metro trains that carry passengers throughout the city. These are clean, cheap, fast and safe, providing a far more pleasant ride than the crowded inner-city buses and black-smoke-spewing auto-rickshaws.
At the Delhi metro, you can purchase a token for single journeys, a Tourist Card for unlimited travel over a short time period, or a Smart Card. In Kolkata, magnetic tickets good for a set number of rides are provided.
4. Bus
Tourist buses are "deluxe" coaches run by private companies and may include air-conditioning and comfy high-backed seats. They generally run between the larger cities and popular destinations. Book your ticket in advance through a ticketing agent, tour company or your hotel.
Government-owned buses have frequent service and tickets may be purchased just prior to your trip at the local bus station. These are less comfortable and reliable than tourist buses and expect to share the ride with chickens, car engines, elderly women puking into plastic bags and screaming children. Be sure to lock the zippers shut on all of your bags when traveling by bus as there is a possibility your will be separated from them when there is no room to store them inside the bus.
5. Cars and Drivers for Hire
If you choose to rent a self-drive car, be prepared to encounter terrible roads and fight for road space with insane drivers, throngs of cows, people, pushcarts, trucks, motorbikes, bicycles and horse-drawn carts.
If, after this warning, you still prefer to have a private car while traveling in India, it may be far less harrowing to hire a car and a driver. You can book through an international or local car rental agency. Sixt is a popular company. Take note of mileage and write down the pre-negotiated price prior to the trip to avoid misunderstanding. On multi-day trips, the driver will sleep in the car, unless another arrangement was agreed upon from the beginning. Also, do not hesitate to ask your driver to slow down whenever he barrel s down highways at ungodly speeds (expected).
6. In-City Taxis
Taxis are your most expensive option for moving about in an Indian city. Request that the meter be used, else bargain for a good fare up-front. Your hotel should be able to give you a good reference on rates. At airports, train and bus stations, there are fixed-price taxi and rickshaw stands which offer fair prices.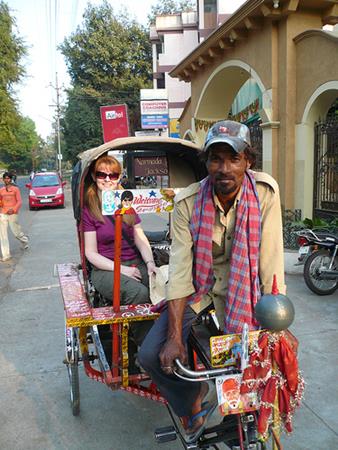 7. Rickshaws
These are cheaper that taxis and provide a unique experience. Unlike in air-conditioned (and more expensive) taxis, you are exposed to the elements, which allows you to live through the sights and smells of the streets.
Auto-rickshaws are available in the bigger cities. Cycle-rickshaws are also available in several cities. In the suburbs you can still find the primitive pedi-rickshaws.
8. Bicycles
India is home to the second-largest bicycle industry in the world which makes it easy to purchase a bike for your travels.
9. Motorcycles
If you want to see India at your own pace, riding a motorcycle is a great option. You can purchase one in India, or ship your own to the country. This will also give you better opportunities to connect with the local culture and environment. Be sure to have the necessary protective gear like helmet, gloves, pants and jacket.
10. Boats and Ferries
Boats and ferries run among India's major islands, the Andaman & Nicobar to the east and Lakshadweep to the west. However, they are infrequent and long, so plan accordingly. Ferries also run in Mumbai's harbor where you can visit Elephanta Island.
Deciding which mode will work best for you will depend on the amount of time you have to get to your destination as well as on your budget. No matter what you finally take, it will surely be a thrill.
*****
Photo credits:
India Forms of Transport: Selmer van Alten
Tourist on Train: Michael Eisenriegler
Delhi Metro: Bombman
Tourist on Cycle-Rickshaw: Robert Rybnikar