As in any other country, knowing how to stay safe while traveling is essential when visiting India – especially for women. Understanding both the socially conservative nature of the country and the perception of foreign women by Indian men will help keep you out of harm's way.
More About India: What to Wear | How to Pack for India | Stay Healthy in India | Facts about India
Here are some safety tips for traveling in India:
1. Carry travelers checks and debit or credit cards to ensure you don't lose hard cash. Keep a copy of your travelers check numbers so you can be reimbursed in case they are lost. Always carry the direct phone number for your bank(s) so you can immediately report any issues.
2. Always secure your bag(s) while on public transportation. Invest in a cable lock to fasten your luggage to your berth when on board a sleeper train. Lock zippers of your bags when traveling by bus as a deterrent for thieves in case they are placed on the roof of the bus or in any other place when the passenger area gets crowded.
When traveling in a rickshaw or taxi, keep an arm through the strap of your day bag or attach a small carabiner from your luggage to your belt hook to thwart a thief trying to make a quick grab for your bag.
3. Travel in ladies-only cars on the train when possible and ride rapid-transit trains during off-peak hours. If a man seats next to you on a bus or train and starts getting too close, move to another seat or stand somewhere on the train where you can keep your back (and backside) against the wall of the train as you face any potential gropers.
If you're being stared at by a man, don't engage in eye contact as it may be interpreted as flirtation. It's best to appear confident without engaging with men one on one.
To deter possible assailants or cheaters, make it known that you are aware of the fact that there are tourism police booths set up in railway stations, airports and major tourist sites.
4. Refuse drinks and food offered by any person unknown to you. Though it may simply be a kind gesture, it's not worth taking your chances.
5. If you're staying in a dorm-style guesthouse, it's best to request a room with a private bath so you don't have to roam the halls where the (male) hotel staff can watch your comings and goings.
6. Carry a high decibel alarm and sleep with it next to your bed so you can enable the alarm in case an intruder enters your room. This should scare him off and alert others. To prevent someone from getting into your room while you're inside, place a rubber door stop, easily purchased at a hardware store at home, under your hotel room door.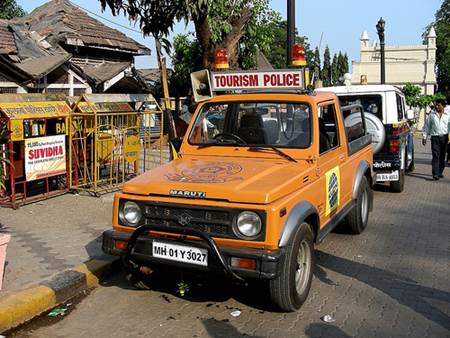 7. Many hotel rooms, particularly those at budget and mid-range accommodations, are locked with a padlock. Carry your own padlock or combination lock to use on the door in lieu of the hotel provided lock. If you are unable to lock a room with your own padlock, lock your luggage zippers together with a tiny lock then use a cable lock to secure the entire bag to a piece of furniture in the room.
8. Avoid using a hotel's safe located behind the reception desk.
9. Keep a photocopy of your passport either on your person, in your hotel room, at home (where a friend can access it) or as a scanned copy that you've emailed yourself. This will make replacement easier in case it is lost or stolen.
10. Finally, though you may be tempted to indulge while you're away from home, steer clear of any activity that could land you in jail.
*****
Photo credits:
Woman on Crowded Bus: Ahmed Mahin Fayaz
Delhi Metro Women Only: Peretz Partensky
Tourism Police: Kristina D. C. Hoeppner