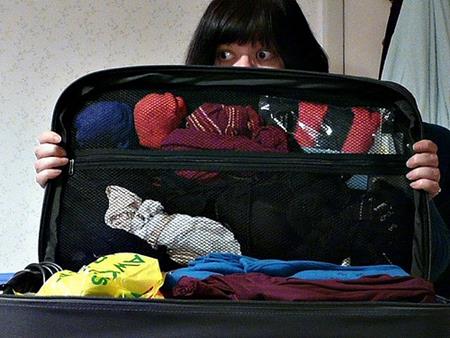 Packing light is the key to making your travels to India comfortable and safe. It allows you to easily maneuver through airports and bus and train stations, and avoid spending hours packing and unpacking in your hotel room. Use the tips below for how to pack for India so you can weed out the excess clothing and accessories that may get little use on the road.
More About India: India Business Travel Tips | Safety Tips | Transportation in India
Packing Tips

1. Pack conservative clothing. Dressing appropriately sets the tone of how you are received by the locals (and potentially other travelers) and will help ensure that unwanted attention and advances from men are kept to a minimum.
If you are going to a beach town or a major city where the locals are used to seeing tourists in more revealing clothes, cotton pants and a light short-sleeve shirt are appropriate. If you are going to areas with colder climates and in rural areas, jeans and a long-sleeve shirt or sweater are perfect. Consider bringing a conservative one-piece rather than a bikini for swimming, and a sarong and t-shirt to cover yourself when not sunbathing or when you are interacting with the locals.
You may want to purchase clothes when you arrive. I recommend Fab India for this. Aside from ensuring you have the proper get-up for your travels, getting clothes in India will help you fit in.
2. Of course you need to bring toiletries.
Be sure to carry enough tampons for the duration of your trip as they are not as readily available in India as they are in the western world.
While toilet paper is readily available in shops, I suggest you buy a "to go" roll of toilet paper, those without the cardboard tube, from the travel section of your local pharmacy. Carry at least a few squares with you at all times as toilet paper is rarely provided in public toilets, including on domestic flights.
If you are going with only a carry-on bag, pack your shampoos, conditioners, lotions and other liquids and gels in three ounce bottles and fit them into a quart-size zip-top bag.
3. Pack a few sets of earplugs and eye shades, and keep them handy for loud guesthouses, long flights, overnight train rides and bus rides. It is advisable to have rubber flip-flops to wear in the shower and to the toilet on overnight train trips, but you can buy these upon arrival.
4. In this day and age, we can't go without our technological gadgets.
Bring a power adapter that will convert your two- or three-pronged North American plug into the plug with two round pegs required on the subcontinent.
If you are bringing a digital camera, make sure to have plenty of memory cards or some other form of photo storage, like Digital Foci Photo Safe portable hard drive for images. If you are shooting film, carry more than you expect to shoot, as film availability in India will be limited.
India is a big country and your trip may involve long train rides. Bring an Mp3 Player, your iPod, audio books, or an eBook reader, to keep you good company during these long trips or in your hotel room.
Unless you are traveling on business and it is a necessity, hold off on bringing a laptop.
5. It's always good to have some of your favorite (little) items from home (creature comforts) to help offset some of the discomfort, especially if this is your first trip to India. It can be your favorite coffee thermos, an amulet from your niece that you wear around your neck, a good luck coin you keep in your pocket or your favorite chocolate bar that you unwrap when you feel as though everything else is unraveling around you.
6. Bring small, inexpensive gifts specially when traveling to developing countries. Traveling companions and locals alike will be appreciative of these. It can be a key chain or other souvenir featuring your place of origin, or small toys or candies for children. If invited to someone's home as an overnight guest or for a meal, it will be nice to give nicer items from your hometown like locally made chocolates, small bags of ground coffee, etc.
Type of Pack or Luggage to Use
If you're traveling to India for business, a garment bag is your best option for packing dress clothes. Choose a bag with a variety of pockets located outside and inside and utilize these for your underwear and other smaller items. Wear your heaviest shoes and pack additional ones away. Use plastic dry cleaning bags between each layer of clothing to help cut down on creases.
If traveling for pleasure, consider a travel backpack or a combination backpack/roll-aboard bag. These can usually accommodate all you'll need for your trip. With their suitcase-like opening, many include additional interior pockets, straps to hold items in place and outer pockets for water bottles and other items you may want to access quickly, as well as a zip-off day bag.
For trekkers, wilderness packs are more comfortable as they balance better on your back.
Remember to keep your bags safe by using a TSA-approved lock.
Whatever your travel purpose is, the right day bag is indispensable. It needs to be small enough to slip under the airplane seat in front of you, yet large enough to carry everything you need for a day out. A bag that is worn across your body, such as a shoulder bag or messenger bag, is more desirable than a purse or small backpack.
*****
Photo credits:
Woman with Packed Luggage: mcfarlandmo
Woman's Luggage: Jhayne
Oprey Meridian Convertible: Osprey