You'll be faced with many challenges during your travels in India, but your accommodations shouldn't be one of those challenges! Having a place to retreat to and where you can get a restful night of sleep will help you face the day refreshed and with patience. This doesn't mean that you have to budget the majority of your money for your choice of lodging, but that it's worth being choosy so you can be comfortable.
Related Articles: Transportation in India | How to Pack for India | What to Wear in India
Budget Accommodations
There's no shortage of cheap accommodations in India. Whether it's a hotel or someone's home that's been converted into a guesthouse, you can easily find a room with a shared bath from $6 to $20 per night, depending on the location. Hostel-style dorm rooms in the off-season will be even cheaper. Check the Youth Hostels Association of India or the Hostelling International for a list of affiliated hostels. Consider also guesthouses in the budget range available in most cities and villages with any sort of tourist draw. Guidebooks and online resources can help you find these sorts of options. You'll want to carry your own towel or sarong to use for bathing, as budget accommodations don't always offer this perk.
Homestays
Organizations like Couchsurfing, GlobalFreeloaders and Hospitality Club can connect you with the locals and find a willing host with whom you can stay for free. With these free services, both travelers and hosts create online profiles, which have feedback areas where you can see what other travelers and hosts have said about each other. Always read over the reviews by other travelers and contact them directly with specific concerns before staying with a host. Never stay with a single man in India.
Gurudwaras and Dharmashalas
Both gurudwaras, places of worship for Sikhs, and dharmashalas (or dharamshala), places of worship for Buddhists, Muslims and Jains, offer free or low-cost accommodations for travelers and pilgrims. Search online for these accommodations or ask at a local temple once you arrive in town.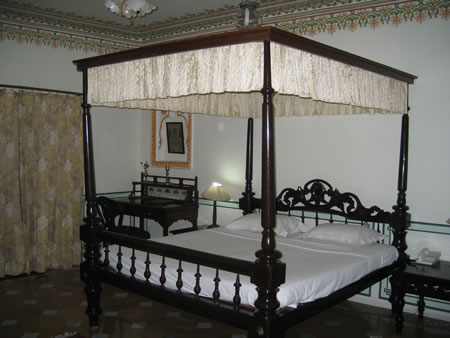 Mid-Range Hotels
For just $10 to $30 you can find a comfortable room almost anywhere in India with private bath, Western toilet, mosquito net, hot water, television, telephone, room service, air-conditioning or fan and a view. A simple online search can turn up lots of choices.
Bed and Breakfasts
Whether it's in Delhi or elsewhere in the country, a bed-and-breakfast stay is an affordable option (rates aren't much more than a mid-range hotel) and allows you to meet local residents and get a feel for how they live. Check out Mangosteen, a Delhi company that markets bed-and-breakfasts currently in Delhi and Jaipur. They match up their customers with the appropriate host to maximize security and meet the needs of the traveler.
Heritage Hotels
Palaces, estates and aristocratic homes that were once part of the British Raj era have been turned into heritage hotels. The vast majority are located in Rajasthan, though there are many peppered throughout the country, from Goa to Pondicherry. Don't expect a bargain, but upgrading to nicer accommodations for a night on occasion is well worth it.
High-End Hotels
Well-known international and India-based chain hotels are available. Compared to similar services and accommodations in the West the price may be a bargain, but they are quite expensive by Indian standards. A basic room can easily cost $500, and prices are usually quoted in U.S. dollars. Also, the more expensive the accommodations, the farther away you'll be from the people and culture as you'll have little desire to step out of the luxury into a city's hectic streets for a dose of genuine India.
Home Swaps
There are several companies that connect people interested in home swap like Home Exchange. This is an affordable option for families who intend to stay in one place for an extended period of time. It also allows you to live amongst the locals for a deeper understanding of a destination.
Farmstays and Rural Visits
You may want to get away from the crowds, pollution and traffic in Indian cities and go for a rural experience. Explore Rural India provides information and connects travelers with rural communities, including women's co-ops. Accommodations range from homestays to deluxe hotels. If you are interested in working for your accommodation, check out World Wide Opportunities on Organic Farms (WWOOF). It is an international movement that helps people share sustainable ways of living. Once you pay the $40 one-year membership fee, you are given a list of participating farms.
Craiglist
If you are planning for an extended stay, check listings on Craiglist. More than a dozen cities are included and you can search for vacation rentals, home sales and apartments for rent.
*****
Photo credits:
Taj Mahal Palace Hotel: Jody McIntyre
Hotel Room in Rajasthan: WanderTours
Woman at Homestay Place: Distra
Making Chapati with Homestay Host: travelwayoflife