By Rachel Diebel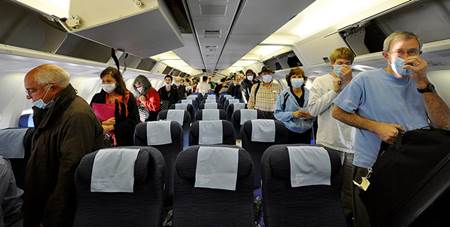 Planes are well known for being prime breeding grounds for sicknesses like the common cold and occasionally even something more serious. Being in close confines with that many people and breathing the same dry air can make even the strongest immune system succumb to bacteria. You could wear a mask and wipe down every surface you touch on your flight, but here are a few easier tips to help you avoid getting sick on a plane.
More travel health tips: Fight the Cold and Flu in a Sauna | What to do if you Get Sick on Vacation
Sleep Before, During, and After
Sleep fights sickness. It allows your body to shut down and do some damage control. For the best chance of emerging from a plane ride unscathed, make sure you get a good night's sleep before you board the plane. A tired body is a vulnerable body. Sleeping during the plane ride has the added benefit of making the time pass faster, as well as not allowing your awake, alert body the paranoia of hearing every potentially dangerous cough and sneeze in nearby seats. It's equally important to sleep well after you've made it to your destination, just in case you did manage to pick up a bug on the trip. A few hours of rest and relaxation may be just what your body needs to restore you to good health!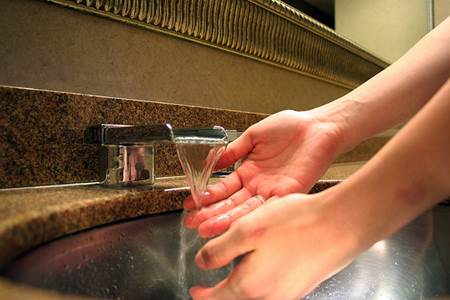 Hydrate and Wash Your Hands
The air on a plane is very dry, which isn't good for your body. Boost your sickness defense levels by making sure to stay hydrated during your flight. A healthy body is a happy body, and being hydrated decreases your risk of picking up a cold or other illness from any of your fellow passengers. The unfortunate side effect of hydration is, of course, increased trips to the tiny plane bathroom, another thing that may annoy your seatmates. When you do finally bite the bullet and use the plane's scary metallic bathroom, make sure that you wash your hands thoroughly.
Stick to the Window Seat
The window seat is the best seat on the plane for a lot of reasons: a beautiful view, a place to rest your head (other than a stranger's shoulder), and a decreased chance of getting sick. An aisle seat exposes you not only to the germs of your neighbor, but also to the germs of anyone navigating the narrow pathway to the bathroom at the back of the plane. Chances are, the sicker the person, the more trips to the bathroom they'll make, passing you each and every time. The center seat, while not as risky as the aisle, still presents you with two neighbors and thus twice the chance of getting ill.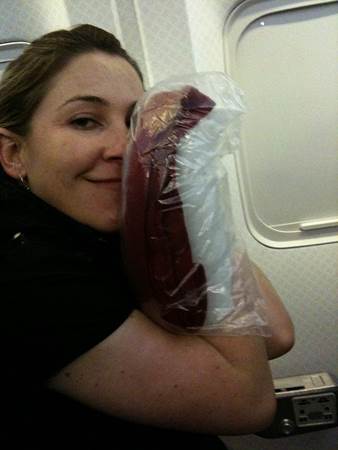 Blast that AC
It may not make you your neighbor's biggest fan, but turn up the air conditioning knob above you if you can. While plane air is no longer "recycled," (the same air run through a filter and used again and again) it is still dry and motionless. You want to get as much circulation going as you possibly can to avoid stewing in the same germy air for too long. Make sure to pack an extra sweater or blanket if you know you're prone to getting cold for this plan of attack to work best!
*****
Photo credits:
Passengers with Masks: Roger Schultz via Flickr
Sleeping Woman: cvc_2k via Flickr
Handwashing: Sarah Laval via Flickr
Airplane Window Seat: Jonathan Pincas via Flickr
Woman with Plane Blanket: MG Slegler via Flickr