by Carrie Gorospe
Across this beautiful and vast planet, there exists a handful of places that when mentioned in casual conversation at least one or two people are bound to proclaim, "I've always wanted to live in (fill in the blank)". One of those places is the Big Island of Hawaii.
The reasons why so many are particularly drawn to this special place are varied. Those who have visited the Big Island each have a unique personal attachment and emotional response to the landscape and the lifestyle that the island has to offer.
However, there are the bold few who turn their 'someday' dream into reality. What are the factors that compelled them to say ALOHA to their routine and decide to make a new home in one of the most remote archipelago locations on earth?
Besides the pristine, expansive beaches, the awe-inspiring Kilauea Volcano, and the lush tropical landscapes, some of the reasons many call the Big Island home are not what you may have expected:
1. Value: No matter the size of your pocket book, we all seek the best value for our dollar, especially when purchasing real estate. There are still some island-inspired homes on the Big Island available at very competitive prices. Gorgeous single-level, golf course homes or turnkey single-family island cottages in the Mauna Lani Resort may be found starting at around $700K. Interest rates haven't been lower in over 50 years so today's buyers are able to lock in rock-bottom rates.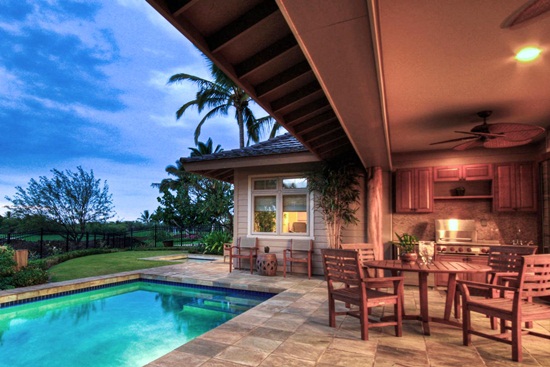 2. Healthy, organic food: The thriving local, organic farm industry on the Big Island provides an abundance of fresh and delicious produce. How comforting to know that you are serving healthy food to your family at home. The Big Island has also become well-recognized for its offering of "farm to table" cuisine. A few of the local favorites include: Merriman's Café in the Waikoloa Resort, Allen's Table in Waimea Town and Pico's Bistro in Hawi. The annual James Beard celebrity chef tour at the Mauna Lani Bay Hotel which has included Jonathan Waxman, Ming Tsai and Michael Symon, the Food Network's Iron Chef, is a must for foodies.
3. Direct Flights: A number of airlines now fly direct to Kona International Airport from the U.S. mainland. Gone are the days of mandatory stopovers through Honolulu to arrive at your intended destination. Hawaiian Airlines, Alaska Airlines, United Airlines and American Airlines all offer travel options direct at very competitive rates. Cut down on travel time and maximize hours spent on the greens or ogling over a magical sunset.
4. Diverse microclimates: In less than
half an hour, go from Puako Beach for world-class snorkeling and scuba diving to Waimea town where the elevation is 2,500 feet! Travel another 20 minutes and find yourself in a lush, native rainforest. It can be somewhat mind boggling to see snow capped Mauna Kea from your beach chair while soaking up the sun at the Mauna Lani Beach Club sipping a Mai Tai!
5. Prestigious Educational Institutions: For young families, a move to the Big Island does not require sacrificing family priorities. Hawaii Preparatory Academy in Kamuela and the Parker School in Waimea are highly sought out and well-recognized K-12 private, college preparatory schools. Both are accredited through the Western Association of Schools and Colleges and offer tremendous opportunities for academic excellence, cultural exposure, high-tech learning opportunities and competitive athletics.
Where we choose to call home shapes the essence of our days. It forms the experiences that fill our hearts with memories we'll cherish for a lifetime. For many, choosing to make the Big Island their home was the decision to make a dream into reality, without the hangover of financial regret or the sacrifice of lifestyle.
When you're ready, come home to the Big Island!
*****
Photo credits:
Hawaii Real Estate: Island Paradise Properties
KaMilo Home Lanai: KaMilo at Mauna Lani Resort
Merriman's Restaurant Waimea: Derek Wolfgram