By Kumiko Matter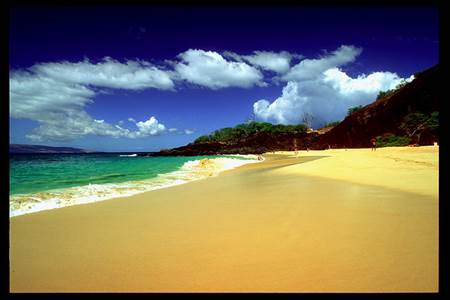 With so many areas in Maui to do sightseeing, such as Wailuku, Paia, Kihei, Hana and Wailea, it's hard to know what to fit into your Hawaiian vacation without packing in too much. Whether you spend your time relaxing on the beach or hiking up a volcano, we've got you covered on the best of Maui.
Beaches
Visit Big Beach in Makena State Park for calm waters and sunset views. It's a long stretch of sand with plenty of room to find a spot and go body surfing in the waves. If you're feeling adventurous, climb the rocks north of the beach over to Little Beach. Important note: leave the kids behind on Big Beach — it's clothing optional! Sunday nights there's a fun drum circle held at Little Beach, where you might come across anything from hippies to fire dancers.
Kaanapali Beach is the perfect beach for the whole family. Go snorkeling and you might come across tropical fish and sea turtles. Just remember to observe and not touch the sea turtles or you could be fined. Many tourists face their fears and jump off the small cliffs in front of the Sheraton Hotel for a bit of exhilaration. You're in luck if you happen to stay in a hotel or condo near Kaanapali, otherwise prepare to pay for hotel parking.
Wildlife
Molokini Crater is a marine sanctuary in a caldera just southwest of Maui. While snorkeling there, you'll see a coral reef, tropical fish and sometimes whale sharks. The amount of wildlife you'll spot snorkeling off the mainland of Maui cannot compare to what you'll find at Molokini. Many tour companies offer boat rides and snorkel trips to Molokini from Maui.
If you plan to visit Maui between November and May, that's the prime season to go on a humpback whale watching cruise. During the cruise, the whale experts will bring you out to where the humpback whales are and maybe you'll be able to hear whale sounds from a hydrophone underwater, see them jump in the air or swim under the boat.
Scenic Drives
Haleakala National Park is situated on a volcano that rises from the sea to a 10,023-foot summit. Often, visitors drive up the volcano to the scenic viewpoints for pristine sunrise and sunset viewing, or mountain bike down the long road. On a clear day, you'll be able to view most of Maui from above the cloud line. Some tough tourists will go on the eight-hour trail hike through the multiple ecospheres of Haleakala. If you have a National Parks membership, make sure to bring that along.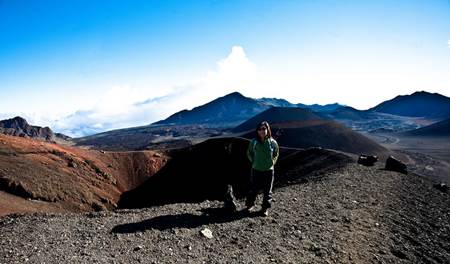 The Road to Hana is a popular drive with many waterfalls, beaches, ancient Hawaiian ruins and trails along the way. Lookout for the 'Ohe'o Gulch for freshwater pond swimming, the Paia Fish Market, black sand beaches at Wai'anapanapa State Park and the Hana lava tubes. Take your time on this all-day drive, but watch ahead when approaching the frequent one-lane bridges.Â
Extra Tip!
Because Maui's main attractions are spread all around the island, you'll want to rent a car for your trip. The bus system in Maui can save you money, but it is very slow and you'll lose a lot of time waiting for the bus.Â
*****
Photo Credits:
Big Beach Makena State Park:Â LASZLO ILYES via Flickr
Molokini Crater: Allie_Caulfield via Flickr
Haleakala National Park: Esther Lee via Flickr