By Kumiko Matter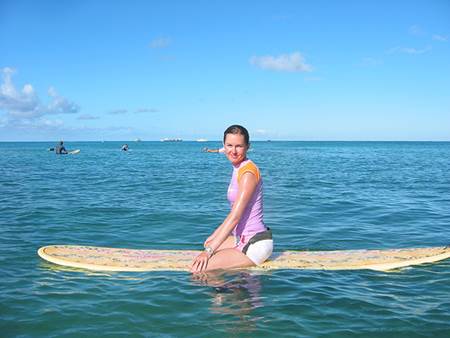 Honolulu is a very touristy city, with lots of people visiting because of cheap airfare from the West Coast and Japan. It also serves as a great layover stop when traveling to places like Australia and other Pacific Rim destinations. There's more to Honolulu than just Waikiki Beach and the Ala Moana Shopping Center though. See more of Honolulu during your next stay with these tips on the best places to sleep, dine and play in Honolulu!
Where to Eat:
Ono Hawaiian Foods
From the outside, Ono Hawaiian Foods may look dingy, but inside it doesn't matter because the food makes up for it! You'll get a real taste of what traditional Hawaiian food tastes like, with main dishes like mouthwatering Kalua Pork or Pork Lau Lau, and side dishes such as Salmon Lomi Lomi, jerky, poi, rice, sweet Maui onions, coconut Haupia and tomato salad. Poi is an acquired taste, so be brave and try it or opt for the rice instead. Ono Hawaiian Foods is run by a friendly local who loves to talk to new customers. Just make sure to go early before you get hungry, it is likely you'll have to wait in line along with locals before the dishes run out!
Hula Dog
Hula Dog serves good ol' hot dogs, but with a Hawaiian flare, turning it into a Puka Dog! What sets Puka Dogs apart is how they're prepared — namely by spearing them through the middle and toasting the insides, and adding tropical relishes and mustards on top. It's a fantastic mix of sweet and savory! Try the bacon/taro bun with your choice of polish or veggie dog inside, and topped with pineapple relish and lilikoi mustard for a great meal. And on a hot Hawaiian day, cool off with some shave ice or a tart glass of freshly squeezed lemonade.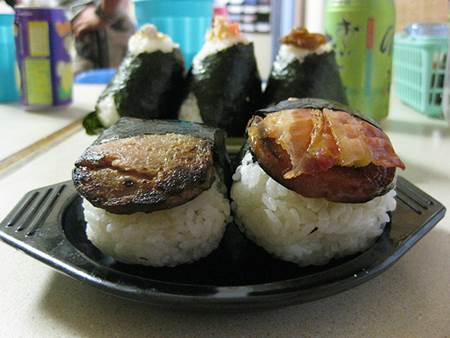 Iyasume Musubi
Just two blocks up the road from Waikiki Beach, you'll find Iyasume Musubi. Spam Musubi is proof of Japan's culinary and historical influence in Hawaii. The dish involves tightly packing rice and spam together, drizzling soy sauce on top, and wrapping it up in nori (dried seaweed). It is the perfect snack to grab when you're headed out for a day out on the beach. If spam isn't your favorite food in the world, you can find other musubi flavors at Iyasume, like spicy cod roe, salmon, ume (pickled Japanese plum), and spicy fried chicken and mayo. Iyasume also serves bento boxes, which are great for lunches on the go.
Where to Stay:
Aqua Waikiki PearlÂ
The Aqua Waikiki Pearl is basic compared to the ritzy and expensive hotels around Waikiki, but after a day out having fun all you need is a comfy bed to sleep in at night. You'll be able to use the money you save on your hotel room toward fun activities. You can even save 10% on your stay by showing them your best "Shaka" (hang loose) hand motion at check-in! The Aqua Waikiki Pearl is a close walk to Waikiki Beach, grocery shopping, and the best shopping you'll find in Waikiki. Room rates start at $100.
Hilton Hawaiian Village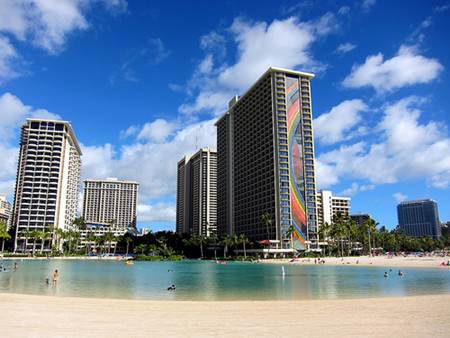 A stay at the Hilton Hawaiian Village is perfect for families visiting Honolulu. Other than being right next to Waikiki Beach, you'll be entertained by the Starlight Luau, Friday night fireworks, pools and waterslides, and lush tropical gardens featuring koi ponds and African penguins! Families can also participate in hula, ukulele, and lei making classes, and parents can start the day off right with a yoga or aerobics class. The Hilton offers many deals throughout the year on rooms, however rates usually run between $100 and $250.
The Modern Honolulu
After a fun day exploring, it's nice to come back to a relaxing and comfortable hotel room. Even better is The Modern Honolulu's bright and beautifully decorated rooms. You can choose between ocean or city view rooms. Make your way down to the Sunrise pool to hear live music at night while you swim or dance the night away at their club, Addiction. Rooms range from $250 to $550 per night.
What to Do:
Go Sport Fishing

Feel the thrill of catching a big fish and being able to eat it fresh later that night! Aikane Sport Fishing is the only tourist sport fishing company out of the Honolulu that will allow you to keep your catch. When you're not reeling in fish, relax with drinks and friends out in the ocean with a great view of Diamondhead and the Waikiki skyline.
Visit Pearl Harbor
Balance out relaxation with a trip to an important place in Hawaiian history. Learn about the day Pearl Harbor was bombed at the museum, and then take a boat to see the sunken USS Arizona, where you can still see oil float up from the ship below.
Learn to Surf at Waikiki Beach
The North Shore of Oahu is known for big waves that only seasoned surfers should tackle. At Waikiki Beach, you'll find waves that are friendlier for beginners. It is easy to find surf rentals on the beach that will offer surfing lessons for groups or private lessons. If surfing isn't your thing, you can also rent boogie boards or take an exhilarating ride in an outrigger canoe!
*****
Photo credits:
Surfing in Waikiki: tiarescott via Flickr
Waiting at Ono Hawaiian Foods: Howard Leung via Flickr
Spam Musubi: david_hwang via Flickr
Hilton Hawaiian Village: Ariane Middle via Flickr
Fishing in Hawaii: Michael Sandoval via Flickr