By Kumiko Matter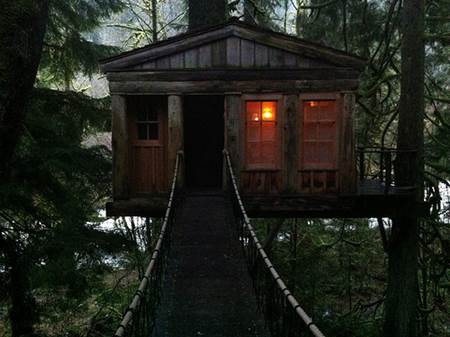 There is nothing more calming than falling asleep to the sound of a nearby river and waking up to birds chirping, which is exactly what you'll find at a treehouse hotel. The best opportunity to get away from the city and connect with nature, for a night or two, is a stay amongst the trees. Conquer your fear of heights and check out these five amazing treehouse hotels around the world.
More Ways to Sleep in a Forest: Top Glamping Destinations | Top 10 Camping Foods | Camping at National Parks
Treehouse Point Hotel — Fall City, WA
With modern aspects and the comforts of home, it is easy to fall in love with Treehouse Point! You'll wake up and notice the trees are greener, the fog is denser, and the air is crisper out near Snoqualmie Mountain. The largest treehouse, The Upper Pond (with space for 4-5 people) is perfect for families with older children or a group of girlfriends wanting a fun and relaxing night out. But the smaller treehouses, which fit only two people, are perfect for couples needing a short getaway. Depending on the time of year, you can often only stay a maximum of 1-2 nights, making it the perfect weekend staycation. You'll fall asleep in the heated treehouses on ultra-plush mattresses. In fact, you might be so comfortable that you don't want to get up. Fortunately, there's also an included gourmet breakfast to coax you out.
Treehouse Point is close to skiing and sledding areas, Snoqualmie Falls, and great hiking trails. However, find some time in your stay to venture out around the hotel and explore the surrounding forest and river. You can also schedule a tour of Treehouse Point to see inside all of the treehouses, which may give you ideas of which treehouse you want to stay in next! The treehouses range from $255 to $355 per night.
Davis Ranch Retreat — Waelder, TX
The Davis Ranch Retreat is set on 40 quiet acres of pasture, perfect for a night of relaxation. Sip on some wine and watch Longhorn cattle graze nearby, go for a morning dip in the pool, or book a soothing body massage. In 2013, this bed and breakfast hired the owner of Treehouse Point to come build a treehouse especially for the ranch! You can even view the making of this treehouse on the TV show Treehouse Masters on Animal Planet. The luxurious treehouse is fully decked out with a steam shower, an outdoor Japanese-style bath, and a massage room. You and a guest can rent the treehouse for about $255 per night.
Chateaux dans les Arbres — Perigord, France
Feel like royalty in a treehouse built like a French castle! Set in the French countryside near Bordeaux, you'll be close to the fortified medieval ruins that the treehouses are inspired by. Aside from visiting the ruins, you can also explore caves, go wine tasting, and eat gourmet French cuisine. At Chateaux dans les Arbres, go for a swim in the infinity pool, go for a bike ride, or hike around the 26-acre site. Nothing is better than the hot tubs in each of the treehouses. How could it get any better than that? Each treehouse features turrets and grand entrances that make this hotel completely unique! Treehouses range from 200 to 300 euros per night, and can fit 2-6 people.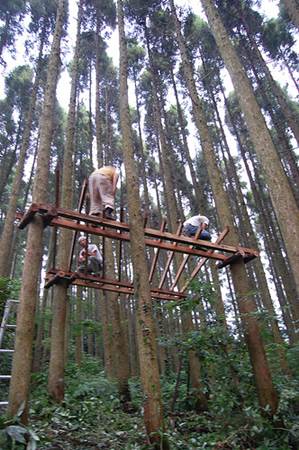 Gankoyama Tree House Village — Boso, Japan
At Gankoyama, relaxation comes from the satisfaction of learning to build a treehouse or learning survival skills. This eco-friendly village teaches two-day classes on these topics while educating visitors about sustainability at the same time. You will learn how to create the perfect campfire and use it to make vegetarian dishes made with plants you picked in the forest. You'll also learn carpentry skills needed to build a treehouse. Although the sustainability factor might sound too rustic of a vacation, everyday comforts can be found in solar-powered showers, electrical outlets, and flushing bio-compost toilets. During your downtime, you can connect with nature through yoga, exploring the forest, and sleeping in the hammocks. Gankoyama Tree House Village is about a two-hour drive from Tokyo, but is also accessible by bus or the JR train.
Out'n'About Treesort — Cave Junction, ORÂ 
Out'n'About Treesort is a fun option for a family vacation, with lots of activities like swinging bridges, horse riding, swimming, playing in tree forts, and going on a zipline course. The Suite treehouse includes an antique claw-foot bathtub, perfect for moms who need a little quiet time. Most of the treehouses fit 2-4 people, but can often fit more for an extra price of $20 per person. Out'n'About Treehouses run from $120 to $300 per night and are available through the warmer months, with a few treehouses open during the winter months.
Some Treehouse Staycation Tips

* Dress accordingly! Bring some rainboots or hiking shoes, as it can be slippery or rocky out in the forest. Temperatures might also be cooler, so bring warm clothes.
* Bring some snacks. Treehouse hotels tend to be farther from grocery stores or gas stations than your average hotel. Take along some treats for when you have the midnight munchies.
* Don't forget to tip! Although unconventional, treehouses are still considered hotel rooms and employees clean the rooms every day. Leave a little gift to thank them for keeping the treehouses so clean.
* Pack light! Treehouses are high up, and it's no fun to climb the ladder with a 50-pound piece of luggage.
* Read the rules! Sometimes standard plumbing is not allowed in the treehouses, so eco-friendly and different types of toilets are put in instead. Check how to use the facilities to make sure you are using it properly and won't cause an unfortunate event to occur.
Compared to typical hotels, staying in a treehouse hotel is a memorable experience with a totally different atmosphere. You'll want to go back and experience a different treehouse during each stay! Go out on a limb and leave your worries behind for a night!
*****
Photo credits:
Treehouse Point: Etsy Ketsy via Flickr
Building Treehouse in Gankoyama: matt smith via Flickr
Out'n'About Treesort: Nicolas Boullosa via Flickr