By Taylor Oddino
It's wedding season! When you have a wedding (or several!) to go to, there is a lot to consider–what you're going to wear, what gift to get the happy couple, and more. Chances are you'll have to make some travel arrangements, too. Whether you're driving to a vineyard an hour away, or flying halfway across the country, read these tips on traveling to weddings so that things go smoothly, and so you can fully enjoy the bliss of wedding season.
Also check out: 5 Things to Do on a Plane | Amazing Places for Girlfriend Getaways | Flying Tips for Women
Plan Your Route
It can be time consuming, but it's worth getting to know the area around the wedding. Before you head out, look up the hotel, rehearsal dinner location, wedding venue and any other key destinations. Try to figure how far apart the destinations are from one another. Knowing the area will help you form a schedule so you'll know when to leave in order to arrive on time. Plus, you'll look like the smart one as you explain what freeway exit to take to the family of the bride!
Check With Friends
Remember–the bride and groom are going to be ridiculously busy before, during and even after the wedding. Everyone they know and love is fighting for their attention and their turn for a hug. They are going to have enough people to talk to, so try and check with friends to see who else is attending the wedding. Hopefully you can find friends or coworkers to form a group of sorts. You can help each other navigate the busy weekend, and maybe even carpool. You don't want to be bothering the bride and groom with questions or concerns, and they will really get annoyed when you ask for the address of the rehearsal dinner–even though it's right there on the invitation. Ask others before you ask the bride and groom.
Go for Cash
When you're considering what to give the bride and groom, consider going simple with a nice card and some cash. First off, you don't have that much room in your suitcase. It's likely that the couple will have a lot of bigger items on their registry–pots and pans, toaster, crockpot. You won't be able to fit most of the items in your suitcase. So save yourself the hassle and stick some cash in a card. Plus, wrapping a gift would be a pain. You would either have to wrap the gift before you leave and risk the wrapping getting torn during travel (or opened by security if you're flying), or you'd have to cart tape, scissors, and wrapping paper with you to your destination. You can always give a gift card too. A gift card to the store where the couple is registered is an easy solution. Plus the couple themselves might be traveling–maybe it's a destination wedding, or they are jetting off to their honeymoon right after. Figuring out how to get all those gifts home will just add stress to the wedding.
Beware of Personal Items
Purses are typically a must-have accessory, but if you can, try not to bring a purse or bag to a wedding. Unless the wedding has a coat check, having a purse will just be annoying. This extends to all personal items, including cell phones, sunglasses and wallets. All of these items will just be a burden. You don't want to miss out on your favorite song on the dance floor because you're worried about your purse back at the table. Lock your items in your car, and tuck the car keys somewhere safe on you. Try not to leave items unattended at your table either.
Packing Your Dress
You want to look your best at the wedding, so take care packing your dress. Packing your dress or formal outfit in a garment bag is a great way to keep it nice and unwrinkled. It might be worth it to call ahead to see if the hotel you're going to stay at has a steamer. Most hotels have irons, but if it's a particularly fancy wedding, a hotel steaming service will come in handy.
Bring A Back-up
Airline companies today are pretty good at ensuring that your luggage arrives safely at your destination with you. But every so often they do lose luggage, and you have to be prepared for this. If you are in the wedding party, by no means should you put your dress in your checked bag. You're going to carry that floor-length chiffon gown onto the plane! Telling the bride you lost your bridesmaid gown is just not an option, so carry on your garb if you're in the wedding. Even if you're not in the wedding, it's a good idea to bring a back up. Once again, chances are your luggage will not get lost, but it's not a bad idea to throw an extra dress in your carry-on. Take the dress you are planning on wearing and pack it nicely in a garment bag in your checked bag, and if anything does go wrong, you have your back up in your carry-on.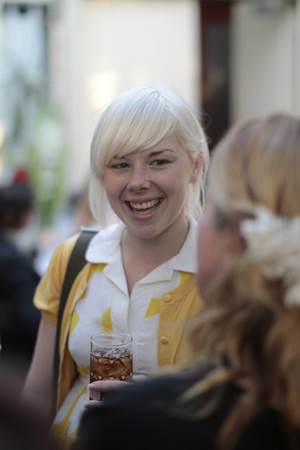 Expect to Meet New People
As mentioned above, the bride and groom are going to be crazy busy. Although you are attending to celebrate them, don't expect to see a lot of them. Expect to meet and mingle with other wedding guests. Don't wait around and try to see if you can catch lunch with the bride. Instead, have fun trying someplace new with the bride's cousin from Texas. Weddings are gatherings of all types of people, so take advantage and make some friends!
*****
Photo credits:
Bridesmaid Outfit: Lauren Hammond via Flickr
Wedding Invite: Derek Swanson via Flickr
Money Girl: Sharon & Nikki McCutcheon via Flickr
Wedding Party: Daniel Gray via Flickr
Bridesmaids: micadew via Flickr
Destination Wedding: John Hope via Flickr
Wedding Fun: Colm Britton via Flickr
Wedding Socials: Parker Knight via Flickr