Ever dream of sailing off into the sunset with your closest friends? Spending nights on the open water with the sound of water slapping against your boat? Your days filled with sunshine and the adventure of stopping in new ports each day?
It's not as difficult as you might think.
A yacht charter broker can guide you through the process of chartering a yacht. But there are some things you'll want to think about well in advance of engaging with a yacht charter broker. Answering these will help you navigate the process to ensure the very best experience for all.
Also check out: A WanderTale about a Yacht Race
Here are some things to think about and tips for chartering a yacht:
1. What's the purpose of the trip? Are you celebrating an event or looking for a family bonding activity? Do you want it to be relaxing or active? Are you equipped to captain the boat or do you need to hire someone to do the work? Be sure that your entire group is in agreement about the sort of activities you'll be doing otherwise there could be trouble in paradise.
2. What's your budget? Are you willing to spend a "boatload" on your vacation or are you looking for something more affordable? Don't forget to factor in the costs of getting to your destination into your total budget. Flying to Greece is going to cost you a lot more than traveling to a destination to which you can drive.
3. Who and how many are in your party? Are the people with whom you'll be traveling avid yachting fans or seekers of a unique vacation? Are they young? Old? Will they expect luxury or will they be happy with simple amenities? Answers to these questions, along with the number of people, will help determine what type and size of yacht will best suit your group. Some yachts are large enough for an entire family while others are small and more suitable for a romantic getaway.
4. When do you want to charter? The time period and length of travel will help narrow down your choice of destination as options will depend on climate, season and availability.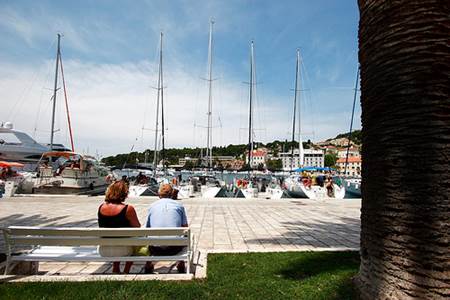 5. Your preferred destinations. Determine where your group would like to travel. Consider whether you will want to stop in numerous ports or spend most of your time on the water. Are you looking for cultural activities and attractions? Natural wonders? Give this some consideration before making those final plans.
6. Do you want to be active at your port(s)? If you plan to hop off and on, you'll want to make sure that your destination port(s) have the activities you're interested in. Whether it's dining at five-star restaurants or having enough things to keep your children busy, give some consideration to this before making your booking.
Once you have all of the above information, you can then contact a charter broker for further advice and proceed with your booking. Your broker can also give you details on how to get to your marina and help you with any necessary paperwork.
*****
Photo credits:
Woman on Yacht: whatleydude
Yachts on Harbour: Mark Rowland