By Rachel Diebel
The perfect combination of breathtaking views and luxurious resort accommodations, glamping is the next big thing. Designed for those with a love of nature but also a love of life's finer things–such as running water and five-star cuisine–glamping (otherwise known as luxury camping), is catching on quickly across the globe, with locations on almost every continent. Here are some of the finest glamping locations the world has to offer.
Luxury Camping Panama
Situated at the top of a mountain an hour-and-a-half drive from Panama City, the Luxury Camping Panama estate offers spectacular 360-degree views of the nearby Valle María and the Pacific Ocean. Luxury Camping Panama caters to all levels of adventurer, offering guided hikes, rappelling and evening bonfires. Visitors have their choice of staying in a fully furnished yurt or the more luxurious deluxe option, a large canvas tent complete with private bathrooms and a minibar. Roll back the tent flaps and enjoy the sunset from the private deck, while ordering dinner from the Senderos Restaurant, which a variety of local cuisine.
Glacier Under Canvas, Montana
Fulfill your childhood dream of sleeping in a tree at Glacier National Park in Montana! Glacier provides typical tent camping sites, but for those who aren't afraid of heights they also offer glamping tents perched high in the air. All tents come complete with king size beds, wood stoves and toilets. Skip the dangerous tree climbing or rope ladder of your childhood treehouse and use the wooden stairs built to transport you safely into your new treetop home. In the morning, head to the concierge, which provides complimentary charging of all of your electronic items. Once you're got your fully charged camera in hand, spend the day at the national park hiking, horseback riding or even whitewater rafting.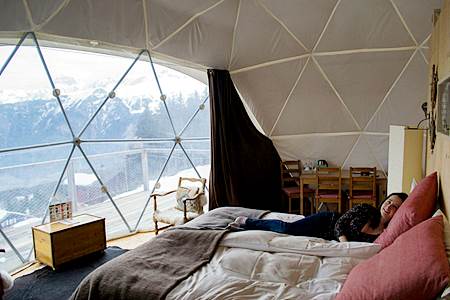 Whitepod, Switzerland
One of the few glamping locations that's open year round, Whitepod is located south of Montreux among the Alps. While at Whitepod, visitors stay in the resort's namesake "tents," many-sided geodesic domes available in both standard and family size. Built around a center Pod-House, the domes are unique and quirky, perfect for anyone looking for a different way to camp. Whitepod offers unique outdoor activities such as parasailing and dog karting, a summer version of dogsledding. After a long day of activity that only nature can provide, enjoy a great meal and an aromatherapy massage at the chalet Les Cerniers before trekking back up to your dome and having a nightcap on your private deck.
Silk Pavilions, Australia
With a self-described "funky" vibe, glamping at the Silk Pavilions, 50 kilometers south of the Gold Coast in Australia, is a fashionable and fun experience. Silk Pavilions offers your choice of an Asian-inspired Thai Pavilion or an Eco Pavilion, complete with chandelier and timber bath. When you aren't relaxing in your luxurious abode, take advantage of one of the most bio-diverse regions of Australia. Everything from sub-tropical rainforests to white-sand beaches is an easy drive away. For a fun touch, order one of the resort's DIY meals; they provide you with ingredients to make pizza or a steak barbeque meal and you cook it on the gas grills provided with each glamping site.
Aman-i-Khais, India
For a glamping experience steeped in culture, pay a visit to the Aman-i-Kha¡s resort on the edge of the Ranthambore National Park. Surrounded by ancient forts and small, colorful, rural villages, this glamping location features ten tents built to echo the traditional Moghul style. The flowing white fabric of the tents is draped to create separate "rooms," and the space is even air conditioned to combat the worst of the Indian heat. The resort offers yoga and meditation as well as guided nature hikes to fill your day. As an added bonus, all food served at the resort is guaranteed to be fresh, as most of it is made with ingredients straight from Aman-i-Kha¡s' own organic garden.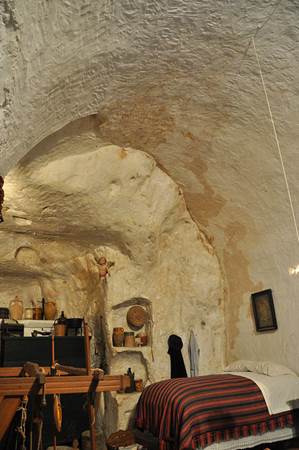 Sextantio Le Grotte Della Civita, Italy
A vacation at Sextantio is truly a once-in-a-lifetime experience! Located in southern Italy near Salerno, this unique resort allows its guests to stay in refurbished ancient caves. While the caves contain a minimum of modern technology, there is no doubt that this is luxury camping, especially compared to the original residents of the caves! Though the bathrooms are bare rock openings, the bathtubs contained within them are top of the line. Travel back through history by visiting original cave paintings and rock churches in nearby towns. Cap your day off with a spectacular meal in Sextantio's deconsecrated church, lit only by candlelight and with background classical music!
*****
Photo credits:
Glamping: Glacier Under Canvas
Whitepod Switzerland: Annie and Andrew via Flickr
Ancient Cave Dwelling Italy: Paola Sucato via Flickr