By Rachel Diebel
It's difficult to top a beach vacation–the gentle sound of waves against the shore, sun high in the sky (hopefully), sand as far as the eye can see. But around the world are beaches that go above and beyond, that take your average beach vacation and kick it up a notch. The world's best beaches offer beauty beyond compare, exotic locations and unique appeal.
More beachy goodness: Top California Beaches | Costa Rica Beaches | Thailand's Top Beaches | Best Caribbean Beaches
Shipwreck Beach, Greece
Fulfill all of your childhood dreams of becoming a pirate by taking a trip to Navagio Beach on the Greek island of Zakynthos. Also known as Navagio Beach or Smuggler's Cove, for a smuggler's ship that wrecked there in the 1980s, the beach is surrounded by impressive sheer limestone cliffs that shield it from the rough ocean, making it a calm place for a swim. The white sand and clear blue water make it a popular tourist destination, and it's easily accessible by boat from the mainland. For the more adventurous of travelers, Navagio is also a popular location for BASE, or cliff jumping.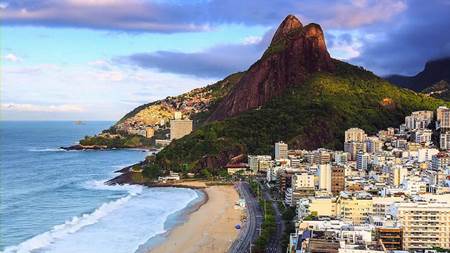 Ipanema Beach, Brazil
Made famous by the hit song, "The Girl From Ipanema," it's impossible to run out of things to do at one of the most fashionable beaches in the world. At Ipanema, visitors can play soccer or volleyball, belly board and swim, all while taking in the stunning natural surroundings. Taking a long walk along the entire length of Ipanema Beach is a must, and make sure to stop at one of the many street vendors along the way to pick up a crazy hat, floral beach towel or even a coconut bowl cocktail. The incredibly lively beach is a happy environment for everyone from families to people traveling on their own just looking for a place to relax.
Wineglass Bay, Tasmania
If you're looking for peace and solitude for your vacation beach reading and relaxing, Wineglass Bay is the place for you. A two-hour walk from the entrance to Freycinet National Park in which it's located (up the rocky pink-granite peaks of the Hazards Mountains and down again to the beach), Wineglass Bay is a nearly perfect crescent of beautiful white sand. Camp at nearby Coles Bay to get the most out of the experience. Whether you like to fish, swim, sail or kayak, this secluded bay is the perfect location for a beach getaway.
Tulum Beach, Mexico
Eighty miles southeast of Cancun sits Tulum Beach, right in the center of Mexico's increasingly popular Riviera Maya. Apart from having clear turquoise waters and a wide white sand beach, Tulum's claim to fame is its spectacular backdrop of ancient ruins. Visitors (and archeologists, of which there are many) can scramble up the hill from the beach to explore the ruins of an early Mayan village. Tulum benefits from being both easily accessible by car and not overdeveloped. The gorgeous expanse of sand is broken only by a few drink stands or cabanas.
Cayo Largo, Cuba
Cayo Largo is a small, secluded beach on a Cuban island in the middle of the Caribbean Sea. The beach seems to be almost virgin territory, untouched by a heavy tourist season. Though Cayo Largo is lacking in nightlife and fancy restaurants, the serene atmosphere is perfect for anyone who wants to get away from the hustle and bustle of a lively city. Cayo Largo is easy going, with many nude beaches and a reputation for being gay-friendly. With its seemingly ending beaches, this small island is a must-see for anyone who cherishes tranquility and the ocean.
El Cabo San Juan, Columbia
Getting to El Cabo, as it is known locally, is something of an ordeal involving a shuttle from a nearby village and a walk (or horseback ride) thought the jungle, but it's well worth it. Though swimming is discouraged due to the heavy surf, that doesn't stop many locals from jumping in anyway. The beach and the jungle coexist peacefully, and many people spend the night in a hammock on the beach.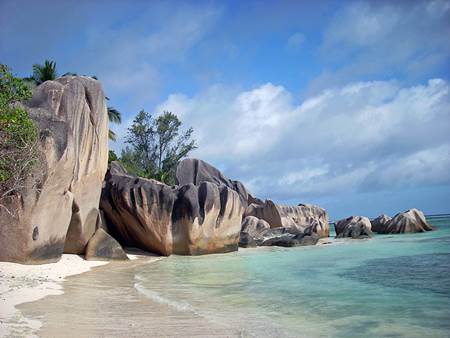 Anse Source d'Argent, Seychelles
This beach, located in an archipelago in the Indian Ocean, doesn't rely on the glitz and glamor of resorts to attract visitors. The pink sand and towering granite boulders make for the picture-perfect getaway. The cove is sheltered by a reef, creating calmer waters and the perfect environment for abundant and colorful underwater wildlife.
Boracay
Boracay is famous for its immaculate white sand beaches and crystal clear blue waters. Its main beach, aptly called White Sand Beach, is a 2.5-mile stretch of fine sandy beach fronting shallow waters great for swimming and snorkeling. A great selection of resorts line the beachfront, from inns to five-star accommodations. After an active day, guests can have a massage at the beachfront by trained locals for under $10!
The Baths, Virgin Gorda, British Virgin Islands
An unusual rock formation at one end of the beach gives The Baths its name. Eroded granite has formed beautiful natural tunnels, arches, tide pools and even grottos that look like ancient Roman baths. The area is a major tourist destination, attracting snorkelers and scuba divers year round to explore this unique beach.
Nungwi, Zanzibar, Tanzania
The best way to experience Nungwi beach is at night, as it is overrun with tourists and locals selling Masai crafts during the daylight hours. Go night scuba diving or on a sunset cruise to enjoy the spectacular views. White dhows (simple sailing boats) leave the dock at sunset, making it the perfect time for a photo op.
*****
Photo credits:
Navagio Beach: Anna Oates via Flickr
Ipanema Beach: RyanMBevan via Flickr
Wineglass Bay: Gopal Vijayaraghavan via Flickr
Tulum Beach and Ruins: Jon Mountjoy via flickr
Cayo Largo: Alessandro Caproni via Flickr
Cabo San Juan: David Shankbone via Flickr
Anse Source D'Argent: Fablo Calamosca via Flickr
Boracay: Lyniel Sy via Flickr
The Baths: Erika Lombardo via Flickr
Nungwi: snowflakegirl via Flickr