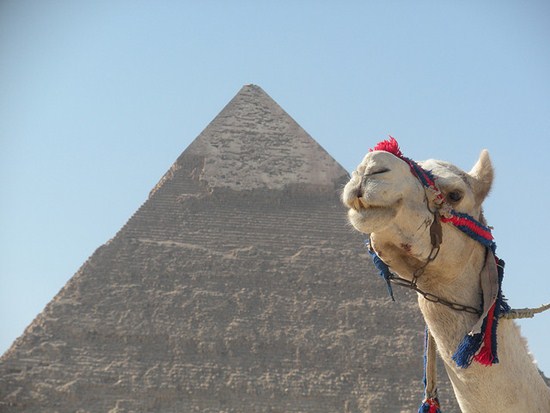 A trip to the mystical land of Egypt may be like going back in time, or for some, living the life of their favorite character in a treasure hunt adventure movie. Its ancient history and rich culture are truly enticing.
There are so many attractions and activities that are available to the visitor. Below is a list of things we recommend you make a priority for your itinerary. These top things to do in Egypt should give you a good insight into the culture, history, and nature. You can always return to experience the rest.
More about Egypt: E is for Exploring Exotic Egypt | Cairo and the Pyramids
1. Visit the Great Pyramids and Sphinx of Giza – Of course you need to see the pyramids!  They are among the most amazing man-made structures of all time and going to Egypt without seeing them is like ordering a spaghetti dish and not eating the pasta. The last remaining wonders of the ancient world, the pyramids are mind-boggling colossal works of architecture. You will also be impressed by the Sphinx which seemingly guards the complex.
2. Go to the Valley of the Kings in the West Bank – The valley is known to be the location of the Pharaoh's tombs, and is still abuzz with exploration, excavation and conservation activities. A few of the tombs are open to the public and a regular ticket entitles you to visit three. It might be worth it for you to add on for the separate entrance to the tomb of Rameses VI, which has incredible wall to ceiling paintings depicting the daily life of the period.
You can go on a bus tour or, if you are feeling adventurous (and may I add, up to the physical demands on your behind), ride a donkey.
Less than an hour's drive is the Queen Hatshepsut's Temple, a grand architectural masterpiece which also makes for a fascinating visit.
3. Take a tour of the Egyptian Museum of Antiquities – It is a definite must-see, with its massive collection of antique artifacts of one of the most interesting ancient civilizations. It is advisable to bring a good museum guidebook or pay a professional museum guide for you to be able to fully appreciate the displays. The Royal Mummies Room is also interesting although there is an additional fee to be able to enter. Of special interest are Tutankhamen's treasures.
Note that there are over 100,000 pieces on display so be prepared to spend up to a whole day in this complex, which may not even be enough.
While in the area, drop by nearby Tahrir Square, which has a special historic significance among Egyptians because this is where they gather for demonstrations, the latest in 2011 in protest against former leader Hosni Mubarak.
4. Cruise the Nile on a "felucca," a traditional wooden boat – Day tours are offered including stops on two islands, the Elephantine, where you will find ancient artifacts, and Kitchener, where you will see exotic species of plants and trees in its beautiful botanic gardens. Or, you can take a longer cruise, maybe one from Aswan to Luxor, which will allow you to see legendary temples.
5. Live through parts of the Bible at Mt. Sinai – Experience the majestic sunrise in Mt. Sinai and see where Moses was said to have received the Ten Commandments. Then visit St. Catherine's Monastery and see the site of the burning bush. You can also tour this working monastery.
6. Go snorkeling or diving in the Red Sea – The Red Sea is one of the most popular diving sites in the world and has teeming marine life and beautiful coral reefs. A trip to the area will afford you some of the most panoramic scenery in Egypt. Even if you don't want to go into the water, you can take photographs of the stunning views to show your family and friends back home.
7. Go on an excursion to the desert – Take a tour that offers a combination of a jeep-safari, a camel ride and a visit to a Bedouin Village. The camel ride is an adventure in itself and the novelty is half the fun! Also have a taste of the Bedouin tea, a black tea with mint.
8. Finally, practice your bargaining skills in the markets of Aswan or at the Khan-el Khalili bazaar in Cairo for your take home souvenirs! These places are bustling with activities and even if you are not up to shopping, you can go sit at a cafe and smoke a shesha while you people-watch. It can turn out to be a truly amusing day.
*****
Photo credit:
Pyramid and Camel: John and Carolina
Nile Felucca Trip: John Thomas