By Rachel Diebel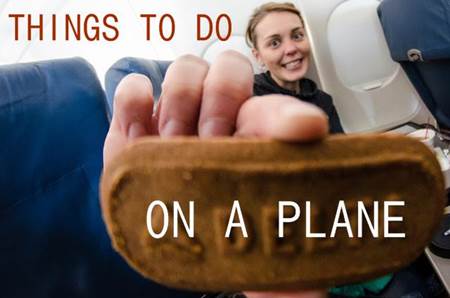 Let's face it: getting on a plane is one of the worst parts of traveling. Best case scenario is boredom for a few hours, uninterrupted by flight delays or screaming children. Worst case scenario, flying is a stressful, tense experience that showcases the nastier side of humanity. But flying can be part of the travel experience rather than just a speed bump along the way. Here are a few ways to jazz up your flight experience, whether your flight is a forty-minute hop from DC to New York or a nine-hour red-eye to Germany.
More Plane Travel Tips: How Not to Get Sick on a Flight | Can You Bring Your Own Alcohol? | Airline Tips for Women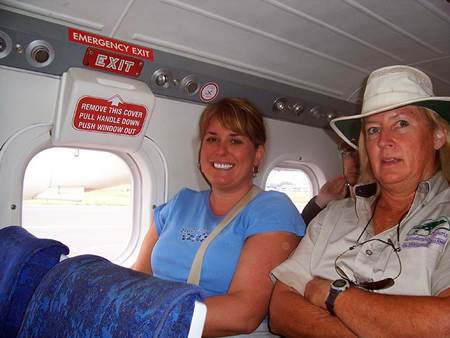 Engage in an Actual Conversation
Planes are a communal experience, but most people try to isolate themselves by spending the entire flight on their laptop or plugged into the on-board entertainment. Before your neighbor puts on their headphones and tunes out for the remainder of the trip, try to engage them in a conversation. You never know what their story might be–a German filmmaker, a Welsh guitar player, maybe even an American pop star! If your neighbor is unresponsive, flight attendants are an untapped resource. They've been everywhere and most of them have some crazy stories that they are all too willing to share.
Entertain Babies
The last thing anyone wants to see when they are boarding a plane is an infant. As adorable as they can be, they are also easily upset and loud about voicing their problems with the flight. Not ideal in a small, enclosed space. Upset infants can be the terror of a long flight, but with a little effort they can also be the saviors. Pass the time by entertaining a cute baby on a plane. Make faces, play peek-a-boo, even color or play a game with them. Not only will you keep yourself busy, you'll also earn the respect and thanks of every other passenger on board. Disclaimer: Make sure the child's parents are cool with you playing with their child first!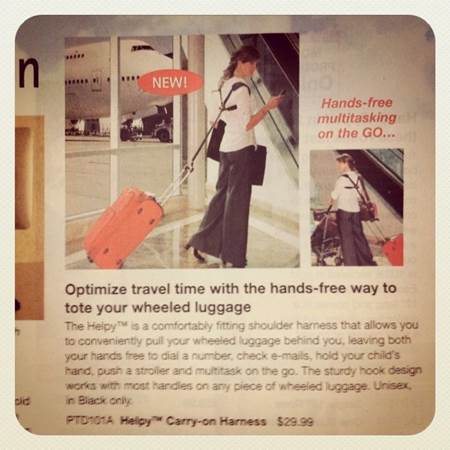 Make Up New Items for SkyMall
Everyone knows that the things available for sale on SkyMall are absolutely ridiculous–the kind of things that you would only buy while bored and trapped 30,000 feet in the air. Flip through the magazine to give yourself an idea of the usually expensive and quirky offerings, and then take matters into your own hands. Create something so insane and impractical that only SkyMall would ever offer it for sale. SkyMall is selling a grill spatula with an LED light so you can grill in the dark? Take it one step up and create a solar powered, glow-in-the-dark barbeque to match. Let your imagination run wild. If you are feeling particularly ambitious, pull out paper and pencil and get sketching your new, brilliant invention.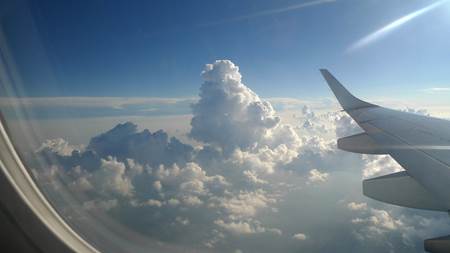 Instagram Those Clouds
For some reason, being on a plane turns everyone into a photographer. Majesty inspires, and the view from a plane window is pretty irresistible, no matter the weather. Try your hand at some photography and get the perfect shot. Sunsets, sunrises and thunderstorms make for particularly good camera fodder. If you're flying over Iceland, be sure to look out for the northern lights! Spend the time to get the perfect picture. You can even post it mid-flight, as most airplanes now offer in-flight Wi-Fi.
Dress It Up
The common thought on dressing for plane flights is to wear something comfortable. For most people this means yoga pants and a baggy sweater. I challenge you to redefine comfortable. Wear a killer outfit (although for best results still take comfort into consideration) and see how it makes a difference in the way people treat you and how you feel on your flight. Use the chance of being among random strangers who you may never see again to dress in a way you've always wanted to, but never quite been brave enough. Make a social experiment out of the situation. The sky's the limit.
*****
Photo credits:
Things to Do on a Plane: m01229 via Flickr
Plane Friend: Christine Olson via Flickr
Baby on Plane: Eugenio WILMAN via Flickr
Sky Mall Find: Pelle Sten via Flickr
Clouds Photo from Plane Window: Henry Burrows via Flickr
Dressed Up Woman Traveler: Chris Marchant via Flickr