By Rachel Diebel
Traveling is always exciting, but sometimes it can be difficult to leave the furrier members of your family behind. Luckily, it is easier than ever to travel anywhere you want with your pet, as long as you do a little extra planning. Here are a few tips to help you make your dream vacation–complete with your family pet–go smoothly.
More tips for the whole family: Family Travel Tips | Traveling with Three Dogs and a Teenager
Do Your Research
The first thing to do when you are planning on traveling with your pet is some good old-fashioned research. If you are flying, look into airline regulations about taking pets with you. Most likely they will have to be crated, and many airlines require a certificate of good health. Pre-book all of your hotels with your pet in mind, and remember that many hotels charge an additional fee for having a pet in the room. Make sure you tell your hotel when you book that you will have a pet with you, as some chains reserve only certain rooms or floors for pets.
ID Your Pet
It is very important when taking your pet anywhere to make sure that you have a way to find them in the event that they get lost. Always travel with a sturdy leash and collar, with an ID tag and a rabies tag attached. You might even carry a recent photo of your animal just in case. If you plan on traveling with your pet often, consider getting a more permanent form of identification such as a microchip. Microchips contain your name, phone number and address, and often the first thing police or shelters do with a lost animal is scan for a microchip.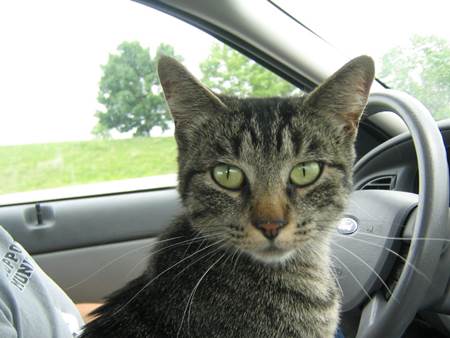 Vet Check
Before exposing your pet to dozens of other people, take them to your regular vet for a pre-departure check up. Most airlines require a bill of good health, but even if you aren't flying it is essential that you know your pet is healthy. If they get sick while traveling, it will be much more difficult to get care for them. If you have a pet with anxiety issues, it's also worth asking your vet about anxiety management options or techniques, as anxious pets are likely to be more anxious on the road.
Go Light on Food and Water
Whenever you are traveling with your animals, whether it's by train, plane or car, try to give them only light meals. If you can, avoid feeding them for up to four hours before travel. A full stomach and bladder could have disastrous (or at least messy) consequences. Once they're set for travel, do make sure that your pet has access to water, but not in large quantities. They need to remain hydrated, but not enough to make it a problem!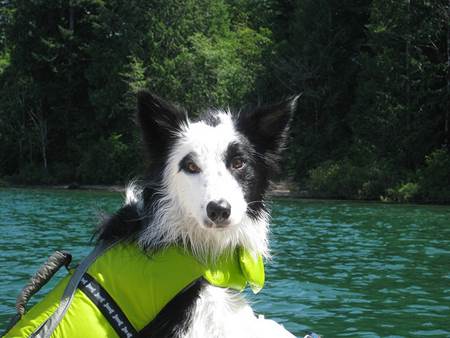 Exercise Regularly
One of the most important things you can do for your pet while traveling is to make sure that they are getting regular exercise. This will keep your pet from getting too wild and crazy on the road or while in a hotel room. Be sure to keep extra plastic bags in your pockets so that you leave no trace while running or walking your pet. Regular exercise while traveling has the added benefit of keeping you in shape so that you and your pet can explore new cities together!
Keep Calm and Carry On
The best thing you can do for your pet while traveling is to stay calm. There are going to be so many new sensations, new people and new experiences that your pet will already be worked up. Don't add to the chaos. Keep your mind, body language and voice calm and soothing–your pet feeds off of your energy. Traveling with your pet does mean some extra complications, but it will all be worth it when you get to wake up to their happy, furry faces.
*****
Photo credits:
Trekking with Dog: IslandHopper808 via Flickr
Cat in Car: Michael Cornelius via Flickr
Dog on Boat: Ashley via Flickr