By Michelle Duffy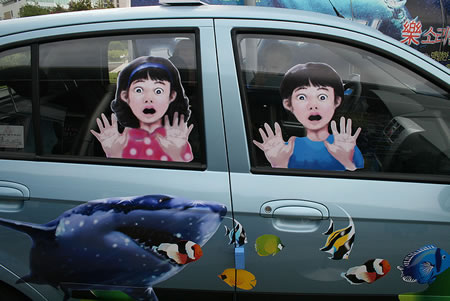 For trips with kids within your own country, sometimes you can't beat the feeling of piling everyone into a fully-packed car and just hitting the road. The open road provides limitless freedom, independence, and flexibility (OK, and kids bickering in the back seat).
Here's a primer on getting your family organized for such a journey.
Related Links: 6 Tips for Planning a Destination Family Reunion | Medical Records and Vaccinations | Prescriptions, Medications and Insurance
Practical Matters
Common sense comes into play when you're preparing for a road trip: give your car a once-over and make sure everything is tuned up and in good working order prior to your trip. If you don't have a manual for your car, pick one up from your dealer or online – you'll be glad you have it if anything goes wrong. Verify that you have everything you might need in the spare tire kit — including flares and tools. If you're planning a winter car trip and snow is likely pack an emergency kit containing blankets or sleeping bags, a collapsible snow shovel, extra water and emergency food. A membership to the Automobile Association of America (AAA) or the Canadian Automobile Association (CAA) is a worthwhile investment. These services offer roadside assistance to their members.
Take a moment and double check car seats, booster seats, and harnesses. Make sure LATCH (lower anchor and tethers for children) anchors are securely in place. For older children in booster seats, remember that different states have different requirements.
In-Car Entertainment
Keeping children entertained on long car trips can be challenging. When I've taken long trips with my children, I've used books, music, movies, and games. I've also used audio-books and a portable DVD player — although in our case it was a laptop. With audio-books, there's always the challenge in finding a title which will suit everyone's tastes and sometimes, the only way to resolve this is to have Mom or Dad choose the book. It may be that all the kids complain about the choice initially, but everyone has to listen and a well-chosen title can capture your children's imagination and cause them to become so engrossed they may not want
to get out of the car at rest stops. On a road trip in Mexico in 2006, I chose Judy Blume's Superfudge. It was a huge hit — even though my older son had complained that it was "too babyish" for him initially.
My children love to use handheld video games and portable music players (with headphones). But we also have never taken a car trip without a bag of books (or two) spilling about on the rear seat. And when all else fails (if your kids are still awake), there's always games, jokes and songs.
Renting A Car
When I rent a car in the U.S., I usually shop in advance for the best price available. I use services like Priceline and Hotwire where discounts of up to 50 percent are possible. With these services, you pay the full cost of the rental in advance. You do not find out which rental car agency has accepted your bid until after you have paid. Changes to the rental agreement (type of car, pickup, and drop-off locations) are made with the rental agency directly. These changes may cause the agency to levy additional charges.
Hybrid cars are becoming more and more common on our roads, but they are not available at all rental car companies. Use rel="nofollow"Hybrid-Rental-Car.com to find out if the company you wish to use has cars available or check with the company directly.  I also love VroomVroomVroom's green car rental service: finally a rental car company which calculates carbon emissions generated for each and every rental and partners with The CarbonNeutral Company to pay to off-set those emissions. What an awesome idea!
Renting Car Seats
Although most car rental agencies offer car seats for rent, bring your own wherever possible, whether traveling domestically or internationally especially to developing countries. This avoids issues with seat availability and quality from the rental car agency, as well as installation issues. Always remember to bring the base part of an infant car seat with you — it's not required but is easy to check in with carry-on luggage and means your child's seat can be safely installed in a rental car. If you do intend to rent a car seat, make sure to request the car seat in advance. Specify the type of car seat (infant, regular, booster) needed.
Remember that you will usually need to install the rental seat in the car yourself since in some countries employees are legally barred from helping you to install your child's car seat for litigation purposes.
Car seat safety standards are very stringent in the U.K. and Europe. If you can confirm the availability of a rental car seat in advance, using this may be better than taking your own since your U.S. car seat may not meet local safety laws.
Driving Into the Sunset
So there you have it: practical and fun things to keep in mind as you plan a summer road-trip with your kids. Go on, give in to the pull of the open road and go have fun!
Photo Credit:
Kids in Car: Stinkie Pinkie
Headphones photo: ….Tim
Sunset photo: cproppe
* * * * *
Michelle Duffy is an IT professional who, after 10 years in the dotcom world, left Amazon.com to spend more time writing, traveling and being with her family.
With her natural passion for travel, she and her husband left Dublin, Ireland in 1995. After exploring much of the Western U.S., they settled in Seattle with their two boys. Parenthood did not preclude Michelle's intent to wander far and wide. She has traveled extensively in the U.S., Europe, South and Central America with her family. Her children have so far: visited Machu Picchu, explored Mayan Mexico, enjoyed the view from the Acropolis and marveled at the kangaroos in South Australia – as well as visiting many other fun destinations worldwide. Michelle is currently planning 15-month round-the-world trip with her family.
Michelle is the WanderMom blogger and co-author of Wanderlust and Lipstick: Traveling with Kids. Follow her on Twitter @wandermom