By Rachel Diebel
Family vacations are time to make lasting memories together with the people that you love the most, but they can also be incredibly stressful to plan for. Kids add a whole new dynamic into your vacation planning, particularly when it comes to packing. How do you pack your bags without forgetting something essential, but not bring so much stuff that you have to rent an extra minivan just to carry it with you?
Well, your days of traveling light may be over, but there are a few things you can do to make packing for your next family vacation a little less of a hassle. Here are some tips for things that you may not remember to pack!
More Family Travel Tips: Best Family Destinations | How to Teach Your Kids to be Good Travelers | Traveling with Teens | How to Save for Travel
General
Backpacks — Even little kids can carry a light backpack, which not only means more room in your bag, but gives them a job and makes them feel important. Have them pack a favorite toy, an activity for the plane or car, or some snacks.
Extra food — Always bring more food than you think you should. You never know when the plane will be delayed or the tire will pop!
Pillows and blankets — Having familiar pillows and blankets on a plane or in a hotel room can ease the transition for your kids and help them sleep better.
Entertainment
Travel games — Whether you are traveling by plane, train or car, your kids are going to need something to stay occupied. Pack plenty of travel size board and card games for maximum fun.
Books — The original travel companions are still some of the best! Bring along a familiar and well-loved book to comfort young children in times when they won't take their naps.
Coloring books and crayons — Crayons are less messy than markers and don't need sharpening like pencils do.
iPad or similar device — Parents know the power of tablets! Bring along your devices to let the kids relax by watching a movie or playing Angry Birds in the backseat. Download a few game or educational apps to unveil when times get tough.
Keep Close at Hand
Tissues — Good for any sniffy noses that may occur throughout the day.
Antibacterial wipes — A small pack of antibacterial wipes is great for wiping down trays on planes before (and after!) use.
Hand sanitizer — You never know what your kids are going to get their hands on, so it's best to be prepared.
Ear plugs — So you (as well as the kids) sleep through the night even if your hotel is less than quiet, or in case you find yourself at a loud show or fireworks display. It always pays to protect little ears.
Power strip — Cut the stress of limited hotel outlets and charge all of your devices at once–you never know when you're going to need to pull out the iPad to keep the kids entertained.
Extra batteries and necessary chargers — To make sure your camera is able to capture the wonderful memories you are sure to make and make sure the iPad is fully charged.
Chocolate — Individually wrapped chocolate is perfect to prevent oncoming meltdowns, and a good pick-me-up for the adults as well!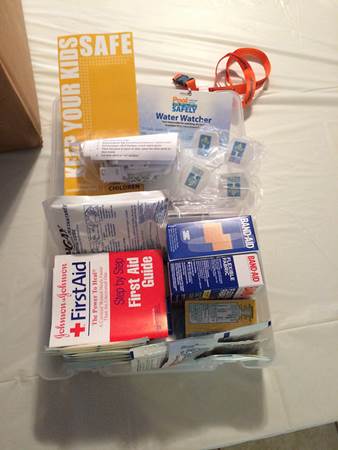 First Aid Kit
Thermometer — It's always good to have a way to measure your child's temperature, just in case.
Band-aids — For any little boo boos that need a bandage and a kiss.
Tweezers — If you are camping or hiking, slivers are almost inevitable. Just make sure you have a way to deal with them!
Anti-nausea medication — There's not much worse than a carsick kid (or adult!), so make sure you have a plan in place. Alternatively, you can carry ginger candy to help with sad tummies.
Anti-itch cream — Just in case.
Benedryl — If you're going out into nature, it's always best to bring the Benedryl in case of surprise reactions to poisonous plants or bug bites.
Pedialyte — Kids tend to get dehydrated quickly, so it's always a good idea to have some extra electrolytes on hand to put some pep in their step.
Large plastic bags — Ziplock bags are good for almost anything, from wet swimsuits to packing food for long car trips.
Chapstick — Chapped lips are no fun for anyone, and could cause a lot of complaining among little kids.
Sunscreen — If you're going to a beach or even if you'll be on the road for long days, pack or plan to buy some sunscreen along the way.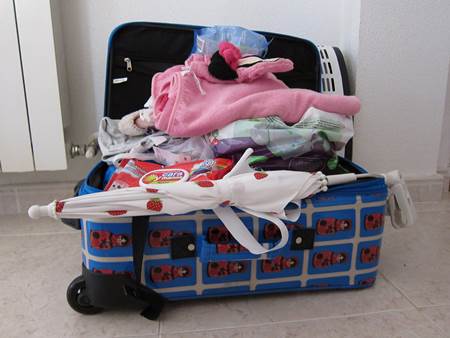 Clothing
Quick dry, non-wrinkle clothing — The last thing you want to deal with on a family vacation is wet, wrinkled clothing. The easiest way to make your trip a little smoother is to invest in some simple, non-wrinkle, moisture wicking clothes. Even just a pair of these per person can turn out very handy.
Raincoats — Never be without a family set of raincoats. Weather is unpredictable and can strike at the worst times.
Study shoes (broken in) — It may be tempting to just pack quick, easy, slide-on shoes, but your entire family will be thanking you when they've successfully traversed Disneyland without getting blisters. Don't buy brand new shoes before you walk all day either. Use them for at least a few weeks as often new shoes cause pressure points and blisters, even on little feet.
Extra socks — Never a bad idea, especially if there are water rides or attractions in your day. No one likes soggy socks.
Swimsuits — Swimming is the perfect way to tucker little kids out so they sleep through the night. Even if you aren't sure you'll have access to a pool, you never know when you'll encounter a public fountain or something similar.
*****
Photo credits:
Kid in Luggage: kelly via Flickr
Family Vacation: Melissa Hillier via Flickr
First Aid Kit: PoolSafely via Flickr
Little Girl Luggage: Keith Williamson via Flickr