By Rachel Diebel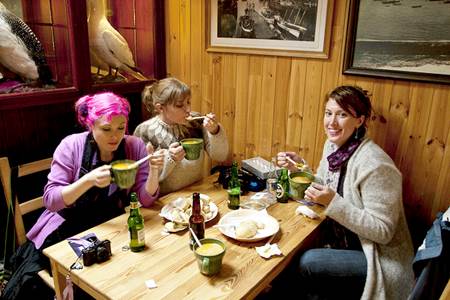 Everyone knows that one of the best parts of any vacation is sampling the local cuisine. It's also one of the more expensive parts – especially in Europe where costs typically run a bit higher than in the U.S. No matter where you visit, from Paris to Madrid to Rome, there are a few simple ways to cut down on the cost of food without compromising on taste or missing out on local specialties.
Also check out: Street Food in Amsterdam | Iceland on a Budget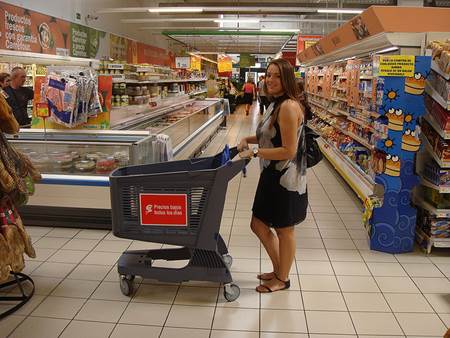 Go Grocery Shopping
One of the best things you can do to eat cheap in Europe is to find the local grocery store and browse through the aisles. Whether it's bread, meat, cheese and apples for a picnic lunch by a lake in Switzerland or just a croissant for breakfast, grocery stores or co-ops are almost always cheaper than eating at a sit-down restaurant.
In addition to being less expensive, grocery stores in foreign countries are a fun way to expose yourself to a new culture. There are a million little things you take for granted at the stores you're used to, from how to weigh the fruit to the brands that are on the shelves. Grocery stores are a great way to learn about the differences between your own daily meals and those in another country. They are also a fine way to get in touch with the local chocolate, beer and wine for a lower price! Take a risk and try something with a label you don't recognize.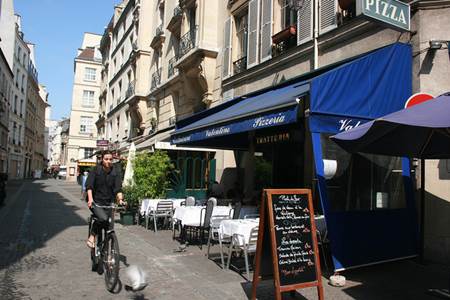 Get Away from the City Centers
The most expensive restaurants are usually located near the tourist hotspots, plazas and popular museums. These restaurants are not only expensive, they're usually crowded and loud. Though they might seem like the best option after a long day of walking and sightseeing, they are often not worth the extra money you will pay for convenience. Worse, the ever-popular outdoor seating combined with a popular attraction nearby often means you'll get hit up for change during dinner.
Your best bet for a cheaper, more peaceful dinnertime experience is to walk down a side street away from the city center. Even a block or two away, the prices go down and the food quality does not. Look for narrow, overlooked streets, as those often hide the restaurants that the locals frequent.
Eat Late
Eating dinner before six o'clock is a very American habit, and the people who run the restaurants in European cities know this. The restaurants that are busiest from five to seven o'clock are likely tourist traps that have higher prices and less authentic food.
Sometimes smaller restaurants slightly off the beaten path will be open late into the night. This is usually where you will find the Europeans, dining at eight or nine o'clock, and this is also where you will usually find the best, most authentic food. Eat a snack earlier in the evening and see if you can hold out until later for a real dinner. Going to a restaurant late means a less rushed meal with more time to chat with your waiter–and maybe even a free appetizer or bread if you're lucky.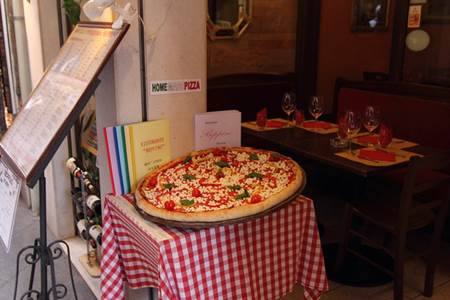 Shop Around
It's the end of the day and you're tired and sunburned and just want to sit down at the first pizza place you see. However, if the goal is to eat cheaply, this is the wrong thing to do. Be aware of your body and schedule some time to look around a little before you're too tired. Get some snacks at the local grocery store to help tide you over in times of need.
Most restaurants will post their menus outside, making it easy to wander from location to location and compare prices–just watch out for overenthusiastic waiters. Often waiters or hosts are stationed outside by the menu to try to convince those browsing that their restaurant is the perfect place to eat. It can sometimes be hard to walk away, but remember that you need to make the best choice for you.
*****
Photo credits:
Women Dining in Iceland: David Sorich via Flickr
Woman in Europe Grocery: Polycart via Flickr
Paris Side Street Cafe: Supermac1961 via Flickr
Venice Restaurant Outdoor Display: Rahul Manglekar via Flickr