By Rebekah Bresee
Backpacking trips are a bit different from regular vacations. You're on the move, unpacking and replacing, visiting a new place every other day or so. Packing for these trips can be tricky, especially since you may need to plan out several days, weeks or even months. Packing your life into a backpack can be difficult, but here are some tips that will ease the process.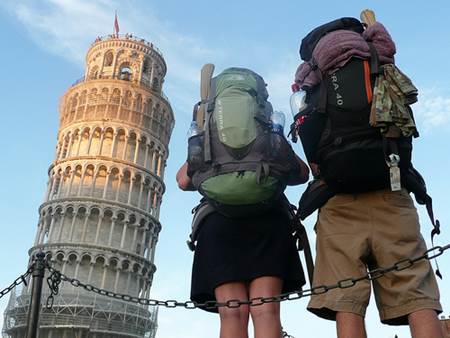 More about Europe: How to Cross the Road in European Countries | Eating Cheap and Well in Europe | Traveling on Workstays
Plan Ahead
As you're planning the destinations and activities for your trip, take the time to think about what materials and clothing you will need. Look up the weather in your destinations and plan outfits accordingly. If your activities require out-of-the-ordinary items or clothing (say, a rain pancho for a river cruise or a nice dress for a night out), make sure you plan those items into your packing routine. Bring clothes for what you'll need, but think through what you can leave behind as well. You can't pack for every occasion when you're traveling light.
Pack Light
Yes, the rule is so common it almost seems unnecessary to mention. But we women often struggle with this rule. Backpacking across Europe is different from staying a hotel during a vacation. You should pack only what you want to carry. Try to aim for 20 pounds for your bag (this is a standard weight budget airlines allow for carry-ons). This will be comprised primarily of clothes so be selective, and don't bring more than you need. Try packing neutral-colored clothes and clothes that you can layer so you can mix and match to create different outfits. Packing light will also be helpful when traveling by budget airlines, trains, buses or if you're walking long distances. You'll also be thanking yourself you don't have too much to unload and repack as you move from place to place.
Fashion vs. Function
Europe has a well-deserved reputation for high fashion. It is natural to want to dress as the Europeans do. However, bringing the clothes and accessories to do so is not practical. The last thing you want to do is stuff a big, fashionable coat into your backpack. Function definitely surpasses fashion for a backpacking trip, but you may be able to get away with both. Wear clothes that are comfortable to walk around in for many hours. Leggings and sweaters are fashionable in Europe while also being practical. Layers are also good as many places in Europe are cooler in temperature so you can add or take off clothes as needed. You want to be comfortable and enjoy yourself on your trip. Packing for functionality is one way to ensure you will.
Jackets
Jackets are a must when you travel, no matter what time of year it is. Parts of Europe can be very rainy and cold, and most places get chilly at night. If you plan to travel up north, a warm fleece jacket and/or a rain coat is ideal to bring. If you're staying in a warmer area, you could get away with a soft shell jacket. Jackets and coats are also ideal to layer–bring a sweater and a jacket. On colder days, you can double up. On warmer days, you can wear either the sweater or jacket on its own.
Shoes
Shoes are tricky to pack because they are so bulky. You're going to be doing a lot of walking, so make sure you bring comfortable shoes so your feet don't blister after the first day. You don't want to bring new shoes (if you buy new shoes, wear them for long periods several days or weeks before your trip to break them in), but you also don't want to bring shoes so worn they risk falling apart during the trip. Shoes that are comfortable, practical and that you're not too attached to (in case they do break) are best. Two to three pairs of shoes is plenty. Make sure you can mix and match them with your outfits. Also be sure to have the right pairs of shoes for whatever activities you have planned. Sneakers for long walking days, practical booties or sandals for nicer outings or relaxed strolls through the city. While sneakers are great for walking, find a pair with muted colors, that are black, or a nicer pair of walking shoes and you'll fit in with the locals better. If you're staying in hostels, a pair of flip flops for showers is also a must.
Accessorize
Bringing accessories can be both practical and help you feel more fashionable as you travel around Europe. Scarves are a popular fashion accessory in Europe and help you stay warm when it gets chilly. Sunglasses, gloves and hats are other items you may want to bring to jazz up your outfit as well as protect you from the elements. Jewelry is also a good option, but don't bring anything too flashy as it may attract thieves. Little necklaces, bracelets and rings are good to mix and match with your outfits and help you feel a bit more fashionable.
Day Pack
Your main backpack is what you'll be lugging from city to city or country to country, but it's not what you want to carry while exploring a city for a day. Pack a small day pack or purse to carry your daily items around. It should be big enough to carry your wallet, water bottle (bottled water can get pricey), maybe a small journal, camera, and any other daily items you made need such as aspirin or cough drops. However, you do not want too big of a bag or else it may draw the attention of thieves and pickpockets. Additionally, bags with zippers are best as they are not easily picked by thieves.
Little Things You May Not Have Thought Of
There are a bunch of little items that are so second thought at home that they can be easily overlooked when going overseas. Some of these items include an adapter for electronics, flip-flops for hostel showers, plastic utensils, stain remover, collapsible umbrella, a small flashlight and a travel towel. You may also want to invest in a money belt. While these fanny pack-looking things aren't the most attractive, they're one of the safest ways to carry your money and other important documents you bring (and they go under your clothes anyway).
*****
Photo credits:
Italy Backpackers: lindyi via Flickr
Packing: Molly.Low via Flickr
Shoes: Brianna Privett via Flickr
Day Pack: mendhak via Flickr