By Kumiko Matter
Traveling by rail in Europe makes getting around a snap — whether you're traveling between countries, within a single country, or even across large cities such as London or Paris. With increasing numbers of discounts, packages and destinations every year, rail travel is a great option, but deals are just one of many reasons to book rail travel in Europe.
1) Save Money
Many countries have national rail systems, like Deutsche Bahn in Germany or Nederlandse Spoorwegen in the Netherlands, that offer deals for travelers. You'll find regional, group, day and frequent passenger tickets. Purchasing a rail pass can help save money. One way to save is by opting in for notifications when tickets go on sale for a particular journey.
2) Stress Less

The best part about train travel is being able to sit back and relax without having to worry about baggage weight restrictions or being cramped up next to your seatmate. The great part about buying a Rail Europe pass is that you can pre-purchase it online and have it sent to you before your trip to Europe starts, and just reserve each leg of the trip a day or more before you plan on traveling. To make it even easier, when you get to a station, book the next ticket on your pass when you arrive, that way you don't have to call in and use up long-distance charges or visit the station the day before you leave again to reserve your seat(s).
3) See More
View the countryside and mountains, villages and capitals, while traveling by train–things you won't see from a plane and in far more comfort than if you take a bus (especially long distance). Train travel gets you that much closer to discovering the local culture and flavors.
4) Travel by Night, Save on Hotel
For some, time is money. Save precious daylight for sightseeing by traveling at night. This is especially useful on popular long-distance train rides, such as going from Paris to Madrid, Amsterdam to Copenhagen, or Sofia to Istanbul. Save on a night in a hotel or hostel by booking a comfortable bed on the train, and wake up at your destination in the morning!
5) Group Travel
If you plan on traveling with family or friends, you can find special discounts and perks for traveling in a group! As mentioned before when you travel overnight, you can book a private room with bunk beds. Or you can find tables for four that are perfect for an on-train picnic or playing a game with friends to pass the time!
6) Travel in Comfort and Speed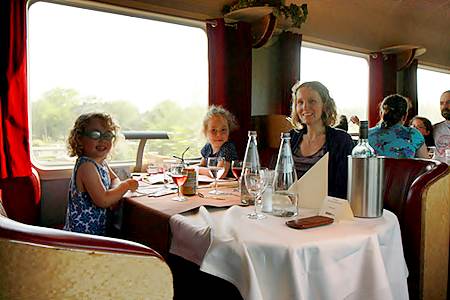 Compared to the increasingly uncomfortable and tiny seats on airplanes, you'll have more space to stretch out and recline while reaching your destination by train. Trains are becoming faster and more efficient with each passing year. There are more options for express trains to get to major destinations quickly. For example, you can now go from Frankfurt to Paris within four hours! The incredible speed allows travelers to fit in more activities, especially perfect for weekend destination trips or short vacations packed with lots of destinations.
*****
See where you can go throughout Europe by booking your transportation by rail! You'll be surprised where it can take you.
*****
Photo credits:
Sleeper Train Window: Barney Moss via Flickr
Woman on Europe Train: Richard Giles via Flickr
Family on Board Train: Barney Moss via Flickr