By Rachel Diebel
Amsterdam is unique city–walkable, tolerant and filled with culture. Amsterdam is also a hotspot for delicious street food for any time of the day. Whether you are craving something sweet like caramel stroopwafles or salty like a paper cone filled with frites (that's fries to you), there is sure to be something to satisfy your taste buds.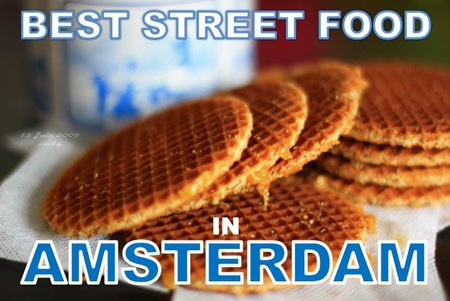 Also check out: Day Trips from Amsterdam | How to Cross the Road in Europe
Stroopwafles
Stroopwafles are the perfect snack for the tea and coffee lover. Circular waffle "sandwiches" made with two thin cookies and filled with a caramel-like syrup, fresh, hot stroopwafles can be found at almost any street market in Amsterdam and throughout the Netherlands. You can also buy pre-made stroopwafles in just about any souvenir shop or grocery store. These cookies are meant to be placed over the top of a mug of tea or coffee so that the steam from the hot liquid melts the caramel center, but are also made into ice cream sandwiches or just eaten straight!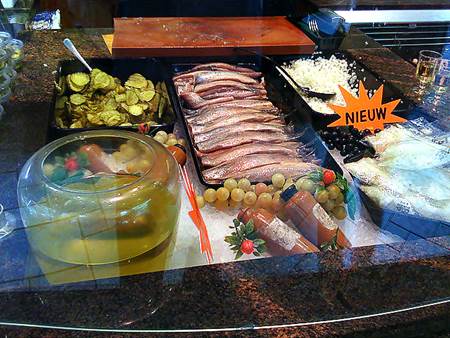 Herring

The Albert Cuyp Market is a street market in Amsterdam filled with vendors selling everything from cheap jackets to tasty street food. One of the most popular foods at the market is nieuw haring, or "new herring," a kind of pickled herring common to the Netherlands. Cut into bite-sized pieces, garnished with onion and pickled cucumber, and served with a toothpick that serves as your eating utensil, the herring has a buttery texture and a natural sweetness that make it a one of a kind culinary treat. Yes, it is a bit fishy so it may not be for everyone, but this treat comes pretty treat so give it a try!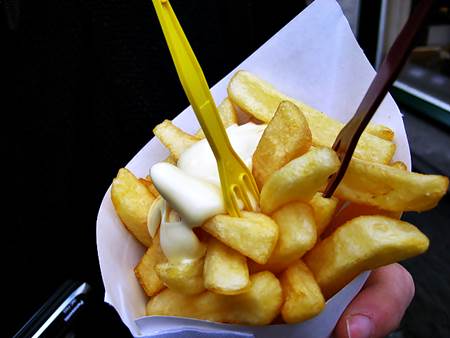 Frites
Frites are essentially french fries served in a paper cone and eaten with fingers (and a tiny fork for when you get down to the bottom of the cone). Frites are fried twice, which makes them extra crunchy! What makes frites unique is that they are commonly served with a rich mayonnaise-based sauce (heaped right on top) instead of ketchup. Other options include curry sauce, feta cheese and even an Indonesian-inspired peanut sauce. No visit to Amsterdam is complete without a quest to find the best frites in the city!
Bitterballen
Traditionally, bitterballen were served as an appetizer before lunch or dinner, but nowadays you are most likely to see them as a side dish or part of a snack platter to accompany a pint at the end of the workday. These crispy, bite-size balls are made from spiced shredded beef gravy, then deep-fried for maximum delicious crunch. To fully enjoy bitterballen, dip them in some delicious savory mustard.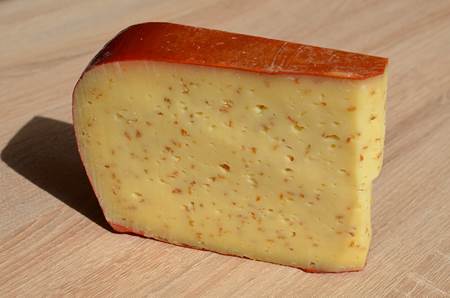 Leidse kaas
The Dutch are known for their cheese, and leidse kaas does not disappoint. The most common type of komijnekaas (cheese made with cumin), leidse kaas is a delicious yellow cheese made with part-skim cow milk and spiced with cumin, which gives it its unusual dry, tangy taste. It is very similar to gouda, but with a lower fat percentage. No afternoon snack is complete without some traditionally made leidse kaas. You'll spot cheese stores throughout Amsterdam and they generally have samples out for you to try. Find the cheese of your dreams.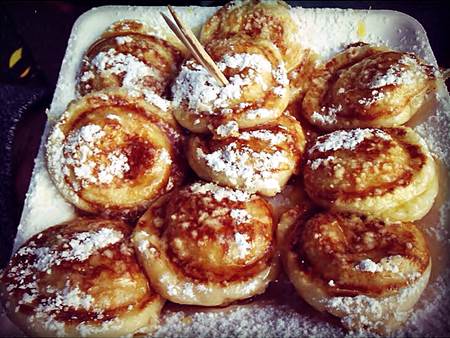 Poffertjes
Similar to American pancakes, poffertjes have a light, spongy texture and are usually served with powdered sugar and butter. Traditionally made in colder seasons, poffertjes are a tasty, traditional treat made with buckwheat. You can purchase freshly made poffertjes from a bakery or get a mix and try to make them yourself. The name comes from the behavior of the batter when you flip them while cooking: they puff up!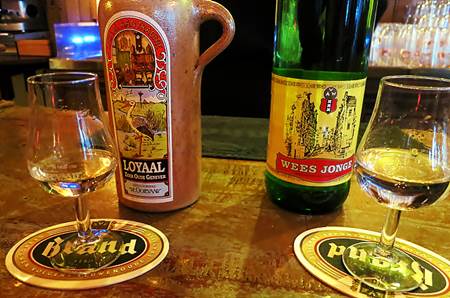 Dutch gin and beer
Take a break from your street food adventure if you spot some local gin or beer to try. Dutch gin, or Jenever, has been Holland's national spirit since the 17th century. What the rest of the world knows as regular gin evolved from this juniper-flavored liquor still very popular in Amsterdam, and in fact, European Union regulations stipulate that only the Netherlands and Belgium can make it. Pale lagers are the beer of choice in the area, the most recognizable being Heineken and Grolsch. Jenever is sometimes drunk with beer, usually as a chaser, when it is called kopstoot, or "headbutt."
*****
Photo credits:
Stroopwafles: sandy via Flickr
Nieuwe Haring: dutchgrub via Flickr
Frites: Jeremy Keith via Flickr
Bitterballen: Franklin Heijnen via Flickr
Leidse kaas: Alexander van Loon via Flickr
Poffertjes: Cheryl Foong via Flickr
Jenever: MollySVH via Flickr