By Rachel Diebel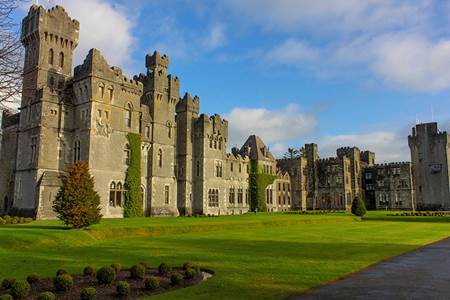 Ireland can be an intimidating place – there are so many things to do, from visiting castles and museums to drinking and laughing away the wee hours of the morning in a local pub. There are a few can't-miss highlights that you just have to do, but by halfway through your trip, you'll realize that you're already planning another visit!
More about Ireland: Castles in Ireland | Cities and Towns to Visit | Ireland's Best Scenic Views
Stay at a Castle Hotel
One of Ireland's most amazing experiences is the chance to stay at a fabulous castle hotel. Complete with archery lessons, Victorian-style décor and horseback riding, there are many of these beautiful hotels throughout the country. Ashford Castle north of Galway has been visited by everyone from Oscar Wilde to Brad Pitt, and the breathtaking Barberstown Castle hosts large, traditional medieval dinners with appearances from the ghost of Nicholas Barby, who built the castle in 1288.
Fly Falcons
A visit to a castle in Ireland isn't complete without trying your hand at falconry. Developed in medieval times as a form of hunting, falconry continues today as a hobby and passion. Many of the ancient castles in Ireland offer falconry lessons for beginners, but Dromoland Castle in the southwest hosts the School of Falconry. Take a Hawk Walk with an instructor and learn to fly a falcon of your own while strolling around the castle grounds.
Drive the Wild Atlantic Way
For some of the most dramatic vistas in Ireland, rent a car and drive at least a small stretch of the Wild Atlantic Way, a winding highway spanning the entire western coast of the island. Jam-packed with stunning views of the ocean, cliffs, castle ruins and charming little villages, the Wild Atlantic Way is much more than just a pleasant jaunt through the countryside. Designed with the help of locals, the entire route was intended to bring travelers closer to the people and culture of western Ireland and to increase tourism in an area sometimes passed over for the more cultured charm of Dublin.
Go Golfing
Ireland is a haven for the golfing aficionado. You can hardly take a few steps without running across a golf course, and most them are frequented by golfing greats like Tiger Woods and Darren Clarke. For those who want a challenge, Ireland sports some of the best links golf courses in the world. A links course is a more traditional course built on the coast and left with most of its natural topography of hills, valleys, and sand dunes rather than landscaped and maintained like most modern courses. Ireland has four links courses that are listed among the 100 best courses in the world, and each year travelers flock to them to see if they can best the Irish wind and make par.
Visit the Guinness Storehouse
For many people, Ireland is synonymous with Guinness, the legendary dark beer first brewed there over 250 years ago. The Guinness Storehouse, allegedly located on the same spot in Dublin where Arthur Guinness began his enterprise, has a museum spread out over several floors. Each floor deals with a separate aspect of Guinness history, from advertising to changing ingredients. After the self-guided tour, kick back and relax in the Gravity Bar, a circular restaurant with glass walls located on the top floor of the building, and enjoy a Guinness of your own, included with the price of admission.
Dive into the Dublin Literary Pub Crawl
Pubs are an integral part of Irish life and are present in every city in the country. Nowhere is the pub life more famous, however, than in Dublin. Dublin contains a group of pubs celebrated for the literary achievements of visitors such as James Joyce, Samuel Beckett and Oscar Wilde. The Dublin Literary Pub Crawl, a 2.5-hour nightly trek through the heart of Dublin, takes in four pubs and a detour through Trinity College, and features performances of some of the works by their famous patrons. The rotating cast of actors is a rambunctious, cheery group who are sure to make you feel comfortable. If you prefer music to literature, Dublin also features a traditional music pub crawl, complete with traveling musicians who play for you at various locations.
*****
Photo credits:
Ashford Castle: Bob Familiar via Flickr
Falconry: tiarescott via Flickr
Wild Atlantic Way: Greg Clarke via Flickr
Strandhill Golf Club: John Picken Photography via Flickr
Guinness Storehouse: Ulrika via Flickr
Literary Pub Crawl: Chris Brooks via Flickr