By Kumiko Matter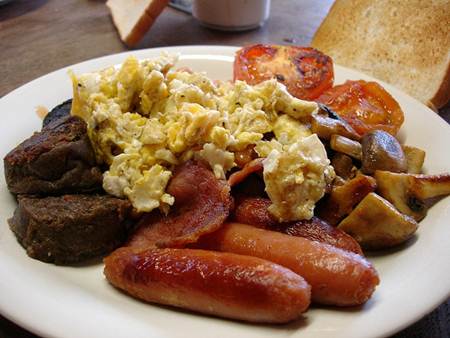 Underneath those lovely Irish accents and friendly personas spotted all over Dublin are delicious comfort foods welcoming you to Ireland. Once you experience the meals there, they will beckon you back every time you reminisce about them! From breakfast to dessert, we've got you covered on the traditional (and not so traditional) Irish foods you must try in Dublin.
Also check out: Delicious Food in Germany | Rail Travel in Europe
Traditional Irish Breakfast
Start your day off right with a full stomach, courtesy of a hearty Irish breakfast. This differs from traditional British breakfasts by serving white pudding, Irish soda bread, and mushrooms, alongside the usual black pudding, grilled tomato, sauteed potatoes, Irish bacon and sausage. It's enough food that you might not be hungry come lunchtime, so bring along good company to enjoy your time while finishing such a big meal!
Brown Bread with Smoked Salmon
If you prefer a light breakfast, head on over to Queen of Tarts bakery, located close to the River Liffey. Ireland is known for its brown bread and smoked salmon, and they pair so well together that you can't imagine them apart after trying it! The Queen of Tarts also serves tasty sweet and savory tarts. On a sunny day, grab a hot cocoa and brown bread with smoked salmon to go (maybe a tart for later), and sit on a bench on a nearby bridge. Kick back, enjoy some people watching, and spend some quality time with your new favorite snack.
Cornish Pasties
Nobody has the time to make their own pasties in Dublin, so find your way over to Hanley's Cornish Pasties. It's tricky to find, but you'll come across it hidden in an alleyway in the Temple Bar District. Cornish Pasties are best when you need a quick and filling bite during a walking tour of Dublin or after a rough night at the pubs in Temple Bar. You'll be able to choose between fillings like Steak and Gravy; Veggie Special; Cheese, Leek and Bacon, and other mainstay and rotating flavors.
Irish Home Cooking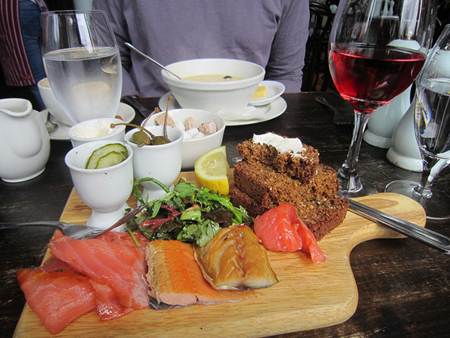 Feast where the locals go for tasty Irish fare! Named after a W.B. Yeats poem, The Winding Stair is part-bookshop, part-restaurant and is loved by Dubliners for its character, location and meals. When you're not looking through the book section, taste dishes that showcase Ireland's cuisine, like smoked haddock, char-grilled strip-loin steak, seafood chowder, potted crabs from Dingle Bay, and slow-cooked brisket.
Beer!
You can't visit Dublin without drinking a pint or two of the black stuff — or Guinness, for those not acquainted with its nickname. Dubliners say the closer it is to the source, the better! Experience the Dublin nightlife in one of the pubs in the Temple District. The Porterhouse Brewery is a great place to start the night. They have a variety of local award-winning stouts, ales, and other selections on tap. Make sure to check it out on Friday nights to hear live traditional Irish music! Just remember to impress your friends with your knowledge of the Irish language and make a toast before you drink by saying "Slainte" (pronounced slahn-chuh), which means cheers!
A must for visitors to Dublin is a tour of the Guinness Storehouse. Learn the process of making the famous stout beer and taste some along the way! The tour allows visitors to try a complimentary pint of Guinness on the top floor at the Gravity Bar, which has a 360-degree view of Dublin on a clear day. But not many people know there is another option at the Perfect Pint Bar on the fourth floor where you can learn how to properly pour a pint of Guinness, earn a certificate for doing so, and leisurely drink it in a quieter and less-crowded area.
Brown Bread Ice Cream
More brown bread? Yes, it's that good! Murphy's Ice Cream serves up a mean brown bread ice cream that'll keep you coming back for more! They use rich milk from cows in County Kerry for their custard base, and caramelized brown bread crumbs in sugar. It's not overpoweringly sweet and has the perfect balance of sweet and savory. Murphy's has plenty of other delicious flavors using local ingredients, like Irish Cream Liqueur, Dingle Sea Salt, Kerry Cream Vanilla, and Buttermilk.
*****
Photo credits:
Full Irish Breakfast: Martijn van Exel via Flickr
Winding Stair Smoked Fish Plate: Lisa Harbin via Flickr
Porterhouse Brewery: Charles Haynes via Flickr