By Kumiko Matter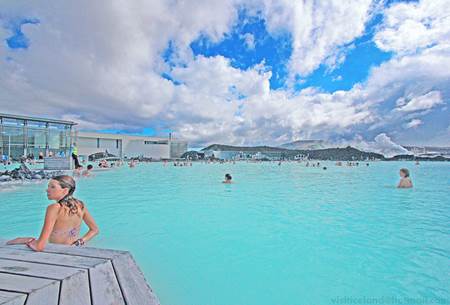 Iceland is a nature-lover's dream destination, with many waterfalls, glaciers and hills to explore. At the end of the day, you'll want to relax from all of the adventure in a hot spring to relieve your sore muscles. Fortunately for you, there are plenty of hot springs in Iceland. The balance between the crisp Icelandic air and the warm water feels perfect. Check out these scenic hot springs on your next trip to Iceland!
Blue Lagoon
A trip to the Blue Lagoon is a must for any first-timer to Iceland. Soak in the milky-blue waters and lather the silica mud on you, which is known to help with skin problems like psoriasis. And while you're relaxing in the pool, saunas or during a massage, sip on their delicious Blue Lagoon cocktails. Because it's a famous tourist destination, the Blue Lagoon is the priciest hot spring you'll come across while in Iceland. Entrance tickets range from about 30 to 50 euros and costs more with the included bus from Reykjavik or Keflavik Airport.
Laugardalslaug
Have a fun time swimming laps and chatting with locals in the hot pots (their version of a hot tub area) at Laugardalslaug. This is a perfect place if you're traveling with kids while in Reykjavik. They'll be able to wear themselves out by playing on the water challenge course and going down the slides. You can even swim until midnight during the summer when it stays light until the wee hours of the morning!
Arbaejarlaug
Arbaejarlaug is another popular geothermal pool in Reykjavik. Swim indoors under a glass roof if the weather gets a little crazy outside. It also has a water slide and a waterfall area. The hot pots at Arbaejarlaug are roomy and have reclining slopes to sit back and relax on. The pools are open until midnight on weekdays, but close early on the weekends.
Klambragil
Located just under 30 miles from Reykjavik, and a short hike from the city Hveragerdi, you'll find the natural Klambragil hot springs. It's unique because you sit in the perfect spot between water flowing from both a hot spring and a river stream! Klambragil requires an hour-long trail hike north of Hveragerdi that is well marked and fairly easy. Reward yourself with a relaxing soak before going back!
Landmannalaugar
Landmannalaugar is known for its beautiful and expansive rhyolite mountains, glaciers, lakes and of course the hot springs. This area is great for travelers wanting to camp in Iceland and has many camping sites and rental huts. Near the trails is a river (the hot springs source), which is surrounded by lush grass and is a perfectly warm temperature. You can travel by bus daily to Landmannalaugar from Reykjavik's BSI bus station during the summer months. Landmannalaugar's hikes are not for beginners, but you can join a guided trekking tour if you are not well experienced in hiking.
Laugarvatn Fontana Geothermal Baths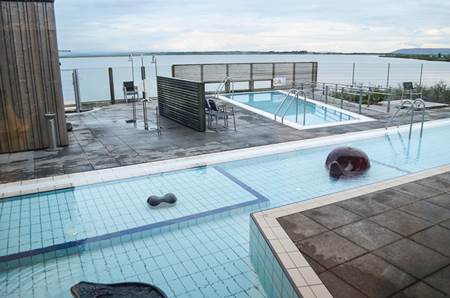 Situated by Lake Laugarvatn, about an hour from Reykjavik, is Laugarvatn Fontana. Take some time to relax at the modern Laugarvatn Fontana Geothermal Baths and try out their pools with varying sizes and temperatures. Another experience to try while here is watching the Fontana tour guides bake rye bread through geothermal energy! Every afternoon, they hold scheduled tours where they show how the bread is baked from the ground and heat, and let tourists try it fresh with butter afterward. Laugarvatn Fontana is located on the famous Golden Circle tour route, so pop by for a swim during your excursion.
Hofsos Swimming Pool
Imagine swimming in a pool right on the oceanfront with a gorgeous view of some islands and mountains off the coast. That's Hofsos, a small city about four hours north of Reykjavik. The pool and hot pots are very basic, but you don't need any frills when you can just sit back and look at the scenery. Hofsos provides swimming toys for kids. Visit in the summer when the weather is nice, and venture around the museums and nearby basalt rock formations on the coast.
Gudrunarlaug
Gudrunarlaug hot springs are simple and small, but known for being the hot springs used frequently by a well-known woman, Gudrun Osvifsdottir, in the old Saga stories of Icelandic history. The old hot springs that Gudrun used were destroyed in a landslide, but a new one was built nearby. It is made from stone and natural materials to resemble Viking-age pools.
Myvatn Nature Baths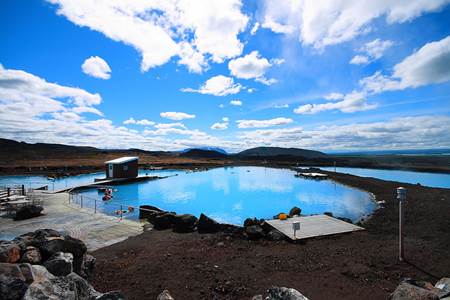 Myvatn is comparable to the Blue Lagoon in terms of its resort and spa theme, but it is much more remote, isolated up in the Arctic Circle. Soak in the expansive thermal pool and take intervals in the sulphur-free steam rooms. Between September and April, when the Northern Lights are strongest, you can sit out late in the thermal pool and watch the action above you! There aren't many city lights to interfere with the Northern Lights in the Myvatn, so you'll be able to see the Aurora Borealis very clearly.
Grjotagja Thermal Spring
Also in the Myvatn area is the Grjotagja Thermal Spring, which is located in an underground lava cave accessible through a fissure! The entrance might be icy, but once you slip into a toasty thermal spring you'll forget the cold weather outside. Local tours do not make stops to Grjotagja, so make sure to bring a buddy and a light source.
*****
Photo credits:
Blue Lagoon: Helgi Halldarsson via Flickr
Laugarvatn Geothermal Baths: jbdodane via Flickr
Myvatn Nature Baths: Bruce McAdam via Flick