By Rachel Diebel
Planning a beach vacation? Put Thailand at the top of your list. Although it doesn't have quite the reputation for fun in the sun that the Caribbean or Southern California do, the thriving tourism industry and ability to match your trip to whatever budget you have certainly makes it worth your attention. Flights from Bangkok to the many beautiful and exotic beaches in the south are available every day. The real challenge is deciding where to start. To help you make your decision, here are some of the best beaches in Thailand–and where to find them.
More about Thailand: Top Attractions | What to Pack | What not to do in Thailand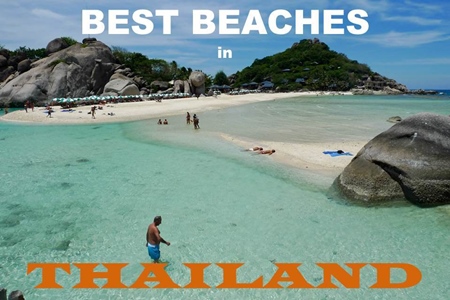 Ko Tao
Ko Tao is one of the smallest islands in Thailand and is the perfect destination for divers who want to experience the full glory that the ocean can offer. Dive with tropical fish, rays, sharks and many other creatures. The most popular beach is Sairee, with lovely views and a wide range of both accommodations and restaurants to fit all price ranges. Ao Hin Wong on the east coast offers a chance to get to know the other side of the island. To get around, rent a bike or scooter, which will allow you to learn to find your way around much more than taking buses or taxis.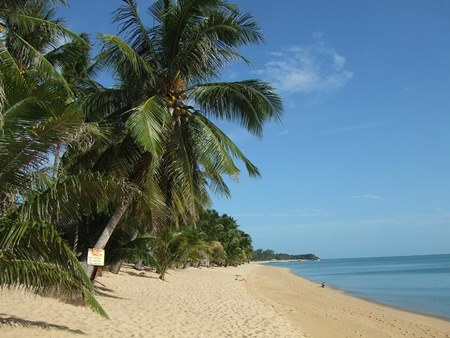 Ko Samui
Ko Samui is one of the biggest islands in Thailand. It's known for its abundance of spectacular beaches and wide range of accommodations, from five-star villas to backpacking hostels. For those who want to be where the action is, head to the south part of the island near the popular Chaweng or Lamai beaches. These are famous for their all-night parties under the full moon and perfect surfing conditions. If peace and relaxation is more your style, stay in the north near Choeng Mon Beach. If it's remoteness you're looking for, Taling Ngam is the most isolated place on the island, and has stunning views of the Angthong Marine National Park.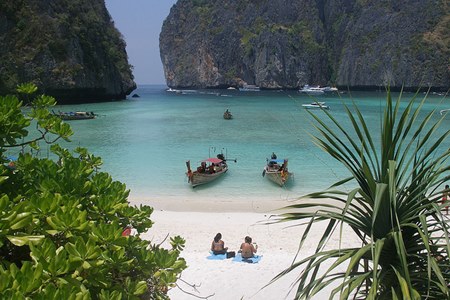 Ko Phi Phi
Ko Phi Phi has some of the most popular beaches in Thailand. It is a small chain of six islands, with the biggest (and only populated) being Ko Phi Phi Don, which is also one of the best places to stay in the area. There are dozens of beaches nearby via boat, kayak or even via walking. Monkey Beach occupies a distant outcropping that an intrepid visitor can kayak to and enjoy the completely undeveloped beach in solitude. Ao Lo Moo Dee beach has some spectacular snorkeling.
Ko Pha Ngan
Although Ko Pha Ngan is most famous for the Full Moon Party held on the island every month, there are many charming beaches that can get you away from the crowds. Haad Yao Beach, or Long Beach, is perfect for water sports of all kinds, from surfing to jet skiing. Haad Son and Haad Salad are quiet little family-friendly beaches for anyone with younger children. Bottle Beach may be something of a hassle to get to, but it will pay off the first time you see the sunset from its long sandy stretch. For those who are interested in the all night party vibe, visit Thong Nai Pan or the home of the party, Haad Rin. Thousands of visitors from all over the world congregate on Haad Rin beach each month, and there is no shortage of music, dancing and people aplenty.
Ko Lipe
Ko Lipe, in southwest Thailand, has beaches that earned the title of "The Perfect Beach" from National Geographic, and with good reason. Powdery white sand, clear turquoise water and abundant marine life mean you will never run out of things to do on Ko Lipe. You won't want to miss Pattaya Beach, which is lined with resorts, restaurants and cafes. A double set of beaches stand opposite each other, Sunrise Beach and Sunset Beach. Begin your day watching the sunrise from one and end your day at dust on the other side of the island at Sunset beach, the perfect beach-filled day.
Phuket
Phuket is one of Thailand's most popular destinations and it's got plenty of amazing beaches, too. Patong Beach, one of the most prominent on this large island, it well known for its vibrant nightlife, and is typically extremely busy during the day and particularly the weekends. Anyone wanting a more relaxed and casual atmosphere would do better at Kata Yai or Kata Noi beaches.
*****
Photo credits:
Ko Tao: David Sim via Flickr
Mae Nam Beach, Ko Samui: Bastian Stein via Flickr
Maya Bay, Ko Phi Phi: Vyacheslav Argenberg via Flickr
Ko Pha Ngan: Diriye Amey via Flickr
Pattaya Beach: Guido via Flickr
Phuket: Nicolas Vollmer via Flickr