By Holly Morse-Ellington
My husband and I traveled to Vietnam with friends to bike from Hanoi to Ho Chi Minh City in eleven days. I didn't expect a spa getaway, but we ended up with head-to-toe mud treatments. In retrospect, I wish I'd known the items on this list before my journey across Vietnam, especially number five!
More about Vietnam: Getting a Vietnam Visa | Vietnam Travel Tips | How to Pack for Southeast Asia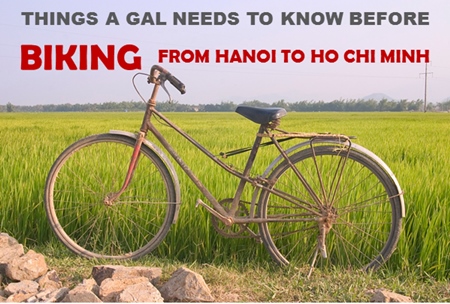 1. Don't skimp on rain gear — even in the "dry season."
Friends congratulated me for planning our trip during Vietnam's so-called dry season. I looked forward to saving space in my one carry-on piece of luggage by going without the extras — like a raincoat. But at the last second I crammed a water resistant jacket into my suitcase. It wasn't enough.
In Vietnam, what's really meant by dry is drier than the usual drenched. Between the intermittent showers and the pools of water that flood the streets, my misunderstanding of dry was soon over. One of my more awkward moments was when we had reservations at a classic French restaurant — after wheeling through puddles with our bike tires spraying muck up our backs. People were trying to eat as I hobbled in, sweaty and muddy, with what resembled a giant skidmark up my backside. Not exactly a ladylike look I'd usually go for with pressed white table linens and a bottle of Cabernet Sauvignon.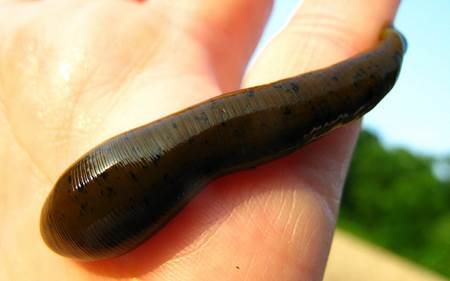 2. Soaking your clothes in bug spray doesn't do much to deter leeches.
No one told me there would be leeches. And I failed to infer from my itinerary that the six-mile hike through the Cat Tien National Forest to the Crocodile Lake outpost might involve the little suckers. There are methods for deterring leeches from latching onto and suckling blood from your body: anti leech salve and special leggings. I packed neither.
Back home I had treated my clothes in Organic Premium Insect Repellent before the trip, which meant soaking my freshly laundered, powder-scented garments in a liquid that gave them the perfume of a teenaged backpacker's socks. Why would I start off a trip reeking? To ward off mosquitoes. (See more effective and less disgusting method for dealing with the mosquito problem in #3.) The manager at the lodge assured me I'd be fine on a bike. "Our guide's taking us by foot," I said. We watched as our tour guide bent over to lace infantry-style gators up to his knees. The manager looked at me calmly. "It's the dry season. No problem."
I didn't argue. I knew I was in for it. The leeches seemed drawn to my DEET substitute. They glommed onto my ankles and legs. Each time I slowed my pace to pluck five off, ten more clamped on. Speed was of the essence in minimizing contact and bleeding. I wouldn't call this a trek, but a 10K Warrior Dash race. The leeches won.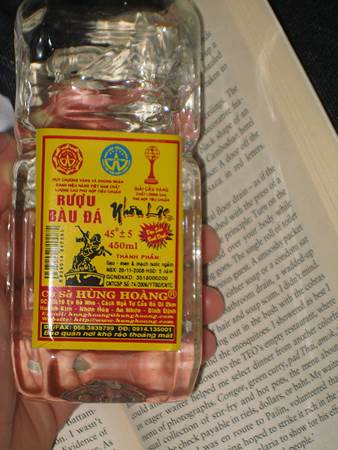 3. Take anti-malarials — and a splash of vodka with tonic.
I like a vodka and tonic water as a low calorie drink that keeps me hydrated. Vietnam taught me that this drink also contains medicinal properties. It's on every menu, even in sidewalk cafes in the more remote central highlands region. The quinine in tonic water can help fight off malaria spread by infected mosquitoes. (And the vodka can ease the traveler through crankiness brought on by jet lag.)
I wouldn't forgo the antimalarial medication in advance — to come close to a real substitute I'd need to drink enough tonic to hydrate the elephant I rode across Lac Lake — but a vodka tonic or two can make a great excuse for a supplement. And if you want a twist of lime, ask your local bartender for lemon.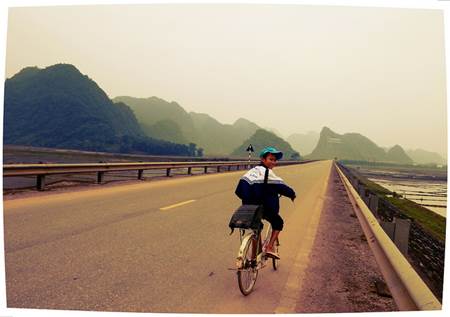 4. Vietnam is a looooooong country.
I'm an enthusiast, but I'm also an Average Jane cyclist who enjoys calling it a day with a shower and a cocktail before dinnertime and bed. I'm terrible at math and judging distances, so it's no wonder something didn't add up beforehand. We peddled sixty, sometimes seventy miles a day for a total of 360 km in eleven days. This does not equal the length of Vietnam from Hanoi to Ho Chi Minh City (1,145 km). We boarded vans, a train and even a plane every couple of days to cover more ground and arrive in each town on schedule. This meant that some nights we had to replace cocktail hour with bananas for dinner on a bumpy five-hour ride in a van, our soundtrack provided by one CD. Good thing "Hotel California" is a looooooong song.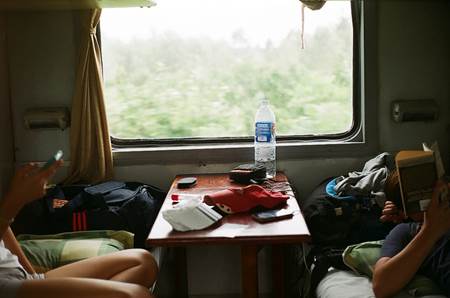 5. Expect an overnight train ride without a shower.
One of the best days of cycling I experienced was off-roading through farmland along the Red River outside of Hanoi: busting through overgrown vegetation and weeds; ducking under long, low branches of palm trees; skidding across mud and cranking pedals to avoid sinking into the saturated ground; stopping for a break when a woman harvesting Asian apples plucked extra fruit to share with us. I loved the spontaneity and the chance to be off the beaten track. Then I learned that I'd miss my train connection to Hue if I showered.
I boarded the train looking like the creature from the Black Lagoon and made do with a baby wipe bath. The alternative, which I considered, was sticking my arms and legs in the public sink as the train shook. If the sink station hadn't been in the open walkway–and next to the male guard sitting post–well, let's just say I might have been up for more inventive hygiene methods.
6. Consult your local guide for wardrobe advice.
I wore my new souvenir — a red t-shirt with the gold star of the Vietnamese flag — out to dinner in Buan Ma Thuat, a town in the central highlands. I felt a patriotic solidarity. That is until I noticed everyone in the open-air restaurant staring at me. "They want to secede from the country," the guide explained about this particular region. "They identify more with their tribes here than with Vietnam." And I'd worried my height and blond hair would keep me from blending in.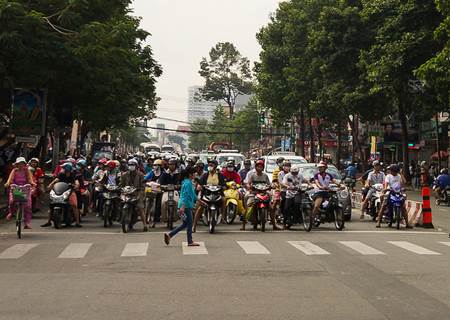 7. Consider it an honor to "go play in traffic."
In Vietnam's major cities, like Ho Chi Minh City, there are 5 million motorcycles on the road and 1,000 more added to the streets every day. Navigating the roads feels like a rite of passage. Our guide spared us from cycling in downtown Hanoi and Ho Chi Minh City. We were, however, set loose in Huế, the former capital city of Vietnam and one of the country's ten largest cities.
Despite all appearances of chaos — four to five family members per scooter, texting and driving, and cutting people off across five unofficial lanes for left-hand turns into oncoming vehicles — the traffic flowed like tai chi. Motorists appeared to drive by instinct and nonverbal communication to predict traffic patterns of fellow drivers. Motorists nodded and made eye contact with us cyclists to indicate when we should merge into the cluster. Some even eased us through the merges and turns by slowing to our pace in particularly high-volume, high-paced intersections. Try this in New York City or L.A.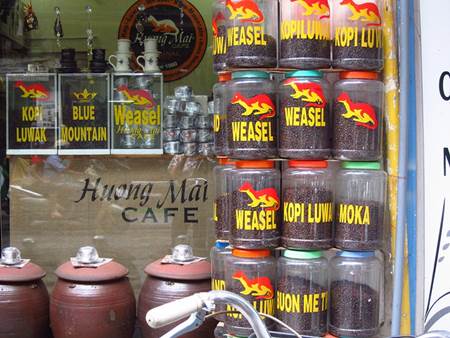 8. When it comes to gourmet weasel-poop coffee beans, beware of knock-offs.
Coffee is one of Vietnam's largest agricultural exports, second to rice. Weasel coffee is created from a low-cost processing of beans that weasels consume and poop. These "special" beans are then sold at luxury prices, reportedly for having a luxurious taste. Every major market, from Hanoi to Da Nang to Ho Chi Minh City (and every convenience store in-between), sells bags of coffee with pictures of weasels on the packaging. But beware of the cute weasel cover. I bought a bag for cheap, assuming the local availability and my haggling accounted for the bargain.
"That's not the real kind," my cycling guide said. "But," he added, "it's the best of the fakes."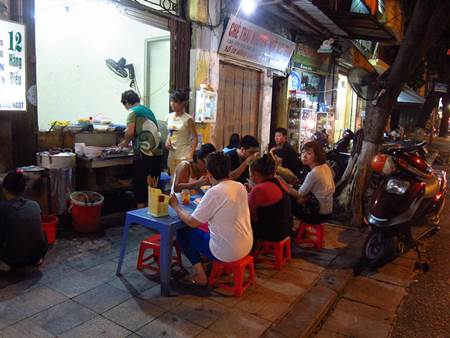 9. Don't sweat the miniature furniture. Your butt will shrink.
Eating at a casual Vietnamese restaurant or sidewalk cafe is similar to having a meal in a dollhouse. The plastic seats look like American footstools and were not designed for curvy bottoms. Steadying myself over the micro chair while poised with a heap of rice noodles on chopsticks was a feat — particularly when scooters zipped past inches from my outdoor table. But in the balance, the daily routine of burning calories on the bike and consuming pho and bean sprouts quickly contours your butt to the chair.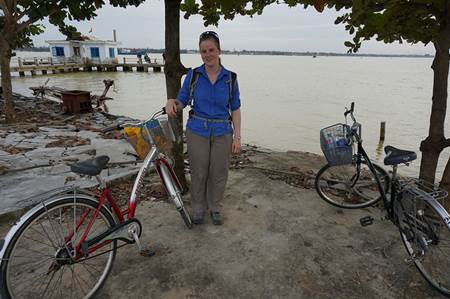 10. Fancy cameras are overrated. And clunky.
After the first day of attempting to cycle through marshy fields with a bulky camera bag sliding off my shoulders, I left the expensive camera with my luggage transfer. As an alternative, I tucked my iPhone inside my raincoat pocket. This freed me to pedal without fear of tangling bag straps into bike chains and gave me one-handed access to snap away while steering.
There was plenty to photograph with my phone. Riding a bike along side roads opened up more of a country than ever would have been experienced from a car window. Gentle water buffalo lounged in the puddles of rice marsh. White ducks waddled to nap beside them. Wind drifted across the paddies, bending and blending tall paddy grasses into a silken tapestry in shades of jade, celadon and Kelly greens. Mist hovered over the Cafe Hai Lagoon where fishermen cast nets into the brackish waters.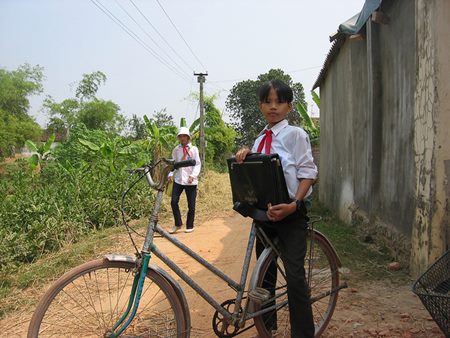 And then there's the footage that can't be captured on any camera despite my best attempts: Children in their navy and white sailor-style school uniforms rode alongside us on their bikes. "Hello! Hello!" They yelled. "Welcome to Vietnam!" "Chao!" I hollered back. Side by side we pedaled and practiced our conversational English and Vietnamese. I held out my iPhone for a moving group selfie of the scene. They giggled as I swerved to take action shots with only one palm on the handlebars. I smiled and slipped my phone back into my pocket. I breathed in the aroma of hibiscus and fresh rain, and locked the whole feeling of Vietnam, the sights, sounds, and scents into my heart memory.
*****
Photo credits:
Bike at Ricefield: Tanel Teemusk via Flickr
Leech: OakleyOriginals via Flickr
Rice Vodka: Brian Johnson & Dane Kantner via Flickr
Vietnam Local Biker: Andrew Oliver via Flickr
Vietnam Train Cabin: Joyce Tan via Flickr
Vietnam Tourist: Sadie Pices via Flickr
Vietnam Traffic: tarlusxj via Flickr
Weasel Coffee: fabulousfabs via Flickr
Vietnam Sidewalk Eating: fabulousfabs via Flickr
Tourist with Bike: Andrew and Annemarie via Flickr
Vietnamese Schoolchild on Bike: IAEA Imagebank via Flickr