By Rachel Diebel
When you and your girlfriends plan a vacation, sometimes you want a relaxing, luxurious spa retreat where you can stroll on the beach and chat the day away. Sometimes, though, you need an adventure. Whether you prefer the jungles of Belize or the glaciers of Iceland, there's an adventurous girlfriend getaway that is perfect for you.
Also check out: Packing for a Wilderness Adventure | Adventure Travel Tips for Women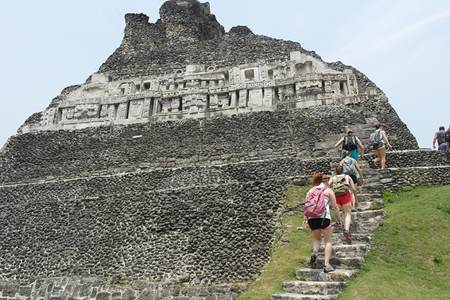 Explore Mayan Ruins in Belize
Belize is the perfect place for an adventurous girlfriend getaway, complete with labyrinthine caves, Mayan ruins and tropical rainforests. It is impossible to run out of things to do in a country that offers everything from kayaking to cave tubing to zip lining. Belize offers a variety of accommodations to fit your needs, including hostels, family-run hotels and modern chain hotels. Pack your scuba gear for the extra thrill of exploring the Glover's Reef Atoll, and prepare for the thrill of a lifetime.
Glacier Walk in Iceland
Don special shoes to trek across the Solheimajokull Glacier in southern Iceland. Be sure to hire a local guide who can point out the many beautiful landmarks and explain the local culture. For more adventurous fun, explore the black-sand beaches or go glacial river rafting down the Hvita River, a thrilling ride through tranquil canyons and raging rapids. Flights to Iceland can be purchased for relatively cheap, and the nation's reputation for being friendly to tourists makes it a great location for an exciting vacation.
Learn to Surf in Bali
Want fun in the sun combined with the thrill of adventure? Look no further than Bali. Many companies offer women-only surfing lessons here, designed to get you on a board and in the ocean as much as possible. Stay in a private villa near the shopping and restaurant area to ensure that after a long day of working hard in the water you and your girlfriends can relax and get a good meal before getting up the next morning and doing it all over again. WanderTours offers tours to Bali and Java, ideal for women looking to travel together, but with the advantage of having a guide.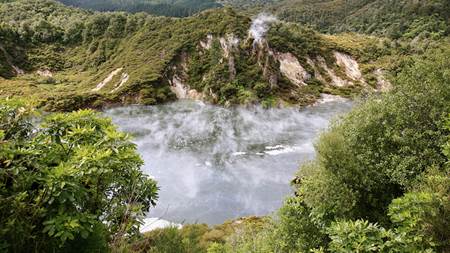 Climb a Volcano in New Zealand
Whether you want to backpack across the country or spend your days learning about the native Maori traditions, New Zealand satisfies the adventurous traveler's every need. In the Rotorua region of New Zealand, visitors can hike to the Inferno Crater and swim in Frying Pan Lake, the world's largest hot spring. This geothermal site offers more than just mud baths and swimming, however. Odd adventure sports like zorbing, in which participants are secured inside a large ball that is rolled down a hill, and rap-jumping are popular for anyone wanting an adrenaline rush.
Hike the Last Frontier
For those who want an adventure a little closer to home, look no further than Alaska. A few days in the smaller town of Juneau will be enough to make even the most avid hiker happy. Though there isn't much to do in the town itself, this just means that there are no distractions from the abundance of natural beauty. Be sure to visit Tracy Arm Fjord and to hike up to the Mendenhall Glacier for some breathtaking views. Take the Mount Roberts Tramway for the best views of the area, and be surprised by the presence of Alaska's often-forgotten rainforest.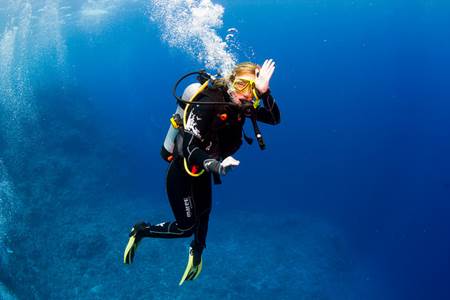 Scuba Dive at the Great Barrier Reef
Any experience at Australia's Great Barrier Reef is guaranteed to be once in a lifetime with over 2,300 kilometers of spectacular reef wildlife. Whether you are a regular, licensed diver or new to the sport, the Great Barrier Reef has locations for you. For less experienced divers, there are many places that offer lessons and trips to the quieter locations for some still-spectacular dives. More experienced divers can witness some of the most impressive ocean life in the world.
*****
Photo credits:
Women in Iceland: David_Kerwood via Flickr
Mayan Ruins: roanokecollege via Flickr
Solheimajokull Glacier: Chris via Flickr
Bali Surfing: Brent Fitzgerald via Flickr
Frying Pan Lake: Vašek Vinklát via Flickr
Girls at Mendenhall: Kevin Tostado via Flickr
Woman Diver at Great Barrier Reef: Tchami via Flickr