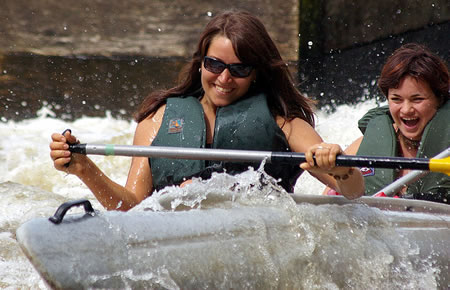 The term Adventure Travel doesn't have to mean that you're setting out to climb Mt. Kilimanjaro or ride a motorcycle to Central America. An adventure means that you're getting out of your comfort zone: perhaps wandering to a new destination, discovering new foods, mingling with a new culture and seeing the world in a way that is not possible when you are in your own surroundings.
Before setting out on your own, whether to New York City or New Delhi, consider these suggestions which help make your travels more fun.
More Adventure: Girlfriend Getaways for Adventurous Women | Packing for a Wilderness Trip
1. Bring as little as possible – Narrow down your gear and clothes to the smallest amount possible, accessorize the few clothing items you do bring with a pin or scarf, and pack your clothes in a compression bag. If you'll be camping, rent or buy gear at your destination if possible. Leave all those shoes at home, gals.
2. Buy maps – Nothing beats having the lay of the land before you arrive. Spread out those maps long before departure so you can gain some knowledge about the area where you'll be traveling.
3. Gain some confidence by taking a self defense course – Even if you never master the discipline, you're looking to build your confidence here. By learning some self defense techniques, you'll gain more confidence to walk down an unfamiliar street, thus making you less likely to be hassled by thugs.
4. Consider a guided tour – If you're traveling to an unfamiliar destination where you could potentially get lost or hurt, consider hiring a guide, either upon arrival or well in advance. The cost of hiring a local person who knows the terrain or region can be well worth the price.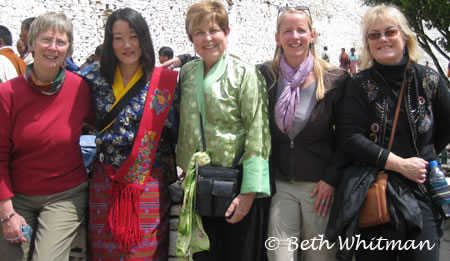 Joining a group gives you the chance to meet other travelers, too!
5. Wear comfortable clothes – Don't find yourself trekking in New Zealand with blisters on your feet because your hiking boots are brand new. Prior to departure, make sure your clothes fit comfortably and that your shoes are broken in. Also carry a first aid kit that includes mole skin to cover up any blisters that might develop.
6. Pre-book only your first night and look for bargains thereafter – You're on an adventure, right? Unless you are traveling during the very high season to a given location (such as Easter in Mexico), you shouldn't have any problems moving to a more affordable location once you've had a good night's sleep that first night. You may pay more for that first night's stay, but you'll have the security in knowing you have a place to sleep when you arrive.
7. Be flexible – Learn all that you can about your destination in advance but then be open to serendipity. You never know who you might meet along the way who tells you about a must-see sight. Guidebooks can't tell you about these chance encounters so you need to be open to them. They will happen!
Photo Credit:
Rafting: donald judge