By Rachel Diebel
Antarctica may seem like a barren place to some, but visitors to the planet's southernmost continent can get a peek at some of the world's most fascinating and elusive creatures. From famous predators like the orca to fluffy, cuddly birds like the Adelie penguin, Antarctica has a lot to offer the wildlife enthusiast. Any adventure to Antarctica is not complete without at least a glimpse of these fascinating Antarctic animals. If you're visiting Antarctica, there are several animals to put on your list to watch for.
Also check out: A Cruise to the Falklands | Adventure Travel for Women 50+
Emperor Penguins
Emperor penguins are the largest members of the penguin family, standing an average of 45 inches tall. These penguins have adapted to the harsh environment in a number of ways, like their instinct to huddle together in a rotating group to keep warm. Living and even breeding on the open ice shelf all winter can be extremely dangerous, especially when the females leave on a two month hunt, leaving the males alone to keep their eggs warm!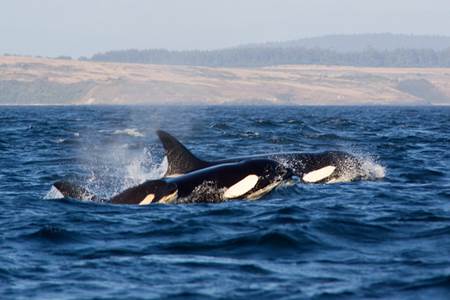 Orca Whale
Despite being commonly known as killer whales, orcas are in fact the largest members of the dolphin family. Hunting in pods, it is a sight to see if you spot a large group (up to 40!) orcas on the prowl for fish, penguins or seals. These incredibly intelligent animals use cooperative hunting techniques similar to wolves to secure their dinner, and use a bat-like form of echolocation to "see" while underwater.
Adelie Penguin
The Adelie penguin's waddling walk and tuxedo color pattern make it one of the most adorable Antarctic animals. Sleek and efficient swimmers, Adelie penguins retreat from the ice shelf during the winter, and instead build nests on the rocky shores. Despite their awkward waddle, Adelies are efficient at covering large distances, including the 30 miles they sometimes have to walk between their nests on land and the nearest open water.
Weddell Seals
Known for their docile nature, Weddell seals are the southernmost seal species in the world and are easily approachable by curious humans. These seals spend much of their time under the ice, hunting and avoiding being hunted, making them perfectly suited for the Antarctic environment. They can dive up to 2,000 feet! Weddell seals are also one of the most vocal species of seals, and you can hear their calls even under a thick layer of ice.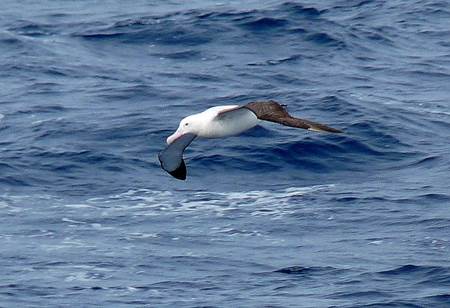 Wandering Albatross
Seeing an albatross in flight is a necessary experience for any visitor to Antarctica. These birds have a wingspan of up to 11 feet, the largest of any bird, and can glide for hours without even needing to flap their wings. Made famous by the poem "The Rhime of the Ancient Mariner," the albatross is the subject of much lore and superstition for seafarers, due to their tendency to follow ships for miles, looking for handouts to eat.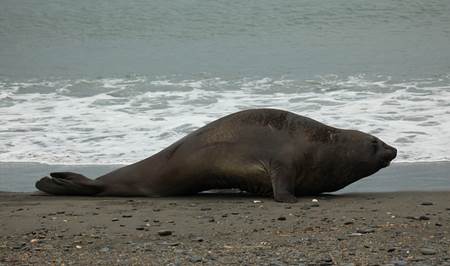 Southern Elephant Seal
The largest of all seals, the southern elephant seal is quite a sight. Their name comes from their huge, trunk-like and inflatable snouts. The massive and aggressive males of the species (much larger than their female counterparts) will battle each other for mating dominance, sometimes ending in an extremely bloody encounter. Since elephant seals eat a diet rich in fish and deeper-water squid, they can remain submerged for up to two hours without needing air.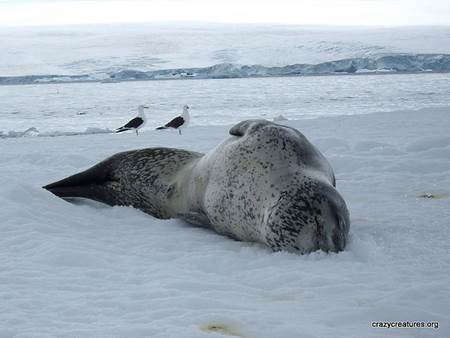 Leopard Seal
Don't let the leopard seal's adorable appearance fool you; they are one of the Antarctic's most dangerous predators, and the only ones to eat warm-blooded prey. Named for their distinctive black spots, the leopard seal will wait underwater near a break in the ice and snatch penguins as they dive into the water to hunt. Though it has such a distinctive coat pattern, leopard seals have not been commercially hunted for their skin, unlike their fur seal relatives.
*****
Photo credits:
Emperor Penguins: Christopher Michel via Flickr
Orca Whales: Thomas Hubauer via Flickr
Adelie Penguin: ravas51 via Flickr
Weddell Seal: Chadica via Flickr
Wandering Albatross: michael clarke stuff via Flickr
Southern Elephant Seal: Liam Quinn via Flickr
Leopard Seal: Laurens via Flickr