By Amanda Nichols
I woke startled again in my tent during the too-early hour where the line between night and morning is blurred and blue. The stubborn coqui frogs and the first-to-rise birds were both singing in a collided unison. I liked this hour. It was not quite evening and not quite a new day, and I often spent the indistinct time walking around the dirt roads of the property pretending I was the only person left in the world. It had been two weeks since I arrived to work at the Hawaiian retreat center in the middle of the jungle, a place for yoga and meditation and organic food, a place described as "magical" and "life-changing." These were words I craved at that point in my life. On the dark plane two weeks before, I wrote in a neat handwriting on the first clean page of a leather journal "THINGS TO CHANGE." The list was long, as I was not short of critiques of myself at twenty-four. I was going to Hawaii not for a glorious vacation — in fact I would be cleaning toilets and making beds — but to figure out what I was going to do with my life. I was going to be found there, and my list detailed that. All those things listed neatly on the page as if they were grocery items I could assess, seek out, and accomplish, checking them off with a satisfied sigh and "What's next?"
Freshly excreted from the long and tidy educational intestine, I was wild and revving like a rodeo bull just freed. Everyone else I knew had jobs that they reported to the Monday after graduation, their vernacular now stained with words like "health insurance," "retirement," "lunch break." Mine still consisted mostly of "what day is it?" I decided to come to Hawaii to figure out those different parts so that when I returned to my home in rural Pennsylvania I could give everyone salivating over my future a neat explanation of my next step. I was twenty-four and completely lost, or so I thought unzipping the neoprene tent, feeling so at home in the briefly indistinct world of neither night or day.
I'd been dreaming again about my mother. Every night for two weeks I had woken sweating with the same horrifying nightmare: my mother had died. Sometimes it was of natural causes, and I would be choking and screaming and my family would be trying to control my flailing limbs as I squirmed with pain. The mourning of her death would be so real I would wake exasperated and crying until reality reassembled itself. Other times, it was me who killed her. These were the worst kinds; in them I was dark and uncharacteristically evil. Sometimes I would hit her in the face over and over again until she was scrunched and sobbing on the floor; other times I would have a mangle of her hair in my fist and I would drag her across pavement in a poisonous, ravenous hatred.
Stuff was coming up. It's what they said would happen. "Some kind of weird energy triangle hovers over this part of Hawaii," someone explained to me during one of my first meals. "Yep, shit'll come up here. Just wait and see."
Quickly, my checklist on my journal became so ridiculous that I'd ripped it one night and threw it outside my tent in a ball. I was furious at my naiveté. When I came to Hawaii, I imagined everything bad would melt from me like butter, like I would step out of the vehicle and onto the lava rock road of Kalani and be stripped of everything sour and just like that be new. I would have things to write home about, longhand paragraphs about finding clarity, learning basket weaving, eager to come home and apply to graduate school like everyone else.
Yes, shit was coming up here. And it wasn't just old shit, it was new shit too. Suddenly, every step and every minute was overwhelming. I wanted the answers that I came for, but I didn't want to go through the terrifying black hole to find them. One evening at dinner, I confided in a new friend about my dreams. She insistently directed me to a woman named Sola.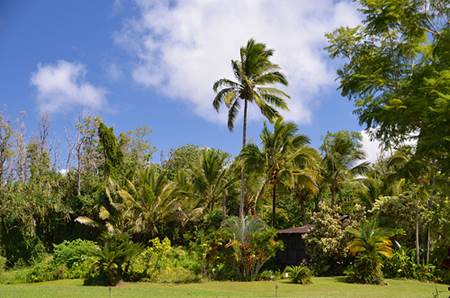 "She'll fix you up," the girl had said, like I needed a simple Z-Pack for a cold. I was familiar with this woman, Sola, as she was a volunteer who had been there longer than most. I was officially introduced to her on the lanai that night after finishing dinner.
"Sola," the girl said, touching the woman's arm, "this is Amanda. She's having some troubles with night terrors. I told her you could help."
Sola's face lit up like she'd just won the lottery. She took my hands into hers and stood a little too close to my face than I was comfortable with. But I was getting used to the amount of touching here; everyone was so full of love and so eager to share it. On one of my first days of work in the housekeeping department, our morning inspiration was to hug each other for five minutes.
I let her hold me. She had a floor-length, long-sleeved navy blue velvet dress on. I'll never forget that; it's how I remember her best. She didn't wear a bra despite her large breasts, but the sight was another thing I was beginning to get accustomed to seeing at Kalani. Her hair, wild and blond, stood out in all directions from her face. Her skin looked as though she never once left the sunlight, alternating long flights around the world to chase the rays. I loved her, immediately.
On the lanai, in the middle of a bustling dinner of a hundred working residents and retreat guests, I stood with Sola and the blue dress. She mentally checked her "appointment calendar," as if she was regularly meeting with young women who dreamed of killing their mothers.
"Why don't you come after dinner?" she said with a smile. "Do you know where my tent is?"
I made my way through the trees. A tiny candle flickered outside Sola's tent. I turned my light off and softly called to her. She was delighted to see me, again, unzipping her tent door and waving me in. Unlike my tent, I couldn't stand up inside, so I crouched awkwardly for a moment until she motioned for me to sit on a pile of pillows. The place was dark aside from the candle and moonlight outside. She settled in across from me and took my hands. I suddenly felt like this was a mistake. I didn't feel like spilling my guts to this woman I didn't know, and I felt a sharp pang of all sorts of things — homesickness, loneliness, stress, anxiety — a cocktail of feelings that haunted me since I arrived. When I looked toward the door, thinking I could come up with an excuse to leave, she took my hands.
"Tell me about the dream," Sola said, almost whispering. I swallowed and began. She only nodded throughout my explanation, occasionally making "mmm" sounds in a very concerned, understanding tone. When I finished, I realized I hadn't taken a single breath; I felt light and queasy like I used to when I'd have to make a speech in front of my high school communications class. It seemed way too personal to be sharing the dream with a woman I didn't know, and I could feel myself hot with embarrassment.
"Yes," was all she said, then paused, thinking for a moment. "I'd like to do a certain exercise with you. First, I want you think of something that represents how you feel lately. A type of food."
I felt myself become redder. I almost said, "Thank you, Sola, but it's time for me to go now. Explaining the dream aloud really helped. I can feel it already," then bolting for the tent doorway. But I decided to stay because I was raised by two very polite parents. Because I was in the middle of the Hawaiian jungle and was flying by the seat of my pants. Because I felt that, somehow, this woman was going to understand.
"I am peanut butter," I said aloud, almost shaking my head in disbelief.
"OK," Sola nodded happily, "now tell me firsthand what it is like to be peanut butter."
"Because I am thick and difficult to swallow and sometimes I choke when I go down. Because I've been dealing so much lately with things difficult to swallow." I stopped. I didn't know what else to say.
Sola said, "Yes, yes," and then patted my arm. "Now, next I want you to talk to me as if I was your mother, sitting right here."
I suddenly wanted to keep talking as if I were peanut butter. It seemed like a much better idea than speaking honestly to my mother about honest things. I'd successfully avoided that my entire life. It took me a few minutes to begin, but when I did the sentences came out like vomit. Like when you're sick for so long and you just keep pushing off the urge to vomit and then when you finally do it's so awful, but wonderful too because you know the poison is leaving. When I let it out, when I caved in, it came and it came and it came.
I told her how much I loved her. I told her how sorry I was for getting angry with her so easily and for the little patience I had when she tried to work technology. I told her a hundred painful things, and when I thought I was finished I sighed, and then I purged some more. After awhile I realized I was crying, not really sobbing, but leaking from the inside; my face and hands clenched in my lap were dripping wet. Then, the subject swerved. I didn't feel in control of my own mouth and it got harder to speak. I was saying things I didn't even feel I knew myself. The statements were familiar but also not my own; they both shocked and completely liberated me.
"I don't want to go to graduate school," I remember blurting, "I want to drive around and talk to interesting people and spend entire afternoons in search of used book stores." Another: "I want to see the Redwoods and drink a lot of coffee." Every time I spoke I felt the urge to cover up my own mouth with my hand, like I'd just said my first cuss word as a seventh grader. The very truth that I'd buried inside of me for so long was being yanked like a string of wet hair from my esophagus. I was helpless to its gravity.
I sat back on the pillows and felt like someone sucked the air out of me. Sola didn't say anything, just smiled her big, Buddha-like smile, then pulled me into her chest like a child. I didn't know what to say, but I sensed it was over, so I thanked her. She held me for a moonlit minute. When I passed through her tent door to leave, she casually said, "And the payment for this session…a few double AAs would be great. Just drop them in my mailbox."
I didn't know where I was. Physically, I was in a jungle retreat center that apparently used batteries as currency, but everything beyond where my feet stood there in the wet grass outside of Sola's tent was overwhelmingly tiring. Maybe I would go to graduate school, or maybe I would travel around collecting afghans and thrift store mugs and people's stories. I was trying so hard to be somebody, to clock in somewhere, to feel worthy, to dish out answers, but the truth was, I didn't know anything beyond where I stood there in the wet grass.
Who does?
*****
Photo credits:
Woman in Forest: John Steven Fernandez via Flickr
Woman Writing: M Car via Flickr
Kalani: Thomas Tunsch via Flickr
Lack of Sleep: M. Dolly via Flickr
Hugging Women: Ted Eytan via Flickr
Tiptoe Through the Grass: Morgan via Flickr