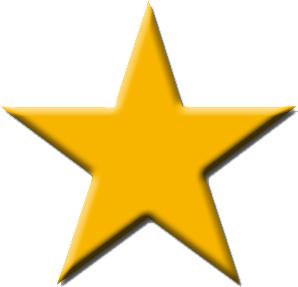 Earth Category Winner in the Hawaii-themed Travel Writing Contest 2012!
By Nancy Kerstetter
Like all good tourists who visit the Big Island, I was making an evening trek out to where the volcano lava was flowing at Hawai'i Volcanoes National Park in 2003. We drove in a long snake-like line of slow-moving vehicles down Chain of Craters Road. The tiny parking lot was overflowing so we turned back to park alongside the road. Before leaving the car my husband and I checked our required equipment: close-toed shoes, flashlight, water and the suggested lightweight jacket and long pants. It was a warm evening.
The park rangers were allowing small clusters of visitors to clamber out to the live lava flow after we had watched the requisite multimedia safety presentation. The visitor launch area had recently been relocated because the pahoehoe lava had broken through to flow over the roadway, parking lot and adjacent property during its journey to the ocean. While awaiting our turn, we climbed up and down lava mounds taking photos of a stop sign encircled by dark, free-form heaps of lava rocks.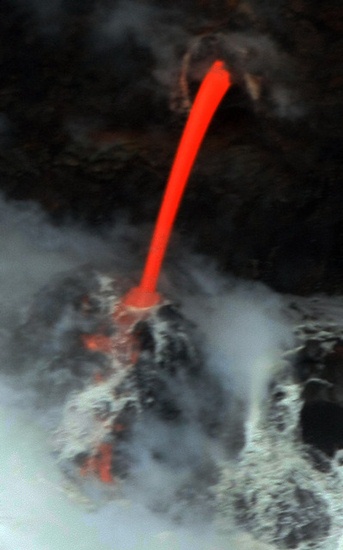 At twilight we began to scramble over the uneven ground to reach the fresh lava flowing about a half mile away. It was hard going. The surface was jagged and choppy with plenty of gaps between the rocks. We had to move relatively slowly to avoid falling on the sharp surface. People talked in hushed tones as they maneuvered over the rocky ground.
I lumbered along with my handy headlamp proudly strapped on emitting a hands-free beam on the rocks just ahead of my feet. Headlamps were relatively new to the outdoor market in 2003. I loved mine.
A man walking in the opposite direction broke the reverential quiet by loudly proclaiming, "You're either a coal miner or a serious backpacker."
His comment lightened my mood which had been dampened by ominous warnings regarding the dangers of poisonous gases or stepping through hardened lava crust to flowing molten lava.
The ground grew warmer under our feet as we approached the lava flow sector. From 200 feet away I could see the glowing orange and yellow substance, but I stopped in my tracks. With four children at home, I was having second thoughts about the hazards of this adventure.
Always wary of Mother Nature's harsher side, the cautions about how to safely observe lava flowing into the ocean without walking out on a newly formed lava shelf were easily observed. All I had to hear was that a visitor disappeared into the hot, steaming ocean a few months earlier when one of these shelves collapsed from current lava flowing beneath it. You would not find me anywhere close to a lava shelf.
But even safely up on land, there were injunctions to heed regarding approaching too close to flowing lava due to unexpected methane gas explosions which could throw rocks into the air as well as gassing out impurities when the lava crossed vegetation.
With all this whirling around in my head, I quickly determined that I could enjoy the novelty and miracle of flowing lava from a safe distance. Hubby could be our designated up-close observer. Besides, he had a state-of-the-art video camera so he would film it and I could view it instantly (assuming he didn't die, of course).
Our children should not be left parentless just because I wanted to see this miracle of nature at close quarters. Four boys set loose on an unsuspecting orphanage was too much to imagine. I, the saintly mother, would forgo this experience for the sake of the children.
Reluctantly my husband agreed to leave me behind in order to see the lava flow at close proximity.
I found a very uncomfortable seat on a mound of lumpy lava among a few other spectators who dared to go no further. The air was warm and stuffy. The minutes stretched into about a quarter of an hour. I began to fidget. What was taking so long? Was he okay? What could possibly be so interesting that he delayed his return?
It was hard to make out much in the pitch black darkness that enveloped the area. I waited and watched as small knots of people meandered past en route to the lava or back to the safety of their vehicles. I was on the verge of annoyance when my husband reappeared.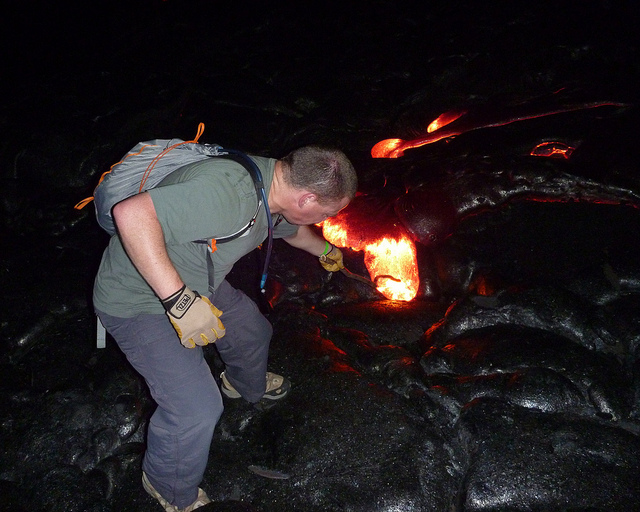 He was agitated, excited really. He babbled about the spectacular aspect of the lava flowing agonizingly slowly. You could stand in one spot for minutes as it barely edged toward you. Kids were squealing with delight while parents held tightly to their hands. Cameras snapped away trying to capture the magnificence of the scene. The heat rose unbearably warm from the seeping mass.
Finally he calmed down enough to rewind the video he shot so I could see what the commotion was all about. As it began to play in front of my eyes, I could hardly believe what I was seeing. I didn't even wait for the whole tape to play, I jumped up and started for the lava to see for myself.
"Wait," hubby called out to me, "what about the children?"
"They'll get along!" I answered as I negotiated the rough terrain as quickly as I could and headed to see the lava flow.
*****
Steam from molten lava: aprilandrandy
Molten lava flowing to ocean: Erik Charlton
Haleakala: paul bica
Poking molten lava:Â sethoscope