By Megan Maxwell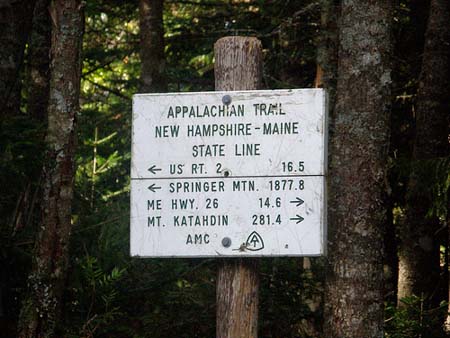 Heavy raindrops beat down on my face, as I sit on my butt and slide over boulders the size of cars. I gaze into the forest ahead, searching for signs of the trail. As I stumble over the last few rocks, I find the footpath leading uphill has turned into a steady stream. My shoes are already completely soaked, it's getting dark, and I still have to make it to the hiker shelter, so I follow the trail.
I splash through puddles as fast as I can with my thirty-pound pack strapped to my back. The rain continues to fall, the sky continues to darken, and I keep up my speed-walking pace until I reach a sign nestled next to the trees along the trail. At first glance, there's nothing significant about this spot. There's no view, it's not the top of a mountain, and nobody died here.
This is the sign I've been walking toward for five months though. I get out my camera and try to snap a photo of myself with the words printed on the sign: Appalachian Trail, New Hampshire-Maine State Line. The photo comes out blurry, and my camera is already too wet for a retry, so I shove it back in my pack and continue into Maine at my speed-walking pace.
***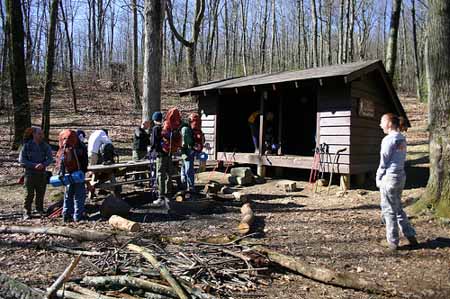 Five months prior, I was standing in the bright sunshine on top of Springer Mountain in Georgia, looking out into a valley of bare trees that hadn't yet begun to bloom for spring. The plan was to traverse over 2,000 miles on foot, across fourteen states, until I reached Mount Katahdin in Maine.
The hiker shelter on the first night was packed full of bright-eyed hopefuls and a sea of tents. Most of us would be attempting to hike to Maine, but statistically, only one-fourth of us would make it. As I was walking across camp, I stopped to talk to a group of young men who were trying to use the cable system to hang their food bags.
"Are you guys thru-hikers?" I asked, bouncing on the balls of my feet from excitement. Thru-hiker is the term for those who hike the entire Appalachian Trail in one calendar year.
"We're trying to be," one of them replied. A few others nodded in agreement. "What about you?"
"I'm a thru-hiker," I said confidently. "I'm going to Maine."
My first night in Georgia, I was expecting to get lots of intangible things from my journey north: wild adventures, breathtaking mountain views, and amazing friends. I wasn't expecting to learn anything that would be more beneficial than a crazy story or a great Facebook photo.
***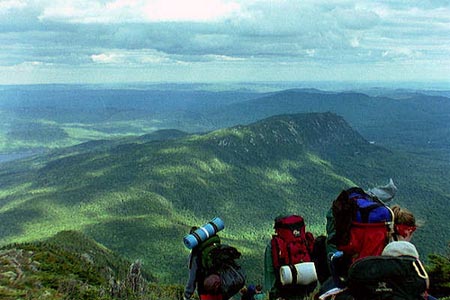 I knew that there would be an adjustment period of several weeks while I got my trail legs. I thought things would get easier after that. It seemed I was wrong. I hiked across Georgia, into North Carolina, and entered the Great Smoky Mountains. I even hiked a day of eight miles straight uphill.
Every mountain was just as difficult as the last. I hiked into camp every night with sore feet and aching muscles. My legs were covered in bug bites and I had chafing in uncomfortable places. I wasn't the only one either. By the time I got to the Virginia state line, it seemed like there were half as many hikers as there had been in Georgia.
Virginia was supposed to be the easy state with its "rolling hills" and ample water sources. Virginia was not easy. The mountains weren't as strenuous as what I had previously hiked, but the state went on for over 500 miles.
I spent five weeks hiking through Virginia before I finally reached the West Virginia state line, and the 1,000 mile mark. My elation was short lived. I entered a section called the Roller Coaster that was a thirteen-mile stretch with about twenty rocky ascents and descents. The sun was hot, and I spent that hiking day contemplating how unfair it was that I had spent three months walking and was only halfway done.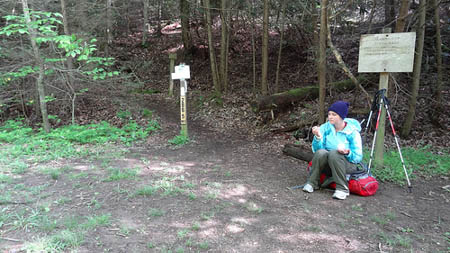 After the halfway point and several temper tantrums, I made an effort to stop worrying about my progress. Every day, groups of athletic young men passed me on the trail, pushing for twenty-mile days. I settled into a routine of fifteen-mile days, and tried not to feel like I had to compete with the more physically capable hikers. Every time I came to a view I would sit down, eat a snack, and congratulate myself on reaching the top of the mountain.
I continued north. Sometime in Massachusetts, I decided to start pushing for miles just for fun. For a whole week, I hiked twenty-mile days across Massachusetts and into Vermont. It was fun for a short while, but I soon met up with two of my slacker trail buddies. The three of us decided that we would finish the trail together, and we fell into a pattern of short hiking days and lots of hitchhiking side adventures.
We hiked into New Hampshire and entered the infamous White Mountains. The Whites had a system of huts in which short-term hikers could pay for a bed and a hot meal. Thru-hikers were allowed to do work-for-stay. We could do a cleaning task in exchange for cold leftovers and a sleeping spot on the dining room floor. I enjoyed taking advantage of work-for-stay until I caught a virus, no doubt a result of the lack of hot water in the huts and the vast number of people that passed through them.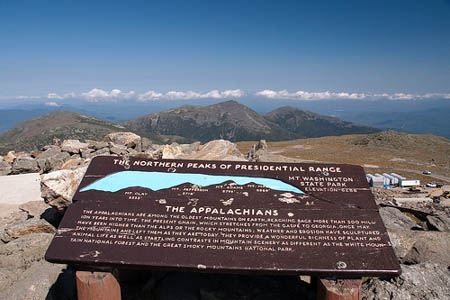 I was reduced to hiking five-mile days. I climbed to the top of Mount Washington, a popular tourist spot, and had to hitchhike down because I was so dizzy. I skipped twenty miles of trail, went to the nearest trail town, and rested for two days.
When I was mostly recovered, several hikers joined my trio, and we finished off New Hampshire together.
***
My pace was slower than usual because I was still recovering from the virus I caught in the huts, so the rest of my group was far ahead of me, no doubt hiking quickly because of the rain storm. I stumbled over the Maine state line and kept hiking through the rain, laughing out loud to myself out of pure joy.
Everything seemed a little more ridiculous. I was by myself in the vast wilderness of Maine, it was almost nightfall, it was cold outside, and I was completely soaked. I supposed that this was Mother Nature's version of a baptism. I passed whatever test I had been given and lost a piece of my mind.
After sliding over more boulders and skipping through more puddles, I reached the shelter in the dark. I crawled under the tarp that someone had set up to block the rain, and entered the crammed shelter full of hikers, all grinning because I had finally made it. I didn't mention my brief religious experience, but I wasn't the only one that was a little loopy after hitting the Maine milestone in the stormy weather. Â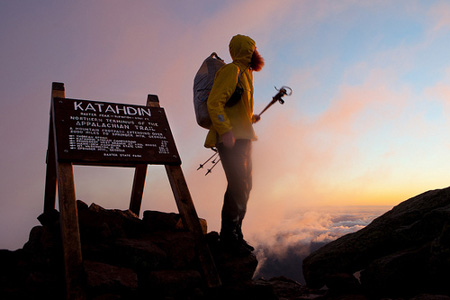 I changed into my dry clothes, slid into my sleeping bag, and fell asleep while listening to everyone talk about what they would do for their Katahdin victory photo.
In the light of the day, my speculations seemed slightly more outrageous. I hiked on to Katahdin, however, feeling humbled. While I still knew I would finish the trail, I also knew that I wasn't deserving of any beautiful views or wild experiences. I was only permitted to come this far because each day I was willing to hike over whatever terrain the trail offered, and after six months and 2,000 miles, I was one of the lucky few that would summit Mount Katahdin.
*****
Megan Maxwell is the creator of AppalachianTrailGirl.com, a how-to hiking and backpacking blog for women interested in the Appalachian Trail. After graduating from the Ohio State University and completing her Appalachian Trail thru-hike, she moved to Colorado to be a ski bum. Megan now resides in Denver, and is trying to be a freelance writer and editor. For her next great adventure, she plans to bike El Camino de Santiago and go hiking in the Alps.
*****
Photo credits:
Appalachian Trail Maine State Line: Chewonki Semester School
Hikers at Appalachian Trail Shelter: Ryan Somma
Three Hikers on the Appalachian Trail: Pete jelliffe
Solo Woman on the Appalachian Trail: G N Bassett
Mount Washington State Park: stannate
Hiker at Katahdin: Jeffrey Stylos