By Lisa Henry
Desolation attempts to intimidate me sometime during the night as the wind kicks hard at my tent, disrupting the protection of a dream. I awake and remember I am completely alone on the Lost Coast. In a rushed attempt to prepare for my upcoming hike of the Inca Trail, I found myself searching for challenging terrain well away from my home in the Sierra Nevada Mountains. Smoke from the Yosemite Rim Fire had settled in there, causing my eyes to burn during outdoor activities. Breathing resembled gambling in a dingy Yerington casino.
However, the coast was clear. Although it lacked the altitude I was looking for, California's Lost Coast conjured up images of ghostly conquistadors and mythical surf by virtue of its name alone. The promise of adventure awaited me, and my boyfriend's eye roll when I told him of my plans, confirmed I would be making my first solo trek. I don't consider myself a "girlie" girl, but must admit I've never spent more than a day alone, in the wilderness. I convinced myself I would enjoy the solitude and actually preferred to go alone. Without a second thought, I loaded my gear and my dog, Lil, and went to find the Lost Coast.
The Lost Coast is a 25-mile hike where the rugged King Range meets hungry rough waves. Natural and undeveloped, this section of California's North Coast is split between Humboldt and Mendocino Counties. It was named the Lost Coast after the area experienced depopulation in the 1930s. Its steep mountains and geo-technical challenges made this stretch of coastline too costly for state highway construction to establish routes through the area, leaving it the most undeveloped and remote portion of the California coast. Without highways, communities in the Lost Coast region such as Petrolia, Shelter Cove, and Whitethorn remain secluded from the rest of the world.
My plan was to hike from north to south to keep the wind at my back. I parked at Black Sands Beach, just outside of Shelter Cove, and exchanged a ride north for fifty bucks. Two and a half hours later, my feet sunk into the sand at the Mattole River trailhead. The 40 pounds on my back threatened to make my hike physically impossible. Each step I took was an effort due to the weight, forcing my feet deep into the sand. However, the vast virgin landscape ahead offered a challenge I knew would be rewarding, when I completed the three-day hike alone.
"You're headin' up there alone?" The old hippie at the coffee shop had shaken his head and grunted. "Can't call 911 ya know. Them portable telephones won't work."
He handed me the last cup of coffee I would enjoy for a few days, and I tipped him. Feeling the need to defend my decision, I lied, "I'm not alone, and I've got protection." If he and his pot-growing hillbilly buddies were thinking I was an easy target, they better reconsider.
His words rang in my ears as I slid down a steep hillside on my back. I dug my heels and nails into anything tangible as I fell, but the steep slope and loose dirt made it impossible to stop.
I was unsure how I got into my predicament. I had followed my map and heeded every direction handed down by the rustic shuttle bus driver; I had climbed the trail where the beach dead-ends into rock. The fog had rolled in, but the path had been well-worn. I was confident and proud that I had outsmarted the deep sand below. High above the crashing waves, I could see I had come an impressive distance in just a few hours.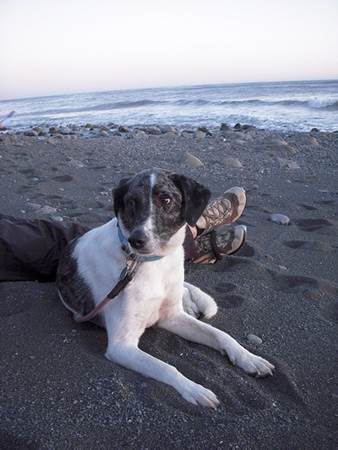 I was holding a good pace when, without warning, the trail seemed to fade into the hillside. I scanned the area for a better option. Going up looked just as treacherous as the cliffs below, so I chose the low road. With each step I carefully planted my boots into the downslope. Then the earth disappeared in front of me. Gone. It had possibly been sloughed away by last year's rain.
Lil looked up at me, her eyes seeming to ask, "Now what, genius?"
I sucked my water hose, took a deep breath, then tried to see if the cliffs below were workable. I needed a closer look. Methodically, I stepped down with confidence and the balance gained from years of surfing, snowboarding, and, most recently slack lining. Still, confidence is a fine line. I felt gravity tugging harder and harder. I leaned back. Within a split-second, my hesitation and heavy backpack sent me sliding downhill.
Confidence washed away in an instant. Hoping to slow myself, I forced my backpack into the hill. Then I considered my ridiculously overpriced air mattress, which was exposed. At the thought of it being ripped, I weakened. I have yet to comprehend how so many thoughts can be processed in a fraction of a second, especially when the dispute is between ripping your expensive air mattress as opposed to saving your own life.
I was nearing the danger zone of the cliff as the whiff of something putrid added to my assault. A small rock appeared ahead. I forced myself to roll over and slid my foot against it. It worked.
"Whooooo!" I screamed. I slowly sat up, mentally doing a check of my physical well-being. Lil threw herself across my lap, confirming her concern for my welfare.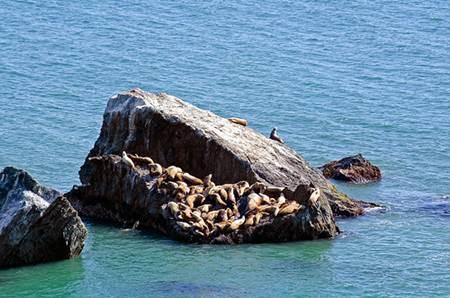 We sat a while, inhaling the stench of something dead and rotting below. Perhaps it was the last fool who attempted this trail. I now had a clear view of the precipice below. I unbuckled my pack and pushed it ahead of me as I climbed. Becoming close friends with each rock on the hill, I zigzagged my way back up.
I retraced my steps, finally reaching sea level. As my stomach growled I reminded myself this was an adventure. I had lost time and energy, but I had to get through the Impassable Zones before high tide.
The Impassable Zones are two, four-mile sections of the Lost Coast that are impassable during high tide. The ocean fills the rocky coast and slams against sharp rock bluffs, trapping anyone and anything. Once you're in, there's no way out. I was famished, but hunger would have to wait until I was safely through the first Impassable Zone.
A half hour up the beach, that familiar stench hit me as I came to the cliffs I'd become so well acquainted with. Bloating in the sun, was the rotting carcass of a massive elephant seal, about 10 feet in length. The smell of that black mound of festering blubber eliminated my appetite and compelled me to pick up the pace.
Lil and I fought our way over miles of rocky terrain. It was impossible to walk and appreciate the spectacular views, so I stopped and focused. Marveling as waves washed over seal covered outcroppings. I laughed out loud as two pups struggling to find secure seating and were picked off by the next wave. Turning my back to the ocean, I watched giant, forested green peaks and points battling for beach access.
An overdose of anoesis
After a few more hours of boulder bouncing, I was extremely hot, tired, and encased in a funky mix of salt water, dirt, and sweat. Lil's feet were tenderized and every time we stopped she'd lie down. We reached Randall Creek and I knew we were near the end of the Impassable Zone. Lil didn't hesitate. She marched in and floated in a circle while waiting on me. I dropped my pack and searched the area. I hadn't seen anyone all day. It was the end of summer and mid-week — not many hikers this time of year. I lunged in and under, the water reviving me as I emerged and took a breath. I was rubbing my crusty face when I saw three men rounding the nearby point.
They watched as my blistered feet battled the jagged rocks back to my clothes. I turned my ass to them and did my best to stretch my sports bra over my wet shoulders. The more I hurried, the more entangled I became with my clothes — humorous from anyone's perspective but mine. I was pulling my pants on as one of them said "hello." I turned and smiled. "You caught me." I forced my embarrassment aside, zipped my pants, and made awkward conversation. Doing my best to appear casual and unhurried, I tossed my pack on my shoulder and waved, "See ya later."
Randall Creek was an alluring place to camp. Fresh water gurgled from the mouth of a tree-lined canyon and fell into the ocean. I was exhausted. Lil and I worked our way over large boulders and back around to the outlet, watching the three men continue up the beach.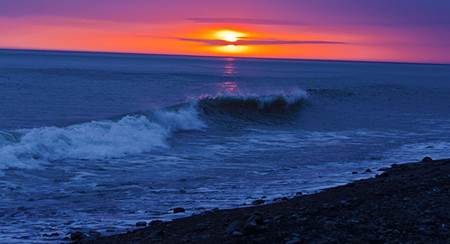 The sunset was remarkable. The dark ocean reflected fiery bursts of orange, purples, and pinks against the pale blue sky. I pitched my tent next to the canyon wall as clouds slid by. My hair was still wet, and the cool breeze gave me a chill, making me realize I had made another mistake. Never go for a swim an hour before sunset unless you're bald or in a warm climate.
I stored my bear can well away from camp and crawled into my tent for a well-deserved rest. Comfortable on my over-priced blow-up mattress, I zipped my bag around my damp head and closed my eyes, waiting to be lulled into dreamland by soft waves. Nevertheless, my mind wandered into overdrive and insisted on analyzing every mistake I had ever made in my entire life. I lay there, staring at the wind ripples hitting the top of my tent.
I realized that I really was alone, far away, in the middle of nowhere. I felt for the "protection" in my shoe. My nerves got the best of me, and for no good reason I grew scared, seriously scared. I fought my head. I wondered: Do men have this same difficulty? I doubted it. Irritated, I pulled my headlamp on and filled seven pages in my journal before I felt the tickle of sleep.
Something hit my tent. I startled awake, wondering whether I was dreaming. Unsure if I had been asleep for hours or minutes, my heart was pounding. I grabbed my "protection" and waited in silence for whatever was to come next. Finally there was scratching against the nylon tent. I flipped on my headlamp and whistled loudly. I envisioned the bears inspecting my camp. Probably rolling my bear can into the creek and I'll never find it. I may starve to death… I clapped my hands a while, hoping to frighten the monster. "Can't call 911 ya know," kept repeating in my head. The same scene played out two more times that night.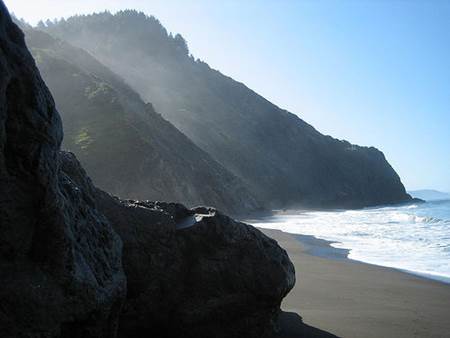 At sunrise I emerged, grateful to have survived my first night alone in the wilderness. Huge raccoon tracks confirmed that the night's intruder had not been life-threatening and bear tracks proved the beasts had kept a respectable distance of a few hundred feet.
The feelings I felt watching the rising sun were nothing short of religious. Golden light illuminated the canyon walls like a cathedral, and stained-glass skies allowed a peek into heaven. It is possible that too much beauty will inspire a deep appreciation for all simple things.
A sincere gratitude washed over me. Gratitude for the ordinary ability to walk and therefore hike, and experience a world that made me laugh and cry at the same time. That gratitude stayed with me through deep sand, over ankle-twisting rocks, the second Impassable Zone, four fat rattlesnakes, miles of huge bear tracks, blisters, blackened toe nails, and a horrible case of poison oak a week after returning home. I admit the oozing and the inhumane itch of the poison oak that covered my back challenged my appreciation. Nevertheless, the Lost Coast rewarded me with such stunning visuals and a budding confidence in a newly found self-reliance, gained from the journey, not the destination.
*****
Photo credits:
The Lost Coast: Scrubhiker (USCdyer) via Flickr
Mattole Beach: Scrubhiker (USCdyer) via Flickr
Dog Resting: Georg Lester via Flickr
Seals at The Lost Coast: Scrubhiker (USCdyer) via Flickr
Randall Creek Camp: Doug Letterman via Flickr
Sunset at the Lost Coast: Scrubhiker (USCdyer) via Flickr
Morning on the Lost Coast: Wendy Seltzer via Flickr